J.J. Abrams Hints At An Important New Character In The Rise Of Skywalker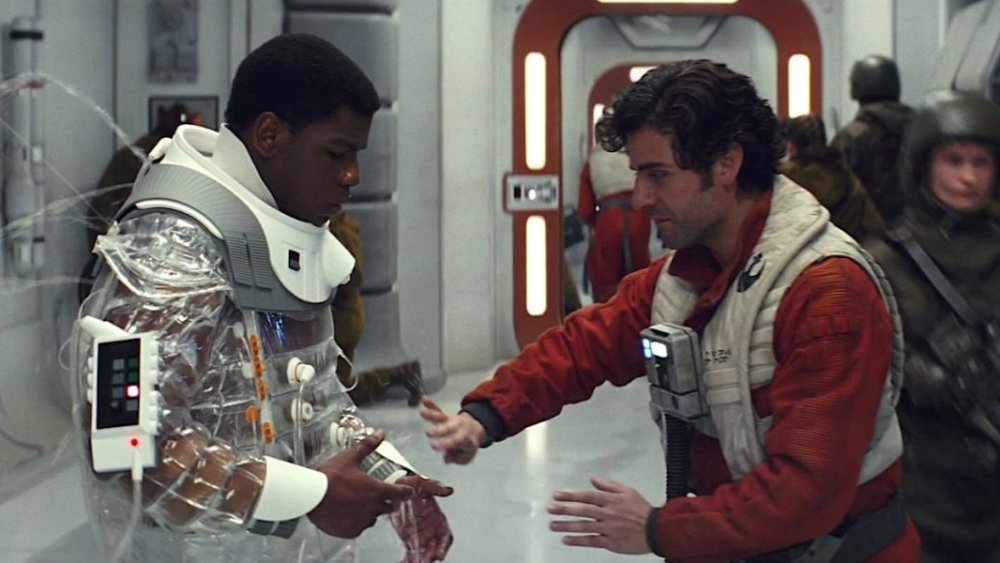 The Star Wars universe may make some serious strides towards representation very soon.
In a recent interview with Variety, The Rise of Skywalker writer-director J.J. Abrams hinted that the upcoming final film in the Skywalker saga will include an openly LGBTQ+ character, which would be a first for the Star Wars universe. 
Abrams began by addressing fan speculation about the relationship between Poe Dameron (Oscar Isaac) and Finn (John Boyega), whom many fans hope might be more than friends. Unfortunately for any Poe and Finn 'shippers, Abrams squashed that hope pretty quickly. "That relationship to me is a far deeper one than a romantic one," he told Variety. "It is a deep bond that these two have, not just because of the trial by fire in which they met, but also because of their willingness to be as intimate as they are, as afraid as they, as unsure as they are, and still be bold, and still be daring and brave."
However, Abrams did qualify his statement by saying that he definitely wants to represent as many walks of life as possible in his Star Wars universe — saying that throughout his process, he's tried to make sure his chosen cast "looked more the way the world looks than not." To that end, members of the LGBTQ+ community may see themselves represented in the Star Wars galaxy pretty soon: As Abrams noted, "And in the case of the LGBTQ[+] community, it was important to me that people who go to see this movie feel that they're being represented in the film."
When asked if that statement definitely meant there would be an LGBTQ+ character in The Rise of Skywalker, Abrams gave a teasing answer: "I will say I'm giving away nothing about what happens in the movie. But I did just say what I just said."
For their part, both Isaac and Boyega have addressed the fan fervor over Poe and Finn's relationship before, and both have indicated their support for the pair to potentially pursue something romantic. 
After saying the two share a "natural chemistry," Isaac told Variety during a press junket, "Personally, I kind of hoped and wished that maybe that would've been taken further in the other films, but I don't have control. It seemed like a natural progression, but sadly enough it's a time when people are too afraid, I think, of... I don't know what" (via NBC News).
Boyega seems to be on the same page; in a different conversation with Variety, he told the outlet that Poe and Finn "always had a quite loving and open relationship in which it wouldn't be too weird if it went beyond it. But at the same time, they are just platonic at the moment."
A big stride forward for Star Wars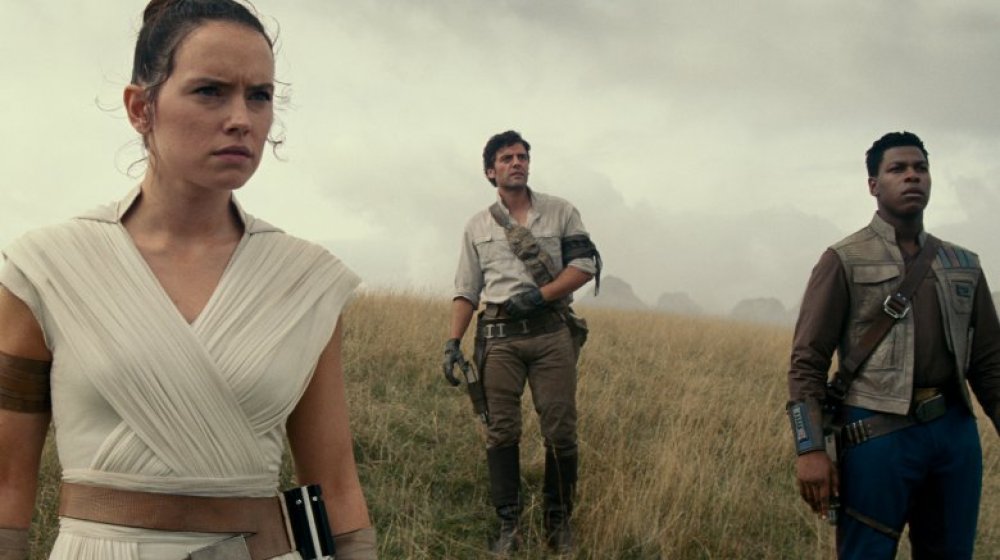 If The Rise of Skywalker really does feature an LGBTQ+ character, that would be an enormous step for the franchise, which has featured only opposite-sex romantic relationships (like Anakin and Padme, and Han and Leia) during its time.
It would also bring the Star Wars universe level with Marvel, which recently announced that it will reveal Tessa Thompson's Valkyrie as the first ever LGBTQ+ Marvel superhero in the forthcoming film Thor: Love and Thunder. During San Diego Comic-Con 2019, director Taika Waititi proclaimed that Valkyrie, who took over rule of Asgard from Thor at the end of Marvel's Phase 3, will be a "king looking for her queen" and will serve as the cinematic universe's first openly gay superhero.
Star Wars has always been fairly racially diverse, but it would be a great stride forward to make sure LGBTQ+ characters are included and normalized in the franchise — especially as the community seeks acceptance across the world in real life. For every Star Wars fan, including characters different from those they've seen before would be a refreshing way to keep the series relevant and modern as it continues into a new decade.
With that all said, nobody will have any definitive answers until The Rise of Skywalker hits theaters and reveals the end of the Skywalker saga. Even though fans hoping for Poe and Finn to strike up a romance may end up disappointed, there's still a chance for the LGBTQ+ community to find their own place in a galaxy far, far away.
The Rise of Skywalker will be released in theaters on December 20.