Schitt's Creek Season 6 Premiere Date, Cast, Plot And Trailer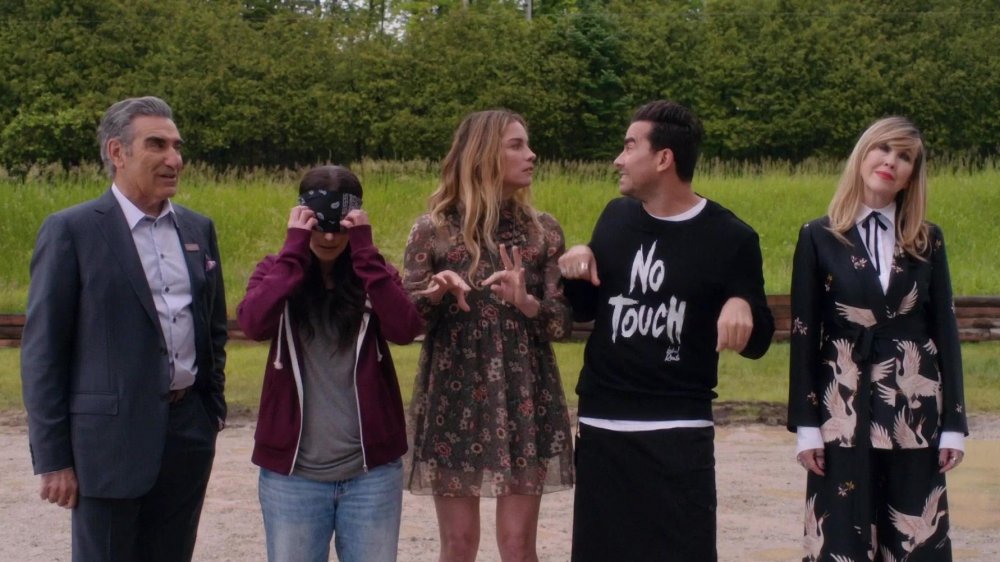 Ever since it began its run on Canadian network CBC and on Pop TV in the U.S. in 2015, Schitt's Creek has won over audiences thanks to its brilliant cast, stellar writing, enormous heart, and endlessly quotable lines. Starring comedy legends Eugene Levy and Catherine O'Hara — who have been working together for years (frequently, the pair play opposite each other in films by irreverent director Christopher Guest) – Schitt's Creek is the creation of Levy and his son, Dan, who stars on the show as well. Dan's sister and Eugene's daughter Sarah Levy also appears on Schitt's Creek, alongside Annie Murphy and Chris Elliott. After picking up steam with each new season, Schitt's Creek finally found a larger audience and even scooped up a few major Emmy nominations in 2019.
Schitt's Creek centers on the once-wealthy Rose family — made up of patriarch Johnny (Eugene Levy), mother Moira (O'Hara), son David (Dan Levy), and daughter Alexis (Murphy) — who are forced to move to a small town known as Schitt's Creek (which they once purchased as a joke) after their video rental store goes under and they're left with none of their former riches. Despite their initial reluctance, the family ends up making friends and growing to love their new town — forming bonds with mayor Roland Schitt (Elliott), his wife Jocelyn (Jenn Robertson), local motel owner Stevie (Emily Hampshire), David's business partner and boyfriend Patrick (Noah Reid), and Alexis' on-again, off-again boyfriend Ted (Dustin Mulligan).
Throughout five seasons, Schitt's Creek's signature mix of warmth, humor, and whimsy (not to mention Moira's insane accent and wig collection) has proven a winning combination — and as its sixth season approaches, you might be wondering when Schitt's Creek will return, who will come back for season 6, and what the season 6 plot will be. Whether you're new in town or have already spent plenty of time with the Rose family, here's everything you need to know about season 6 of Schitt's Creek.
Spoilers are ahead!
Where to watch Schitt's Creek seasons 1 through 5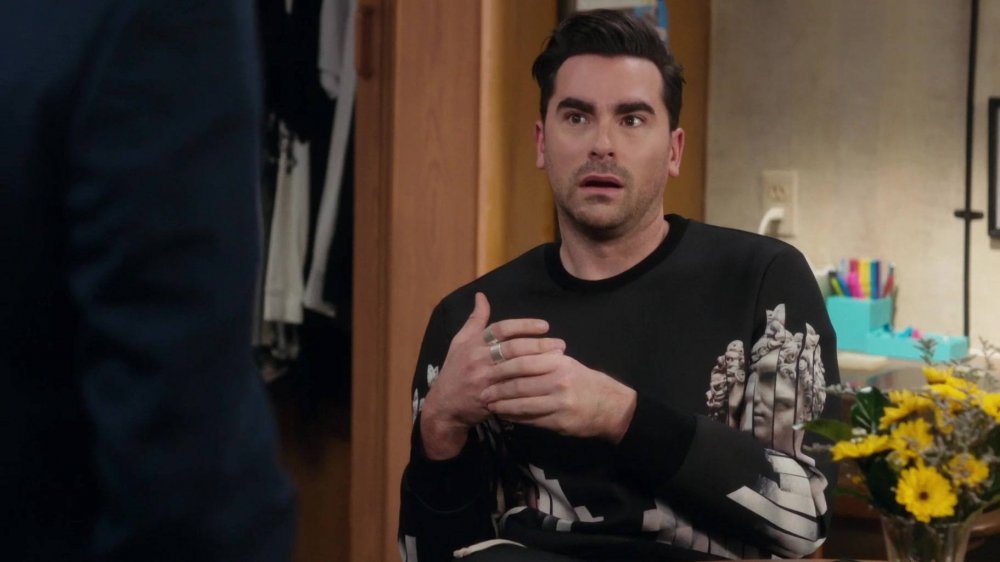 Despite its comedy pedigree and incredibly sharp concept, Schitt's Creek picked up its audience fairly slowly — perhaps due to the fact that it aired on CBC and Pop instead of television channels with a bit more name recognition. However, once Schitt's Creek hit Netflix, it found a new audience, spawning plenty of GIFs and becoming one of the most beloved cult shows currently gracing the airwaves. 
Before you can even begin to think about Schitt's Creek season 6, you'll want to catch up on all five seasons of the series with your Netflix subscription. The fifth season of Schitt's Creek recently hit the service on October 10, so whether you need to refresh your memory or start from the beginning, there's no excuse not to stream this beautifully binge-able show.
What's the premiere date for Schitt's Creek season 6?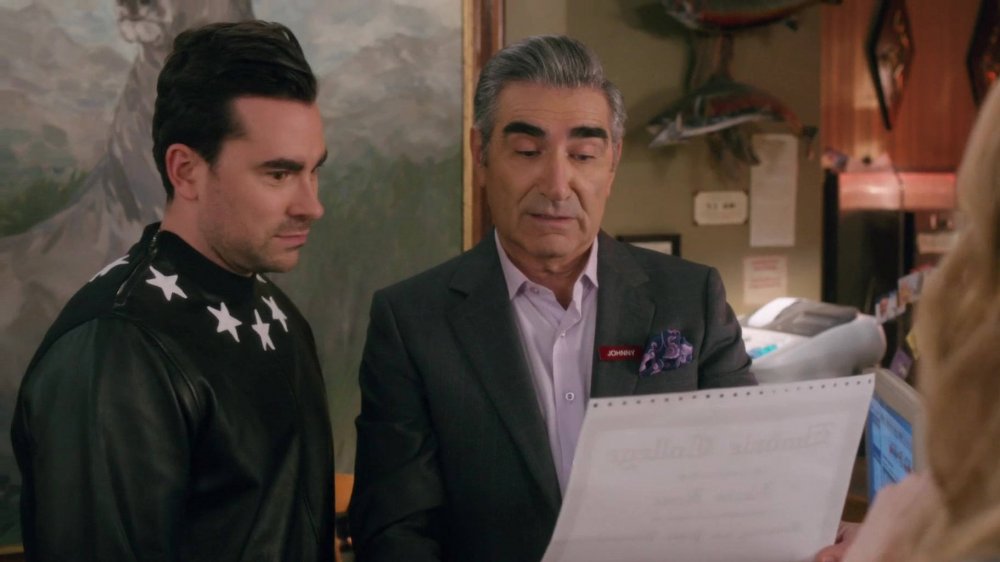 The good news? Schitt's Creek season 6 has an official premiere date: it's set to return to Pop TV and CBC on January 7, 2020 at 9 PM EST, and will run for 14 episodes. The bad news? The sixth season of Schitt's Creek will be the show's last. 
That said, though, loyal fans of the series can rest easy knowing that Schitt's Creek wasn't canceled. Bringing the Rose family saga to a close was actually a decision the Levys made themselves. In March of 2019, Dan Levy announced via Instagram that season 6 would close out Schitt's Creek, writing an emotional post in which he thanked fans for their loyalty and longtime viewership. "We are so grateful to have been given the time and creative freedom to tell this story in its totality, concluding with a final chapter that we had envisioned from the very beginning," he said. "It's not lost on us what a rare privilege it is in this industry to get to decide when your show should take its final bow. We could never have dreamed that our fans would grow to love and care about these characters in the ways that you have."
It's a sad fate that audiences will soon lose Schitt's Creek, but there's no doubt that Dan and Eugene Levy have carefully considered how their project will end — and that they'll provide closure, emotional heft, and plenty of killer jokes with the series' swan song.
What's the plot of Schitt's Creek season 6, and who is in the cast?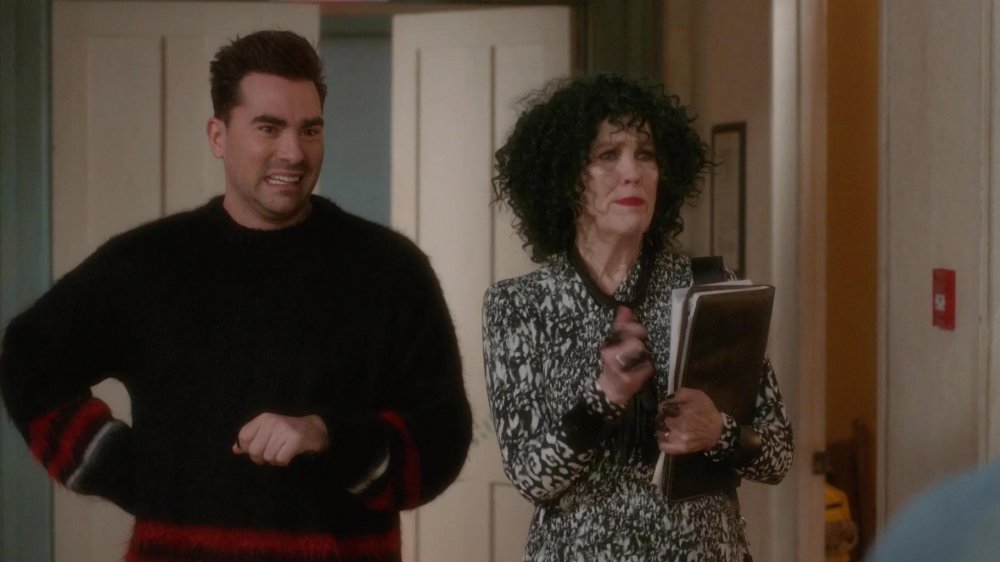 As of October 2019, there are no explicit plot details available for Schitt's Creek season 6. But one thing is for sure: the entire core cast is returning for the final 14 episodes — including both Levys, O'Hara, Murphy, Robertson, Elliott, Hampshire, Reid, Milligan, and more.
Regarding what the show's over-the-top and incredible group of characters might get up to, that remains to be seen, though fans can look to the fifth season to try to guess what might happen on the sixth. During Schitt's Creek season 5, Moira booked a potentially exciting new film gig (the ultimately doomed The Crows Have Eyes III: The Crowening), Stevie starred in a production of the classic musical Cabaret put on by the town, Ted and Alexis continued their relationship, and, in the show's most emotional moment to date, Patrick proposed to David. When Schitt's Creek season 6 begins and fans catch back up with their favorite characters, there are any number of directions in which they could go — but viewers can rest easy knowing the gang is in the capable hands of Dan and Eugene Levy. 
Is there a trailer for Schitt's Creek season 6?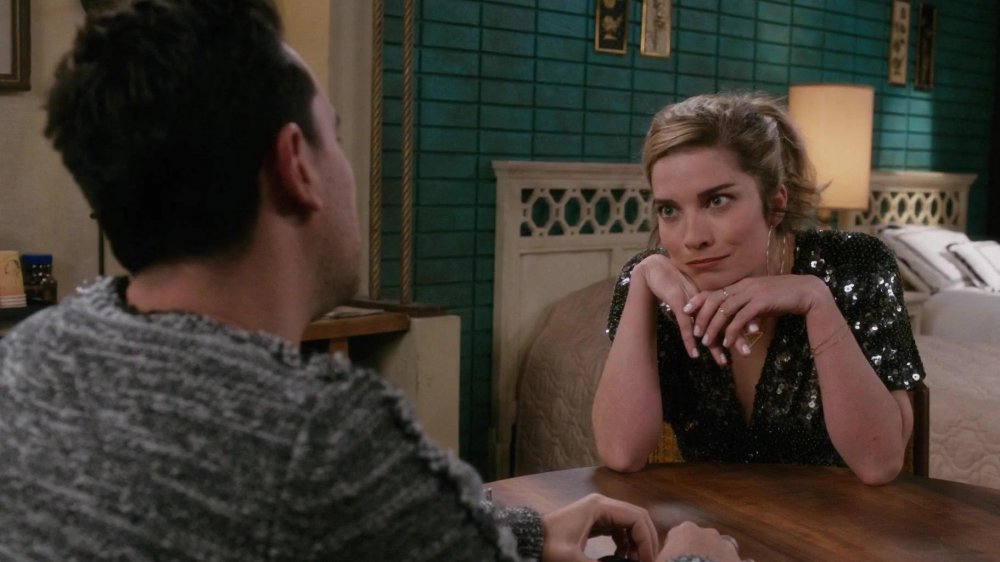 Even before a trailer was released for the sixth and final season of Schitt's Creek, The sixth season of the show wrapped filming in June 2019, and the cast flocked to Instagram to share some final photos of their beloved set as they left Schitt's Creek behind for good. Dan Levy posted a shot of the motel, telling fans they could expect "a season made with a whole lot of love" and bidding his character farewell by writing, "And lastly, to Prince David, long may you f****** reign." Meanwhile, his onscreen sister, Murphy, referenced one of Alexis' signature lines in her Instagram post, writing, "Loved this journey for us." Several other cast members posted tributes to this small yet powerful show, proving that the Rose family's journey has been just as eventful for the show's cast as it has been for audiences.
However, the show has also posted two brief glimpses of the sixth season on their Instagram account. Back in September 2019, fans were treated to quiet, empty glimpses of some of their favorite sets, including the Rose family's shared motel room (with a special focus on Moira's wig collection), the Tropical diner, and Stevie's front desk at the Rosebud Motel. Luckily, they revealed a little bit more in December 2019 with a teaser led by "film and television's Moira Rose" herself, who invites the viewer to join her on a "little stroll through the slice of paradise" she likes to call "the town where I currently am."
From David walking in on one of Alexis' private moments to Patrick bonding with Johnny to Moira slapping someone to Alexis antagonizing David as usual, the scenes are brief but give us a glimpse of what to expect from season 6 of Schitt's, which will almost certainly close out proceedings with just as much heart and humor as the rest of the series.
Schitt's Creek returns for its final season on January 7 on Pop TV in the U.S. and on CBC in Canada.