Why Frozen 2 Was More Difficult To Make Than The Original
Disney
It's been five years since Frozen first snowed over theaters, but the much anticipated sequel to the monster hit 2013 animated film is finally almost here. The movie has screened for critics, and according to early buzz, Disney has another winner on its hands with the chilly next chapter in the Frozen saga. 
The trailer gives us the return of all of our favorites from the original, with sisters Anna (Kristen Bell) and Elsa (Idina Menzel) embarking on a new quest with the reindeer king Kristoff (Johnathan Groff), his carrot-sharing actual reindeer friend Sven (Frank Welker), and naively adorable snowman Olaf (Josh Gad). The spot promises an exciting and inventive new story, with animation just as gorgeously detailed as the original.
With this being the second time around for the filmmakers, one might think that the production of Frozen II would have been smooth sailing. The original flick presented a slew of challenges for its animators; for example, totally new software had to be created just to animate Elsa's hair, which contained 400,000 strands, the most of any animated character at the time. With all of the characters being so exhaustively modeled, Frozen II should simply have built on that foundation in service of a new story, right? 
Wrong. In a recent conversation with CinemaBlend, co-directors Jennifer Lee and Chris Buck, along with producer Peter Del Vecho, explained that making Frozen II was perhaps even more challenging than the original — not in spite of the fact that they were working with established characters, but because of it.
Staying true to the characters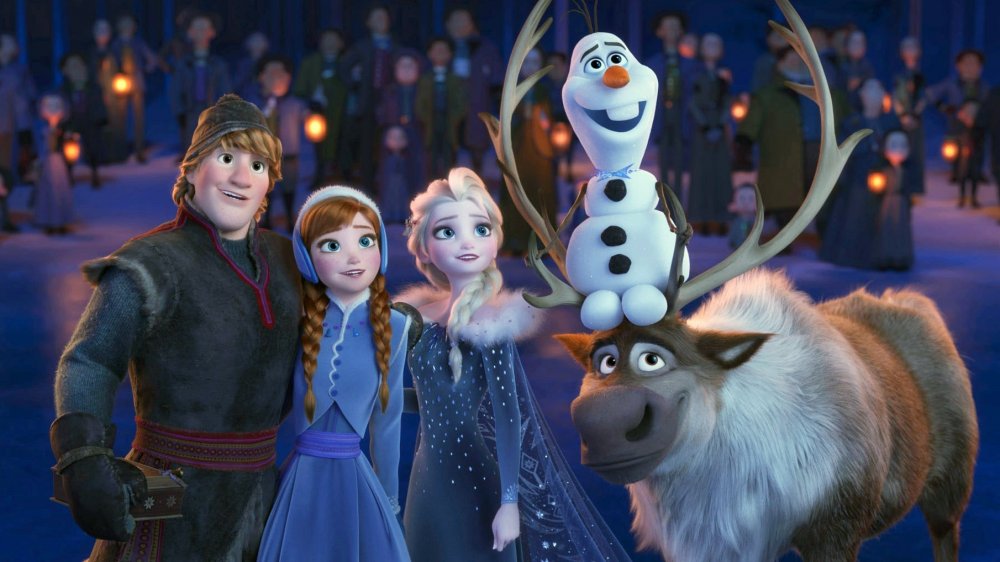 Disney
Lee explained that the process of recreating such extensively modeled characters means that there was very little room for error the second time around, especially when you're dealing with icons like Elsa and Olaf.
"When you're inventing a story from scratch, things are malleable," the director said. "Once you've committed to these characters, you ask yourself every day, 'Are we being true to them?'... And that's a really hard challenge. And then you add music onto it, where it's never been done before in a sequel, and you go, 'Oh!' So in some ways I think we could argue sequels are harder. They're certainly not easier."
It's a valid argument, considering that at this point, the story and characters of Frozen are well-known and beloved all over the world — and getting the little things right means that the filmmakers are beholden to what came before. For that matter, when crafting a sequel, it's not just the visual details the filmmakers must concern themselves with, but narrative continuity. In the case of Frozen, things like how and when Elsa's powers came about, how she has learned to control them, and what causes her to lose control of them cannot be easily retconned away in a sequel, which obviously doesn't allow for as much narrative flexibility as an original movie. Modern film fans will take any opportunity they get to point out plot holes, and you'd better believe that if eagle-eyed Disney moviegoers spot even a tiny inconsistency, they're not likely to... er, let it go. 
Lee did, however, concede that having a returning cast has helped the process. All of the main voice actors from the first film returned to reprise their roles in Frozen II, a luxury that has aided the writers in consistency. 
"One thing I've learned with sequels, with [Wreck-It] Ralph and with [Frozen II], is [that] they are all just as hard. They take just as much work," Lee said. "There is not one ounce of a shortcut. The only thing [that makes it easier], as a writer, is [that] I know what Olaf sounds like, where I didn't until I met Josh Gad." 
According to Buck, another handy tool that made it easier on the writers and producers was trying to see the sequel as a continuation of the first film's story, rather than a separate, standalone narrative.
"Once we started deciding what this story would be, one of the things that did excite us is that Frozen I and Frozen II can be basically one story, one solid story," Buck explained. "[We were] looking at Frozen II as a sort of act two of a Broadway musical. And that also helped our songwriters too, to sort of figure out how you go deeper: deeper with the songs, deeper with the emotion, all of that."
No pressure here...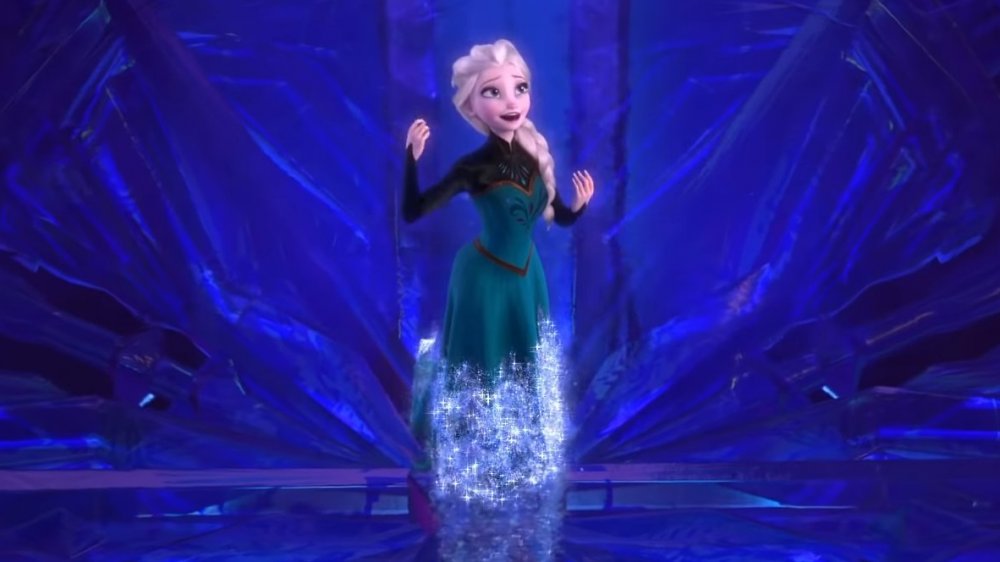 Disney
Speaking of Frozen II's songs, one can imagine the pressure that returning songwriters Kristen Anderson-Lopez and Robert Lopez must have felt to come up with the next "Let It Go," which won an Academy Award for Best Original Song. The tune was so instrumental to the film (no pun intended) that the writers actually changed the story line to better suit its themes, as Elsa was originally the villain of the snowy tale. 
We don't have a heck of a lot of details about Frozen II's new musical offerings, but what we do know is that there are seven new original songs, one of which may be primed to follow in the footsteps of its Oscar-winning predecessor. It's titled "Into the Unknown," and while we haven't yet heard the version (performed by Menzel and Norwegian singer Aurora) that will be featured on the film's soundtrack, we have heard a pretty sweet cover version by Panic! At the Disco.
Asked about the tune at Frozen II's red carpet premiere, Anderson-Lopez revealed that "Into the Unknown" is very much an expansion of the character-defining aesthetic of "Let It Go," the song which helped Frozen to win the hearts of audiences the world over. "The song 'Into the Unknown' forces Elsa to ask herself some important questions: Who is she, and where does she truly belong?" the songwriter explained. "The song plays a very important role in the movie. It's the catalyst for change." 
Of course, according to that old adage, the more things change, the more they stay the same — and despite the fresh challenges involved in creating Frozen II, all signs point to another smash hit for the House of Mouse. The original film cleared $1.2 billion dollars at the worldwide box office, and the new installment is tracking for an absolutely massive opening weekend of $100 million dollars or better.
We'll see just how far into the unknown Elsa, Anna, and friends dare to go when Frozen II hits the big screen on November 22.