Here's What Darrell Sheets From Storage Wars Is Doing Now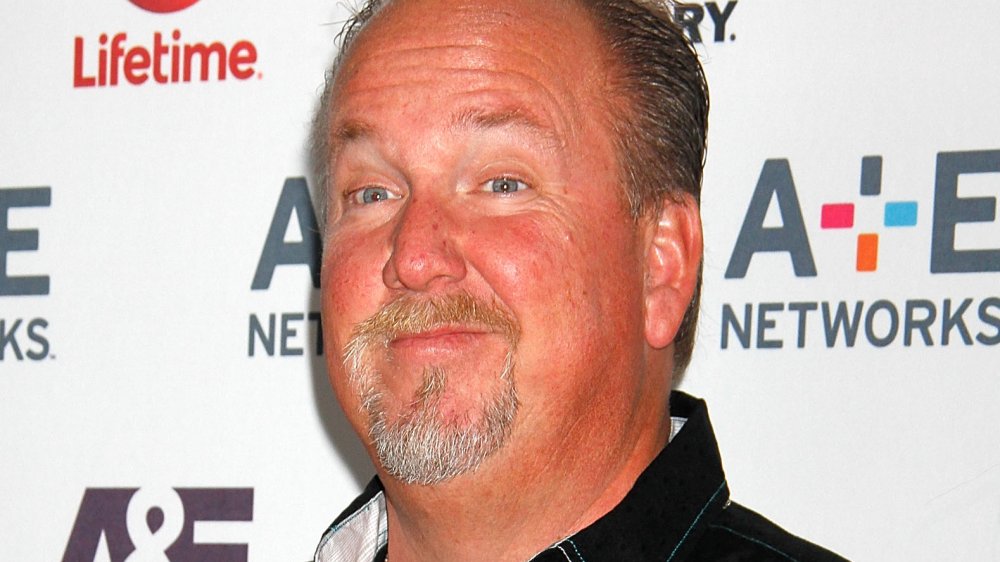 Laura Cavanaugh/Getty Images
For several years, Darrell Sheets was one of the dominant personalities on A&E's popular reality television series Storage Wars, shouting along with the rest of his co-stars in frenetic bids for abandoned storage units. It's a boom-bust business, and Sheets' nickname — The Gambler — perfectly illustrated his strategy in approaching these sales. On Storage Wars, he went into auctions hot, many times bidding blind in hopes of landing a single high-dollar item to flip that would cover the cost of the storage container and constitute months' worth of income. Sheets would also often bring his son, Brandon "The Sidebet" Sheets, in to assist in labor and show him the ropes of the work. 
Sheets' is a big, loud, and occasionally a little colorfully crass kind of guy. Even amongst a cast of already-competitive personalities like Dave "The Mogul" Hester, Barry "The Collector" Weiss, and the dynamic duo of Brandi Passante and Jarrod Schulz, Sheets made sure to stand out on Storage Wars. 
Since his time on Storage Wars has come to an end, though, Sheets has slipped away from the television limelight to a relatively quiet personal life. So, where is Darrell Sheets now, and what does he get up to?
Darrell Sheets suffered a big scare before reclining into the high life
Sheets had entered a semi-retirement in 2018 and still dabbled in the storage unit arts here and there, though he mostly focused on maintaining a healthy lifestyle and spending time with his family. But in March of 2019, Sheets suffered what he referred to as a "mild heart attack" and subsequent complications due to an infection in his lungs. 
The sudden turn in health came as a bit of a surprise, since after divorcing his first wife Kimber Wuefel in 2016, Sheets put his mind to a drastic life change and lost over 100 pounds. However, Sheets admitted to being ill for three months leading up to his heart attack, writing in an Instagram post, "I wasn't going to say anything, but you all have been the greatest friends and fans. I've been very sick for 3 months and two nights ago I had a mild heart attack, found out I have congestive heart failure and a severe issue going on with my lungs, today I am having surgery so all your prayers would be deeply appreciated thank you for being there for me it's been a great ride."
After being released from the hospital, Sheets finished his long-term transitional move down to Lake Havasu City, which lies on the border between Arizona and his native state of California. There, he has entered a complete retirement — though that doesn't stop him from posting almost daily about his life, fianceé, and kids on his Instagram account and using the hashtag #StorageWars. From now on, it's lakeside frivolity and restoring classic cars for The Gambler after a fulfilling career enriching himself through the roulette wheel of storage bidding. Looks like his gambles paid off.