What Brandi From Storage Wars Looks Like Today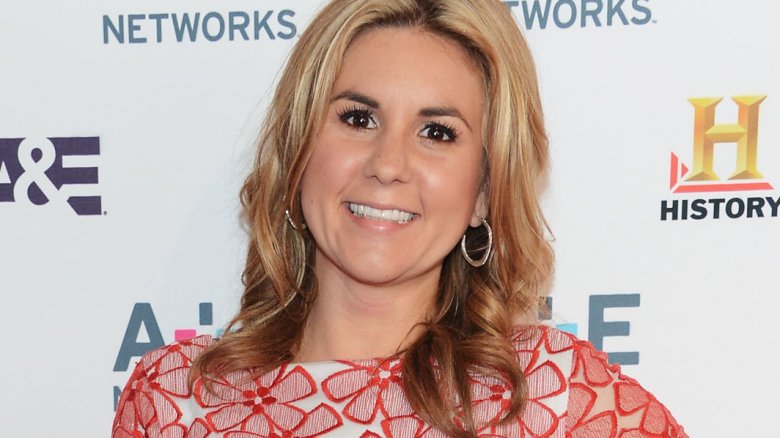 Jason Kempin/Getty Images
A&E Network's runaway hit reality series Storage Wars has a simple but intriguing premise: when owners of storage lockers in California fail to pay rent on their units for three months in a row, an auctioneer swoops in and auctions off the entire container in a cash-only public sale. These auctions can get pretty heated — especially when there are a number of astute professional buyers, each with their own unique approaches and insights, bidding for the same unit. Sometimes they hit the jackpot with a unit filled with items they can sell for a huge profit, and other times, the buyers net a loss on the storage lockers. 
Viewers have been hooked on Storage Wars from first time they heard the catchy opening tune "Money Owns This Town" back in 2010, and the series has been hugely popular ever since — largely thanks to the main buyers at the forefront of the show. One of the biggest Storage Wars figures is Brandi Passante, the (usually) level-headed wife of fellow pro buyer Jarrod Schulz. Passante has been a part of the Storage Wars gang since the very beginning, but what has she been up to recently? Let's find out what she looks like today. 
Four years after Storage Wars swept the nation, following many a hearty "yuuup!" from buyer Dave "The Mogul" Hester and a number of super-successful auction wins by the Young Guns, Passante and her beau scored their own spin-off show. Brandi & Jarrod: Married to the Job debuted in August of 2014, airing eight episodes that followed the titular duo in day-to-day situations outside of buying storage lockers and pawning off their contents. The series featured Passante and Schulz's "anti un-engagement" party, which saw Schulz throwing his lady love a surprise engagement bash at a dive bar; a "lazy contest" that was more a competition of wits than anything else; an episode where Schulz and Passante embarked on a new diet; and lots of wedding planning. In the end, Passante and Schulz divorced from Brandi & Jarrod: Married to the Job when the series wrapped in September 2014. 
Following the conclusion Brandi & Jarrod: Married to the Job, Passante (and Schulz) continued to appear regularly on Storage Wars, which began airing its 12th season in November 2018. Outside of the reality TV series, though, Passante has been on a number of adventures — both personal and professional. 
She and Schulz seemingly still run a clothing company called Outlaw Apparel, which makes shirts, hoodies, and headwear for buyers to express their "individuality and unique approach to life." (Apparently, this "unique approach to life" includes finding the utmost enjoyment in pink-on-black color schemes and apparel adorned with illustrations of handcuffs, skulls, roses, and guns.) The duo also owned and operated an Orange, California-based second-hand shop called Now and Then Thrift Store, which garnered some, shall we say, interesting reviews on Yelp. Now and Then is now a thing of the past, as it appears the shop is closed for good.
Business may not ostensibly be booming for 39-year-old Passante, but she looks like she's doing well for herself, maintaining an online presence via Instagram account, which she updates on the regular. 
Across her Instagram feed are photos of her on a night out with friends, taking a tour of a winery, visiting Disneyland with her son Cameron, meeting country singer Tim McGraw at the 2019 Coastal Country Jam in California, goofing off with her husband, reminiscing on old times with Schulz, and riding on her tricked-out bicycle around her California neighborhood. It's clear that between all the auctions that fans see on Storage Wars, and after hours spent driving across town to various pawn shops to assess the value of the items in her newly purchased storage units, Schulz is a pretty average woman. 
You may know her as "Brandi from Storage Wars," but at the end of the day, Passante's even more than that: she's a wife, a mother to son Cameron and daughter Payton, and the owner of two seriously adorable French bulldogs. She's evidently managed to avoid buckling under the pressure of fame and remained as normal as ever. So normal, even, that you might not initially recognize her if you bumped into her at Trader Joe's — that is, until she starts a bidding war for the last jar of cookie butter.