Ewan McGregor Has Been Lying About Obi-Wan For Years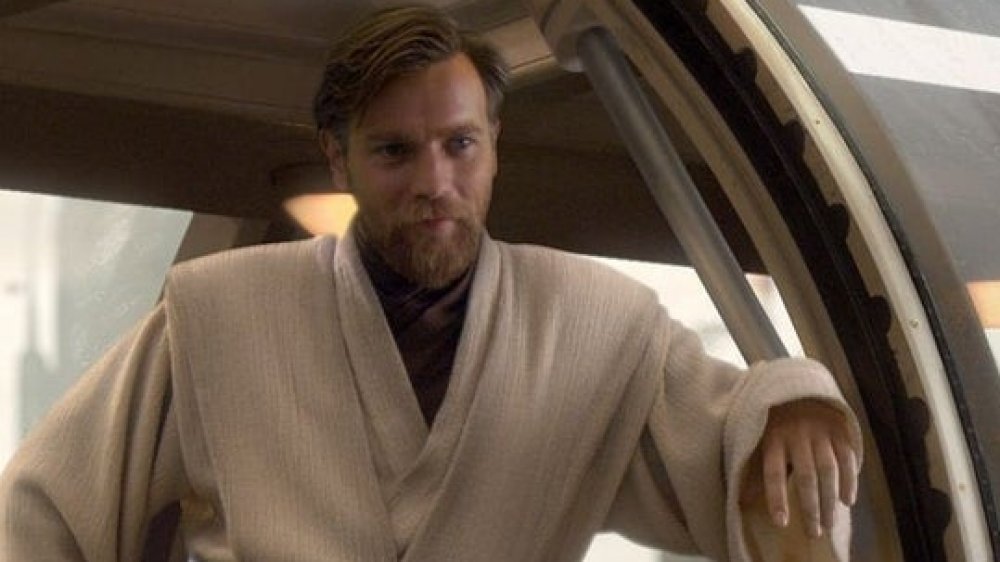 Ewan McGregor's cheeky humor and boyish smile sure got the best of us. 
The actor has gone on the record several times over the years — virtually from the moment the Star Wars prequel trilogy finished — to say he would be delighted to reprise his role as Obi-Wan Kenobi if anything came up, but that he didn't know of anything on the horizon. As late as 2017, he was quoted as saying he hadn't met with anyone in any way about a formal return. 
Turns out that was a big fat lie. McGregor successfully bamboozled the public for a long time, as he's known of a planned Obi-Wan Kenobi standalone — which has now manifested as a solo series slated to release on Disney+ — for four years. 
He revealed this little fact during an interview with Men's Journal just before going on-stage at D23 to make the big announcement of the Obi-Wan series. 
"It's a f****** massive relief," he confessed to the outlet's Mickey Rapkin. "Because for four years, I've been having to lie to people about it." 
Now hang on, buddy. When you've been swearing up and down through those perfect teeth and with that rugged Scottish brogue that there's nothing to talk about for this long, you're not just gonna drop that fact and jig away into the night, cackling. McGregor is perfectly aware of how badly the Star Wars fandom has wanted this project, and for how terribly long.
Ewan McGregor: A sneaky little Scottish scamp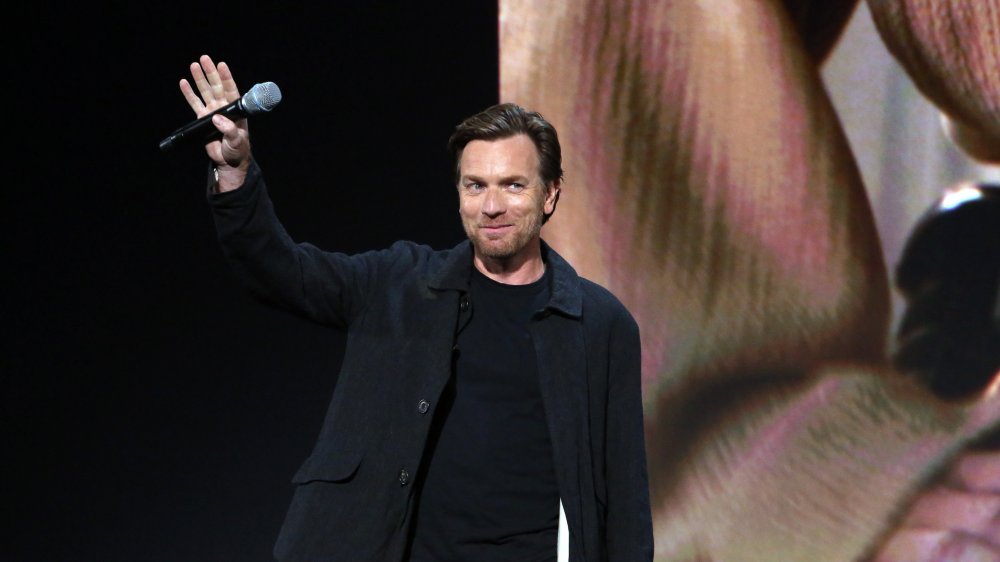 Jesse Grant/Getty Images
Perhaps this shouldn't come as such a shock, though, as it's been reported for a couple of years that Lucasfilm was attempting to put together a standalone film about Obi-Wan. The Hollywood Reporter's original exclusive report on the film, however, even explicitly stated that because there was no script at the time, there was no actor attached. That film project shifted platforms as Disney+ began to gel as a prospective streamer — and probably because Solo: A Star Wars Story, which was intended to kick off a once-a-year standalone Star Wars movie schedule at Lucasfilm, bombed so badly. 
The reports that came spilling out into entertainment press since that original THR article never said Lucasfilm had ever spoken with or even shortlisted McGregor for an Obi-Wan Kenobi movie, but come on. Of course he'd at least be aware the project existed if it got as far as picking up a director in Extremely Loud & Incredibly Close filmmaker Stephen Daldry. Legally speaking, if no contracts are signed, McGregor wouldn't technically be involved with a possible Obi-Wan Kenobi film, no matter what he's actually doing — and it would have been far too much of a commitment on Lucasfilm's part to announce any ties between McGregor and a project like that. Even if McGregor was only helping out with the script or providing advice to a possible new Obi-Wan actor, fans would have flipped their lid. Knowing that he was working with Lucasfilm on an Obi-Wan Kenobi project that he'd star in would have sent the Star Wars-loving public into a total tailspin (we can see that actually did happen during the D23 announcement panel about McGregor's return), so it was wise of the studio to keep things quiet until all the plans were locked in place. 
McGregor's secrecy goes deeper than that, however. When talking to Coming Soon about the Obi-Wan Kenobi series' production cycle, McGregor revealed that the project was originally pitched as a single film. He shared, "It wasn't always going to be a series, not initially. When we first started talking about, that wasn't really in the cards but everything's changed so much, so quickly. It's really exciting that it is now. I'm really into the idea to be able to tell the story over several hours instead of just one hit. I think it's going to be quite cool."
That admission implies that McGregor has been very aware of the project since well before Daldry was attached as director. (Daldry has since exited the project, with The Mandalorian's Deborah Chow now directing the Disney+ Obi-Wan series.) And if you find it probable that this also means McGregor has actually been assisting in pre-production all along, congratulations, your instincts are right on the money: McGregor has executive producer credit already attached to the as-yet-untitled series. That little sneak.
Obi-Wan Kenobi's coming home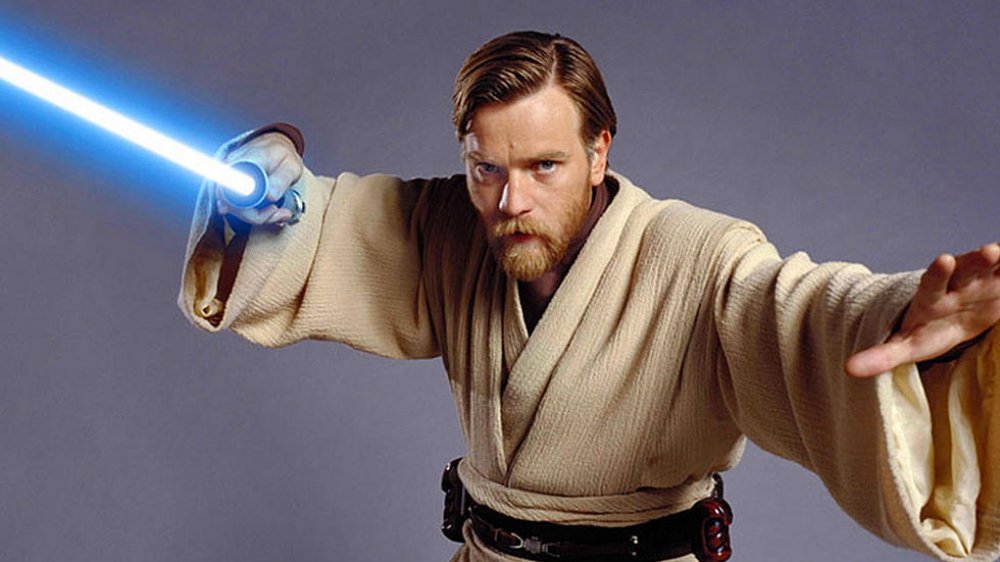 Disney
Can you imagine a better comeback story? McGregor, a longtime Star Wars fan, got the job of a lifetime in the late 1990s when he was cast as the younger Obi-Wan Kenobi in Star Wars: The Phantom Menace, entering the film's production with big ol' stars in his eyes. Sadly, the legacy of the Star Wars prequel films has been lackluster at best. But more than a few fans would (and have) argued that McGregor's role was a rare gem that somewhat redeemed the trilogy. For him to come back to his career-defining role now in a solo production where he can call (some of) the shots as an executive producer – what a joy that must be. 
From what we understand now, it's clear that Lucasfilm, Disney, and specifically Kathleen Kennedy want McGregor's creative thoughts — not just his body — on display for nostalgia's sake. It's encouraging right out of the gate to know that the series will have creative input from the man playing the character that means so much to him and his career. 
As of this writing, there's no confirmed information on plot, timeline, or additional characters to be featured on the Obi-Wan Kenobi series, but that almost doesn't matter right now. McGregor is on the cusp of a fandom homecoming — bigger, better, and more in charge than ever before — and Star Wars fans everywhere can take a ton of solace and stir up a whole bunch of hype over these facts alone.