What The Rotten Tomatoes Reviews Are Saying About Maleficent: Mistress Of Evil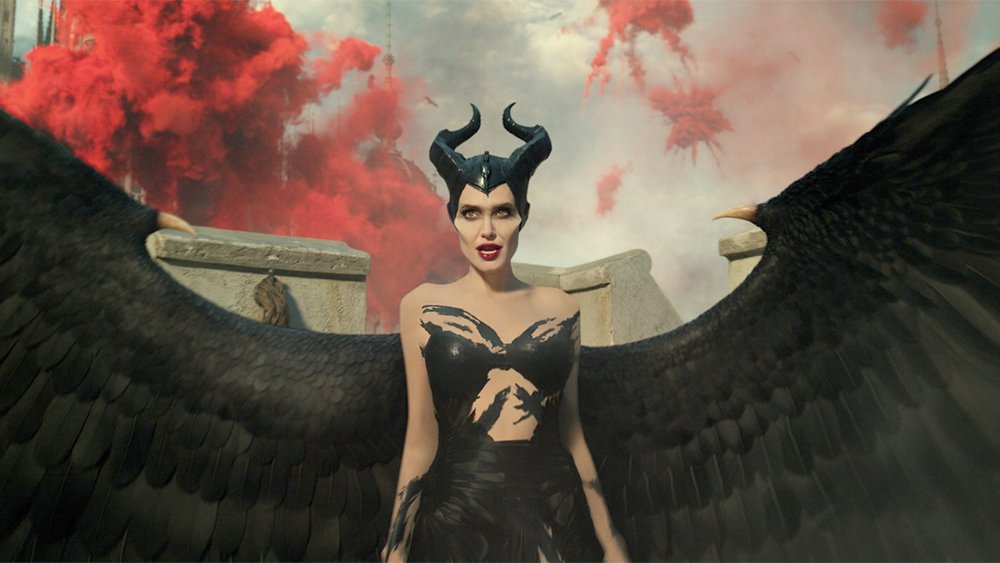 Disney's modern version of Sleeping Beauty's baddie is officially set to fly back into theaters in the coming days, and it's safe to say that expectations are high for the Angelina Jolie-fronted flick Maleficent: Mistress of Evil. While it certainly appears that Jolie's winged, human-wary fairy is set to undo much of the goodwill so devilishly won in 2014's unexpected blockbuster Maleficent, the upcoming sequel most likely had its sights set on changing the critical narrative surrounding the property as much as it changed the actual narrative of its Sleeping Beauty villain.
Directed by Pirates of the Carribbean: Dead Men Tell No Tales helmer Joachim Rønning, Maleficent: Mistress of Evil finds Jolie's misunderstood "Godmother" Maleficent at odds with her beloved "Beasty" Aurora (Elle Fanning) over her impending nuptials to Prince Philip (Harris Dickinson), who — after dragging his feat in a patently un-Disney way for five years — has finally asked Aurora to be his bride. If you've seen Maleficent or Mistress of Evil's action-packed trailer, you now exactly how the Queen of the Moors feels about love in general, so it's no surprise that she's not exactly on board with the wedding plans. More specifically, she's not entirely happy at the thought of "sharing" Aurora with Queen Ingrith (Michelle Pfeiffer) who clearly has some nefarious plans of her own.
The general public is still waiting to see what's next for Maleficent and her make-shift family, but after a recent string of critical screenings, we finally know what the cinematic elites think if Maleficent: Mistress of Evil. Sadly, we're guessing Maleficent's eyes will be lighting up greener than a rotten tomato in the wake of the mostly lukewarm reactions.  
Here's what the Rotten Tomatoes reviews are saying about Maleficent: Mistress of Evil. 
Maleficent: Mistress of Evil isn't the worst movie ever, but it isn't really good either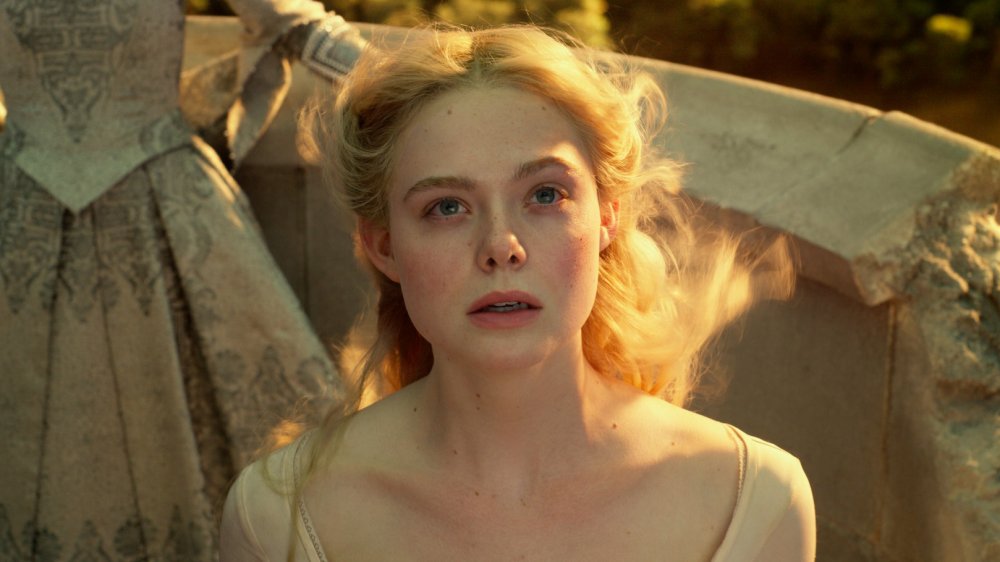 As of Wednesday, October 16 (two days ahead of the film's official debut), Maleficent: Mistress of Evil holds a decidedly sour score of 49 percent on Rotten Tomatoes, which makes the flick "rotten" by the site's standards. 
Taking a look at why Disney's latest reimagining of a classic fairy tale is putting critics off, Angelina Jolie is hardly the villain in that conversation. In fact, her turn as Mistress of Evil's duplicitous baddie seems to be the one element of the Maleficent sequel that worked for most critics.
Brian Truitt of USA Today – who gave the film three out of four stars, and labeled it a "darker, magical Meet the Fockers" – said that Jolie's "magnetism, plus the way she toes the line between being a fairy version of Batman and a menacing mistress of not-quite-evil-but-pretty-close, is why these Maleficent movies work."
The Los Angeles Times critic Justin Chang heaped his own praise on Jolie's latest turn as Maleficent, praising her "poised [...] nearly silent" performance. He added that "few actors have extracted as much tension from a single gaze," and that Jolie's steely look was "all the more welcome for its occasional deadpan-comic flourishes."
As for what isn't working in Maleficent: Mistress of Evil, the film's screenplay may be the biggest culprit. 
Jesse Hassenger of The AV Club derided Mistress of Evil for its inability to hide its coming twists, writing in his review, "Some movies twist; the Maleficent series politely flips on a signal before any turns." Leah Greenblatt of Entertainment Weekly was even less impressed with Mistress of Evil's storyline, calling the film "an empty, CGI-dazzled fairy tale" that "mostly registers as a series of elaborate fauna-drenched screensavers stretched to fit across two hours of vague Disney myth." 
Unfortunately, it appears that critics found plenty more faults with Maleficent: Mistress of Evil — like the influx of new characters leading to more of the same sort of narrative problems that dogged the original, the general lifelessness and confusion of the story, and the aesthetic failing to make up for everything else. 
The Hollywood Reporter's Todd McCarthy described the film as "a sequel that feels programmed to within an inch of its life," while Matt Maytum at Total Film said Mistress of Evil is "an uninspired and unnecessary sequel that won't leave you spellbound," with "neither enough Maleficent or genuine magic to make it worth a revisit." 
Bloody Disgusting's William Bibbiani offered a decidedly negative review of the Maleficent sequel, but commended Jolie for trying to make the most of the material: "It's a ridiculously written, emotionally insincere motion picture, and although Angelina Jolie is as excellent as ever, the film has no idea what to do with her [...] Why go see Maleficent: Mistress of Evil? The movie has some spectacle but only in service of a half-baked storyline, which makes no sense even on the surface, and does a massive disservice to the characters."
Not every critic was so harsh on Maleficent: Mistress of Evil, though. Some were satisfied enough by the movie — like Ian Sandwell at Digital Spy, who said that Mistress of Evil is a "superior sequel and often fun, but still not without its flaws" — while others seemed to really like it. ComicBook.com's Matthew Aguilar wrote of the flick, "Maleficent: Mistress of Evil is a delightful tale of humor, heart, and that trademark Disney magic, and you won't regret returning to this world once more."
Audiences may decide the fate of Maleficent: Mistress of Evil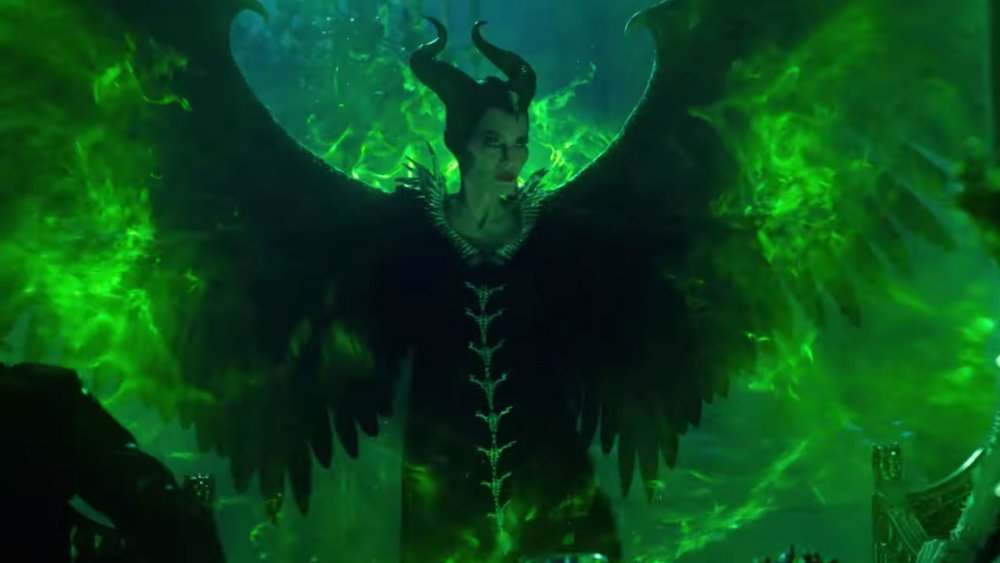 It's worth noting that we're sort of living in an age of "critic-proof" movies — and lately, Disney has been leading the pack in films that aren't critically adored but still land with audiences, particularly its live-action remakes of beloved animated classics. While the original Maleficent was hardly a critical darling itself, it raked in more than $750 million worldwide while pulling a 70 percent audience score on Rotten Tomatoes — much better than its 53 percent rating from critics. This all seems to suggest that while critics aren't always wrong about the merits of a movie, audiences are generally the only "critics" that matter for tent-pole fare like Maleficent: Mistress of Evil. Audiences haven't had the chance to submit to Rotten Tomatoes their ratings for the film just yet, but it looks as though they'll have the final say in how Mistress of Evil will be remembered. 
However, while Mistress of Evil is likely to sell plenty of tickets this weekend (and do particularly well with families), the bad news is that there's a lot of competition hitting theaters. Chief amongst these competing films is another hotly anticipated sequel: the extremely adult-oriented z-flick Zombieland: Double Tap. There's also a new addition to the Kevin Smith cinematic universe that Mistress of Evil will have to contend with – Jay and Silent Bob Reboot – not to mention a couple of potential awards season players in Taika Waititi's Jojo Rabbit and Robert Eggers' The Witch follow-up The Lighthouse. Plus, there's the perpetual wild card that is Joaquin Phoenix's Joker, which keeps dominating the box office despite having opened at the start of the month.
The competition will be fierce, but we'd lay even odds on Maleficent: Mistress of Evil following its predecessor into the category of legit box-office hit. There's a safer bet that audiences will continue to eat up Jolie's scene-devouring antics as the titular overprotective Godmother to Aurora, and that they'll ultimately cancel out Maleficent: Mistress of Evil's divisive critical reception. Only time will tell.
Maleficent: Mistress of Evil opens in theaters on Friday, October 18, with Thursday-night previews beginning on October 17.