Read This Before You See Frozen 2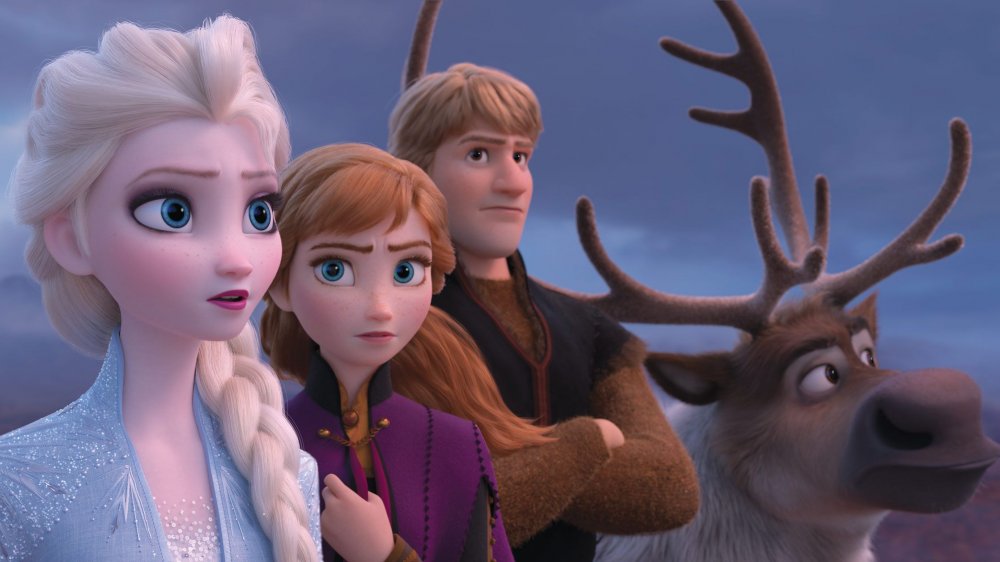 For the first several decades of Walt Disney Animation Studios' existence, their animated features tended to stand alone, with sequels being the rare exception (looking at you, The Rescuers Down Under) rather than the norm. Yet in recent years, it seems like even Disney isn't immune to sequel fever, putting out followups to Wreck-It Ralph and the partially animated Mary Poppins with 2018's Ralph Breaks the Internet and Mary Poppins Returns. 
On November 22, 2019, audiences will be treated to yet another animated sequel when Disney returns to the magically frosted kingdom of Arendelle in Frozen 2, the followup to 2013's blockbuster smash. It's been a few years since Frozen blasted its way onto movie screens, so we wouldn't blame you if, regarding some of the finer details of the original film's plot, you've let it go (sorry, we couldn't resist). Fortunately, we've gathered together everything you need to know before heading to the theater to watch what's sure to be an emotional and thrilling new adventure for Anna, Elsa, and all their friends. 
The winding road to Frozen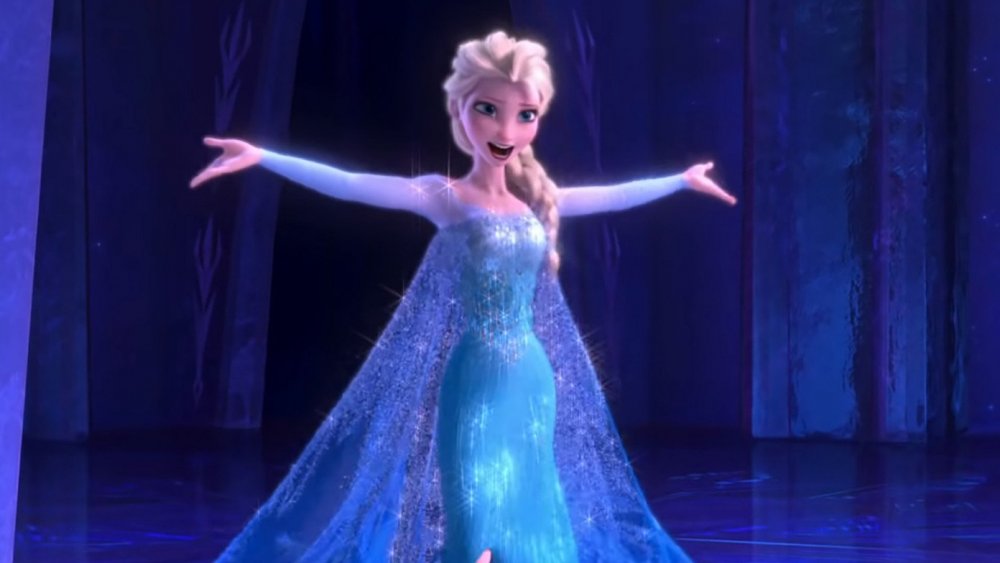 Originally conceived as a loose retelling of the Hans Christian Andersen tale "The Snow Queen" (which the film pays homage to through the names of its characters: Hans, Kristoff, Anna, and Sven), the initial vision for Frozen looked a lot different than the movie Disney wound up releasing. In the original script, Elsa was an indisputable villain, she and Anna weren't sisters or even royalty, and the story culminates in a climactic battle featuring an army of snow monsters and a devastating avalanche. However, director Chris Buck and writer (and eventual co-director) Jennifer Lee realized something was missing, and decided to make its two central characters sisters instead of strangers. 
The final piece of the Frozen puzzle fell into place when songwriters Kristen Anderson-Lopez and Robert Lopez wrote their first song that would make it into the finished film, "Let it Go." After hearing the song, Lee and Buck realized they couldn't keep Elsa a villain, and rewrote the script in order to make her more of a conflicted co-lead. The final version of the film featured a pair of sisters who loved each other dearly, but were driven apart by Elsa's inability to control her powers. This change also required the filmmakers to reimagine the character of Olaf from a villainous henchman into a lovable, goofy sidekick. 
Is the team behind Frozen returning for Frozen 2?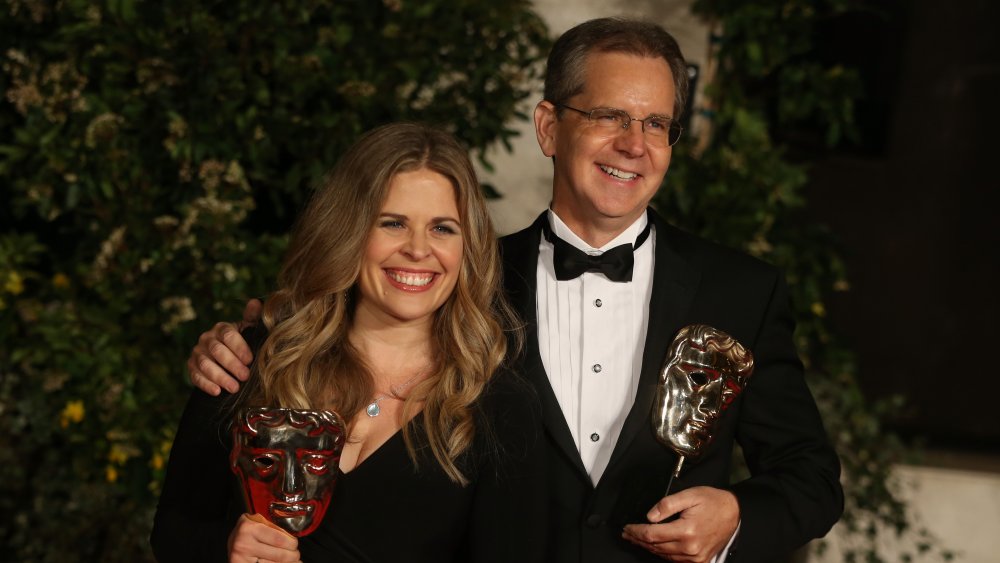 Chris Jackson/Getty Images
As evidenced by the original film's twisting path to the screen, Frozen was a collaborative effort between the writers, directors, and songwriters, and wouldn't have come to exist in its current form without any one of those specific individuals' input. Fortunately, the whole team is returning for the sequel, albeit in slightly altered roles. Chris Buck is back in the co-director's chair, as is Jennifer Lee, who was also named head of Walt Disney Animation Studios in 2018. On the music front, songwriters Kristen Anderson-Lopez and Robert Lopez are returning with 11 original new songs for the soundtrack, and Christophe Beck is coming back to compose the score. 
The only significant difference in the creative team between Frozen and Frozen 2 is the screenwriters. While the original movie's script was penned by co-director Jennifer Lee, she'll share writing duties on the second film with Allison Schroeder. Schroeder is a newcomer to the Frozen universe, but no stranger to either Disney or fresh takes on beloved animated characters, having written the screenplay for 2018's heartwarming Christopher Robin, the studio's live-action return to Winnie the Pooh and the characters of the Hundred-Acre Wood. Schroeder was also nominated for an Oscar for her screenplay for 2017's Hidden Figures, making her a strong addition to the Frozen team.
Where Frozen left off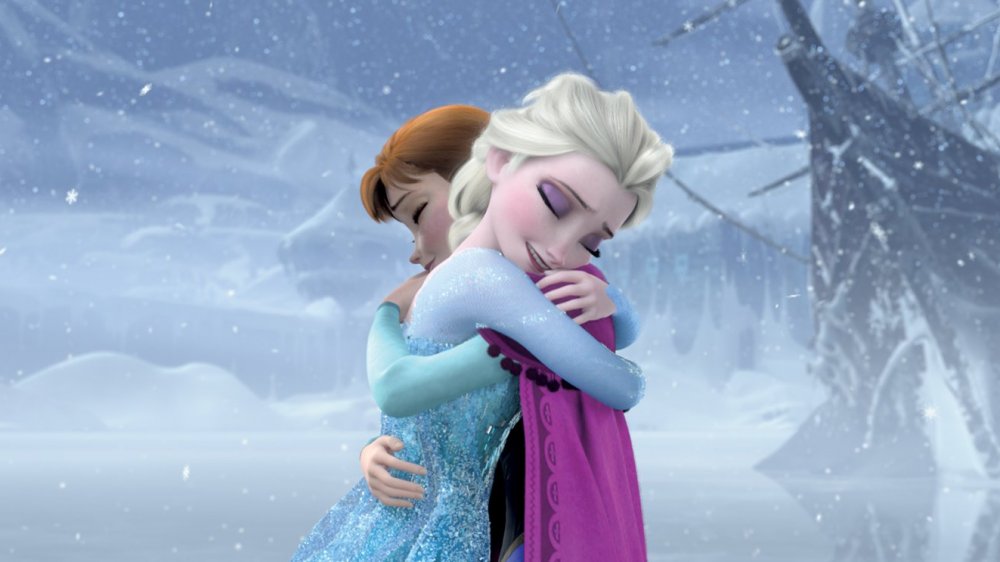 Frozen tells the tale of the two daughters of the King and Queen of Arendelle: Elsa, the elder sister, and Anna, the younger one. Although the two were close as children, they drifted apart after their parents taught Elsa that the best way to deal with her magical icy powers was to conceal them from the world, and to repress her emotions. As a result, Elsa has isolated herself, and only pulls further away when the King and Queen are lost at sea. However, as the oldest daughter, it's Elsa's duty to take up the crown, but on the day of her coronation, she loses control of her powers and flees the kingdom. 
Anna pursues her into the mountains, aided by the ice harvester Kristoff and his trusty reindeer Sven, hoping to convince Elsa to end the sudden winter she's created in Arendelle, and reconnect with her sister. Convinced she can't control her powers, Elsa accidentally freezes Anna's heart — a spell that will slowly kill her. Dying and heartbroken, Anna returns to Arendelle, where the sinister Hans is in the midst of maneuvering to take control of the kingdom. But before he can kill Elsa and seize the crown, Anna stops him, and her act of true love in saving her sister thaws her heart. Realizing love is the key to controlling her powers, Elsa ends the magical winter, reconciles with Anna, and takes up her crown as Queen of Arendelle. 
Where does Frozen 2 pick up?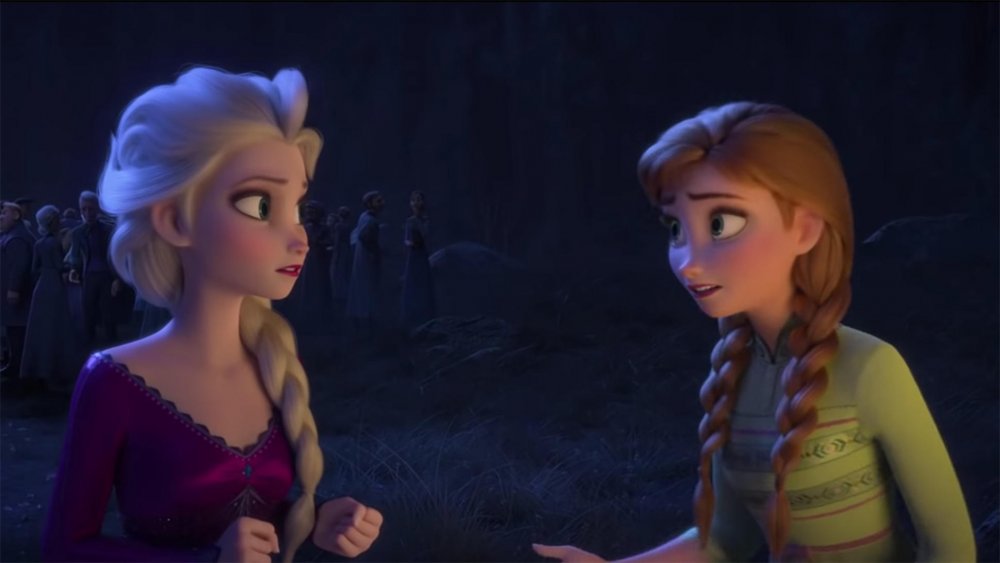 Although six years will have passed for us between Frozen and Frozen 2, according to Disney's head of animation, Becky Bresee, the story of Frozen 2 will begin three years after the end of the first film. Speaking to The Hollywood Reporter, Bresee said, "It's an evolution and an expansion of the story of Frozen, and many of the questions raised in the first movie become the mysteries that our gang are trying to solve in this film." She added that the main question of Frozen 2 will be, "Why was Elsa born with her powers?"
But for anyone worried that Frozen 2's mystery-centered storyline will be a departure from the first film's focus on the relationship between the two sisters, you can put your fears to rest. Disney's head of effects Marlon West assured THR that the sequel is ultimately "about two sisters trying to stay together while the world tries to tear them apart," which sounds like exactly what we'd hoped for after the emotional, family-driven tale of the first film. 
What is Frozen 2 about?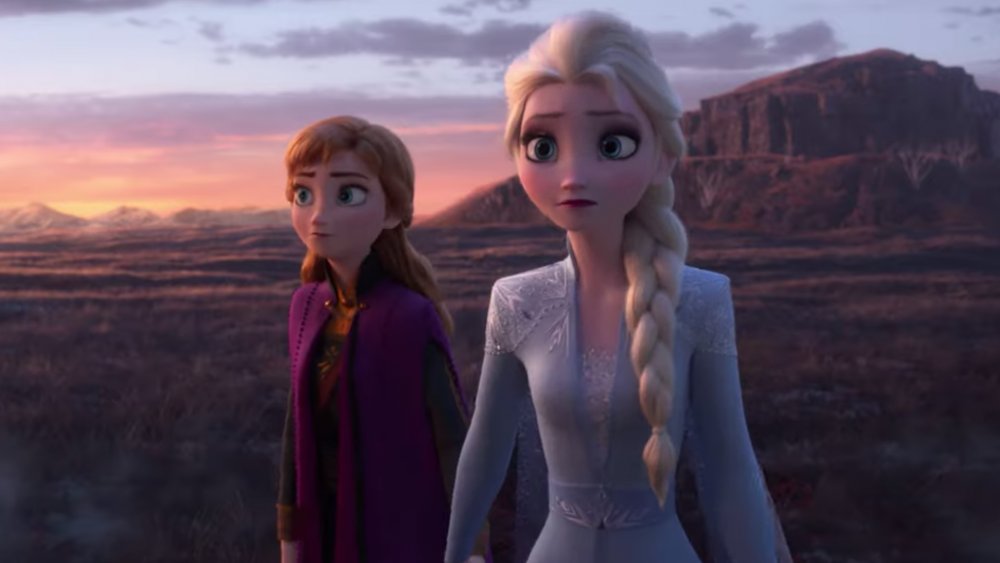 Based on the trailers Disney has released for Frozen 2, we can start to piece together some pieces of the plot. In the beginning, all appears to be well in Arendelle, with Queen Elsa ruling peacefully over her subjects from her gently ice-frosted castle. But some sort of malevolent unseen force, manifesting as pink flames, drives the Arendellians out of their homes. Determined to get to the bottom of what's happened to them and fix it, Anna and Elsa set off on a quest, accompanied by Kristoff, Sven, and Olaf. 
While the first film focused mostly on Anna, Elsa looks to be the main protagonist of Frozen 2, as she attempts to track down the source of a mysterious voice she hears calling to her. She hopes to discover the source of her powers, and through that knowledge, somehow save her kingdom. The trailers also indicate that an enchanted forest in the far north will prove to be significant to the two sisters, and possibly provide some further clues about the backstory of their parents. 
Additionally, while Elsa's powers were the source of the conflict in the first film, they may be the solution to the problems of Frozen 2, with Grand Pabbie — the wisest of the trolls who raised Kristoff — telling Anna, "We have always feared that Elsa's powers were too much for this world. Now we must hope they are enough."
What questions will Frozen 2 try to answer?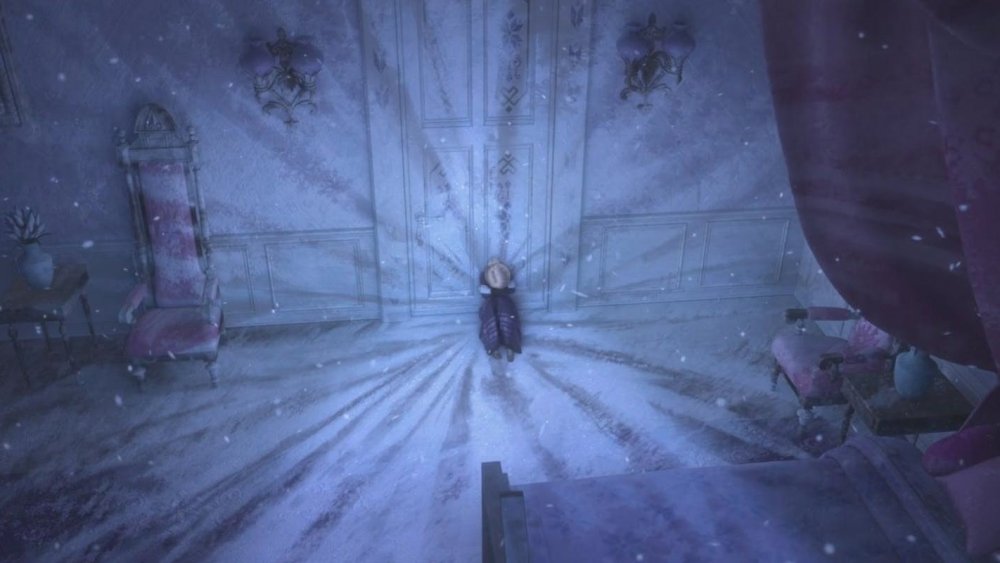 In breaking the story for Frozen 2, directors Chris Buck and Jennifer Lee, together with songwriters Kristen Anderson-Lopez and Robert Lopez, realized they still had a few big lingering questions after the events of the first film, and set about creating a story that would answer them. The first, which was the main question producer Peter Del Vecho kept fielding while traveling to promote the first film, was simply, "Why does Elsa have powers?" And of course, on the heels of that question comes the logical follow-up: "Why doesn't Anna have powers?"
In digging into answers about the two sisters, it becomes obvious that the people we really need to know more about are their parents, which calls into question the circumstances surrounding their deaths. According to Lee, although the first film implied that the King and Queen were headed away on routine business when their ship sank, things may not all be as they appear. "Where were their parents really going when that ship went down?" Lee asked during the 2019 D23 Expo. We've been promised that the answers to all these questions, and more, will be revealed in Frozen 2. 
What can the new songs tell us about Frozen 2?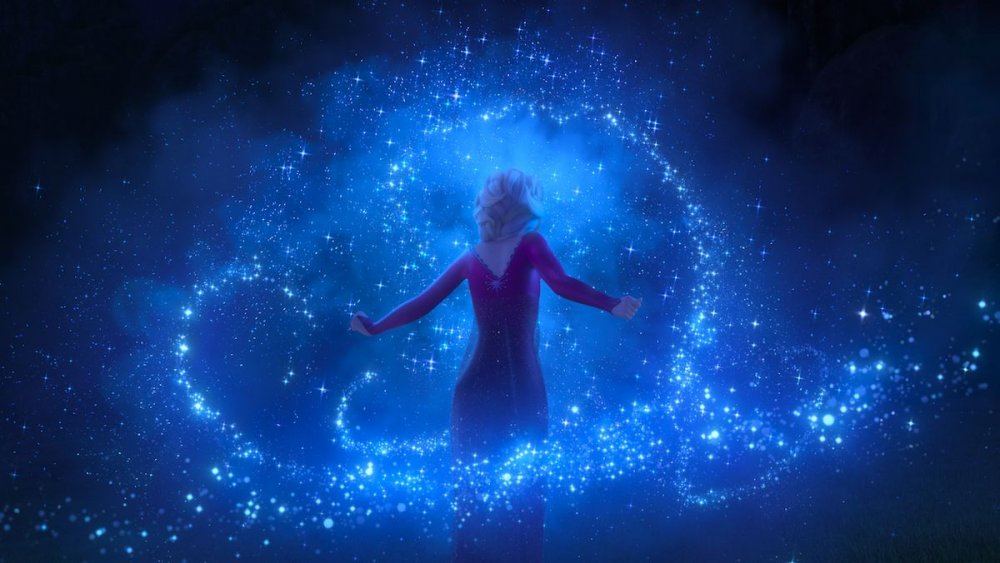 While "Let it Go" was indisputably the most persistent earworm to come out of the first Frozen — and arguably, out of any Disney animated film this century — the movie boasted a number of other catchy musical numbers, including "Love is an Open Door," "For the First Time in Forever," and "Do You Want to Build a Snowman?" With the same songwriting duo penning the tunes for the sequel, Frozen 2 is sure to produce some equally singable sensations, with the Elsa-performed showstopper "Into the Unknown" already poised to become this film's runaway hit. 
But can we learn anything about the film based on its soundtrack, other than the names of the songs destined to get stuck in our heads for months? Two tracks, including the solo song "All is Found," feature Evan Rachel Wood, who voices Queen Iduna, indicating that Anna and Elsa's mother may have a much bigger role to play in Frozen 2 than she did in the first film. Idina Menzel, who voices Elsa, appears on three tracks, while Kristen Bell's Anna only appears on two, which likely is an indication of Frozen 2's shifted focus from Anna to Elsa. And while Broadway veteran Jonathan Groff, who voices Kristoff, barely sang at all in the first Frozen, it looks as though he'll be much more prominently featured in the music of Frozen 2, lending his voice to three songs, including the new solo number "Lost in the Woods." 
Which returning characters will we see in Frozen 2?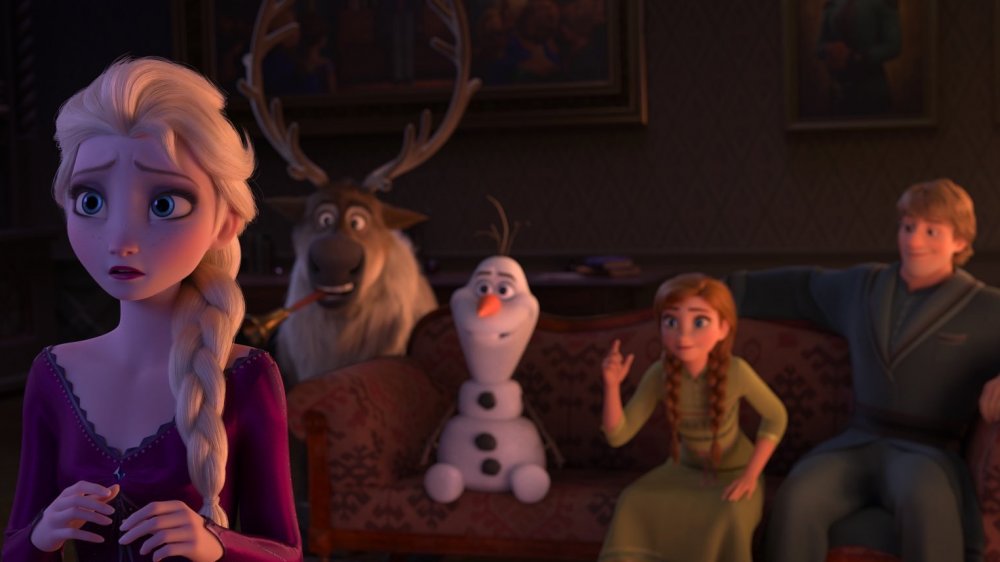 If you loved the characters from the first Frozen, you're in luck, because nearly every major player — and even a few of the minor ones — are coming back for Frozen 2. Leading the cast list are Idina Menzel as Elsa, Kristen Bell as Anna, Jonathan Groff as Kristoff, and Josh Gad as Olaf. Each of the four main voice actors will also be prominently featured on the movie's soundtrack, and will be receiving at least one solo musical number each. 
In addition to the principal voice cast, several supporting characters will also be returning for the second Frozen outing. As we see in the trailer, Ciarán Hinds is back voicing Grand Pabbie, the wise old troll who sets Elsa on her path to learn the truth of her origins. The trailer also gives us a glimpse of Bulda (Maia Wilson), Cliff (Lewis Cleale), and Oaken (Chris Williams), although we don't yet know whether they have any lines, or if they'll be voiced by the same actors. 
Curiously, Hans voice actor Santino Fontana is also set to reprise his role, despite Hans having been banished from Arendelle at the end of the first film. Sadly, he won't be singing this time, and there's no word yet on how he'll play into the story of the sequel. The trailers don't give us even a fleeting peek at Hans, so we'll have to wait until the movie hits theaters to learn whether Hans appears as a villain, a flashback, or something else entirely.
Meet Frozen 2's royal parents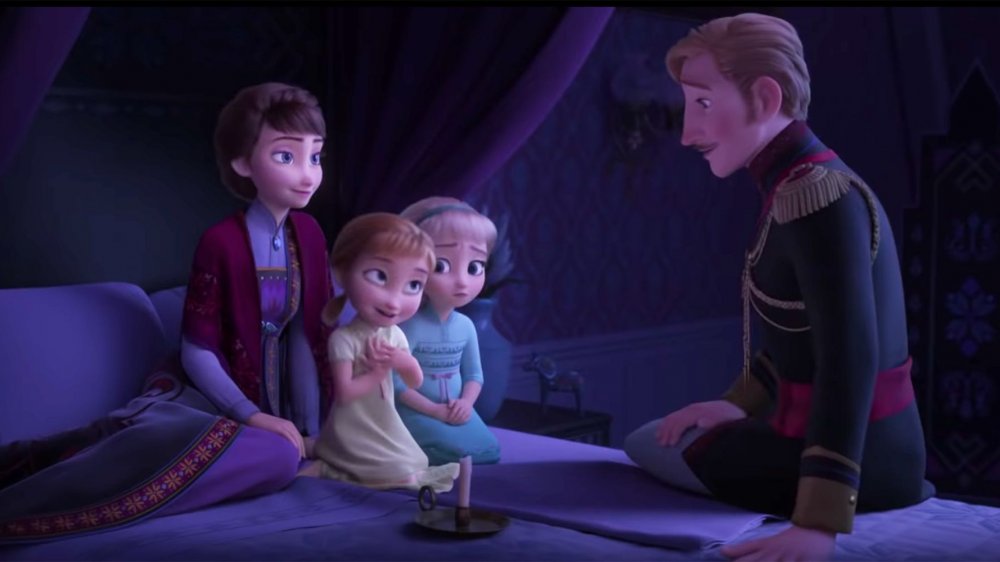 Although audiences were introduced briefly to King Agnarr and Queen Iduna at the beginning of Frozen, they died very early on in the film's narrative, and we learned almost nothing about them beyond their instructions to Elsa to "conceal, don't feel" her powers. However, in Frozen 2, it looks like we'll be getting to know the late King and Queen much better, possibly including the story of how they met as children. In addition to several scenes of the royal family that appear to be set during Anna and Elsa's childhood, the trailers also hint at a backstory for the royal couple that involves the Enchanted Forest of King Agnarr's story, showing brief clips of a fair-haired young boy in Arendelle colors and a dark-haired girl, together in a magical wood. 
Agnarr and Iduna weren't given names in the first film, and had hardly any lines — for their all-too-short presence, the queen was voiced by co-director Jennifer Lee, with veteran voice actor Maurice LaMarche as the king. For their expanded roles in Frozen 2, however, the royal couple will be voiced by Alfred Molina and Evan Rachel Wood. Judging by her two songs on the movie's soundtrack, Iduna will have a particularly hefty role, and according to Disney's press release, the queen will "[begin] to wonder if her own past may hold the answers for her family."  While the press release has less to say about Agnarr, saying only that he'll "do anything to ensure his daughters' wellbeing and safety," the casting of the Golden Globe and Emmy-nominated Molina makes it seem as though the king will have a significant part to play as well. 
Elsa and Anna won't be the first travelers from Arendelle to visit the Enchanted Forest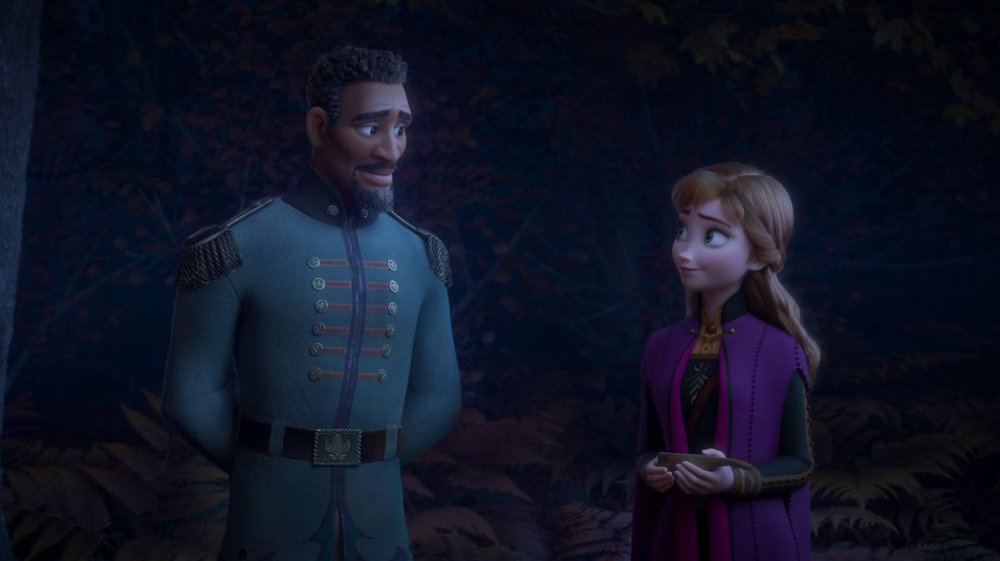 Joining the impressive cast for Frozen 2 is This is Us actor Sterling K. Brown, who will be voicing Lieutenant Destin Mattias, an Arendelle soldier who's been trapped in the Enchanted Forest for more than 30 years. According to Disney's press release, Lieutenant Mattias has "never forgotten his sworn duty to Arendelle, but the arrival of Queen Elsa and discovery that she has magical powers is just the first of many challenges to his long-held beliefs."
Lieutenant Mattias originally traveled to the forest to fight against the nomadic Northuldra people, presumably the enemies of Arendelle. However, when we see him in the trailer, he and his men appear to be standing alongside the Northuldra, raising the question of whether the animosity between the two groups was some sort of misunderstanding, or whether the trailer is simply working to mislead us. A significant theme running through the first Frozen was about first impressions being unreliable, as evidenced with both Elsa and Hans, and we wouldn't be surprised if it carries through to the sequel in an even more prominent way. 
Answers may lie with the Northuldra people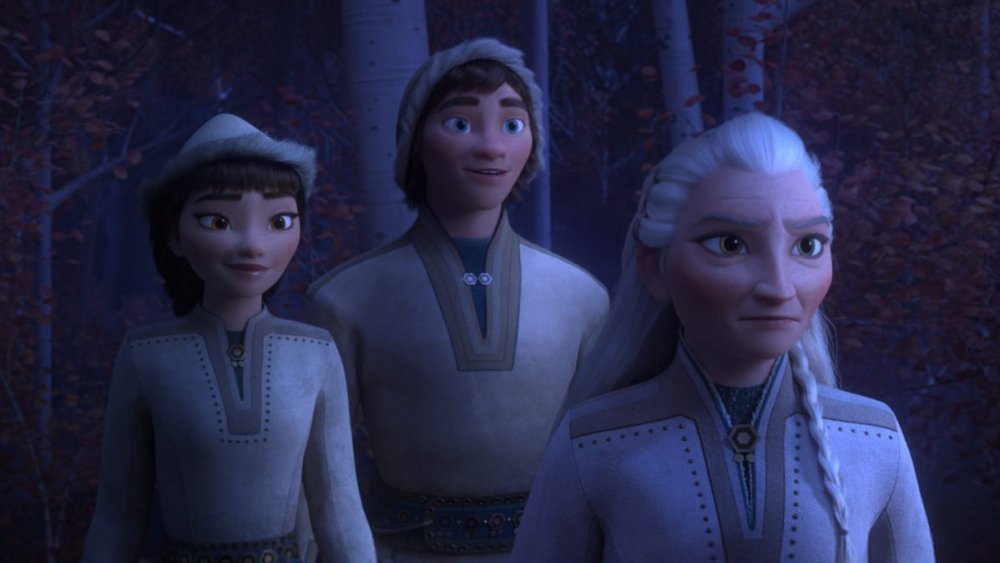 While the story of Frozen focused almost entirely on the people who lived in a single village, Frozen 2 will be broadening the scope of its storytelling quite a bit. Not only will Anna and Elsa be venturing far outside the borders of Arendelle, exposing them to a vast world beyond anything they've ever known, but they'll also be meeting new people who, at least at first glance, appear very different from them. 
Joining the cast of Frozen 2 are several members of the Northuldra people, including their leader, Yelana (Martha Plimpton), "bold and brave" Honeymaren (Rachel Matthews), and "eager and fun" Ryder (Jason Ritter). According to Disney, Yelana is "fiercely protective of her family and community but is known to soften when people show an understanding of nature and their environment," which seems to hint that once the (perhaps literal) ice is broken, she may be a strong ally for Anna and Elsa. 
Meanwhile, Frozen 2's new pair of siblings, Honeymaren and Ryder, seem to have views that could put them at odds, with Honeymaren being "a true free spirit [who] wants nothing more than to bring peace to the Enchanted Forest," while Ryder "longs to embrace the world and venture beyond the magical mist." It'll be interesting to see how this brother and sister pair plays against Arendelle's royal sisters, and whether they'll all be able to work together, or wind up butting heads as only siblings can. 
Frozen 2 will introduce us to a variety of magical creatures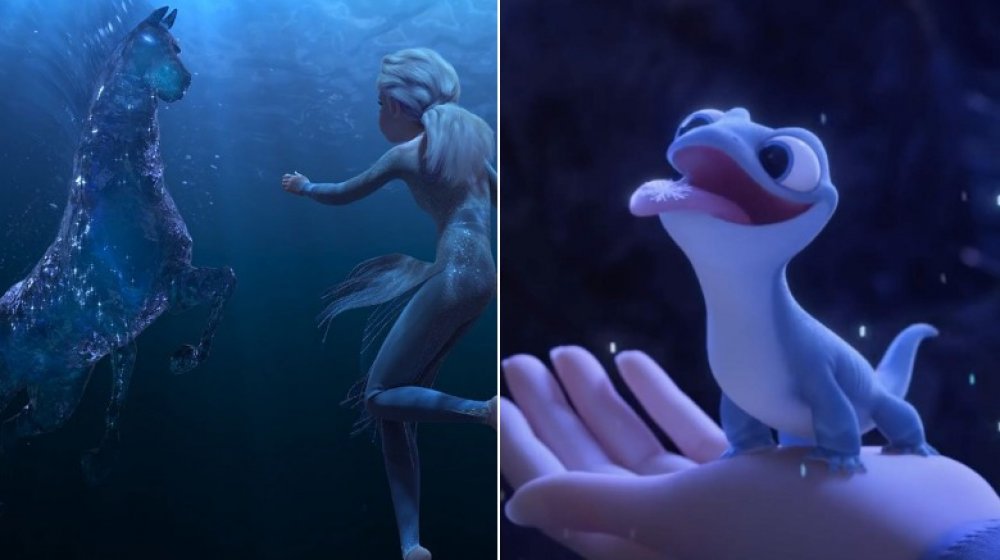 While the original film introduced us to such non-human favorites as Olaf the snowman, Sven the reindeer, and a colony of trolls, Frozen 2 looks to significantly expand its roster of mystical, magical, and just plain adorable creatures. Nokk the water spirit can be seen in the trailer as the watery horse that Elsa encounters in the ocean. Disney's press release states that Nokk is "a fierce warrior and guards the secrets of the forest fiercely," and that to get past it, "a person must prove they are worthy and earn its respect — an almost impossible task." However, based on the brief shot of Elsa riding the water stallion in the trailer, it appears as though she manages to impress Nokk somehow. 
Frozen 2 will also introduce us to Gale the wind spirit, who "has the ability to pick up objects and mimic others," and can seemingly be viewed in the trailer tossing leaves and children up into the air. In addition, there are the massive stone earth giants who we see in the trailer towering over the treetops of the Enchanted Forest and seemingly hunting a terrified-looking Elsa. 
We'll also meet Bruni, a salamander who lives in the Enchanted Forest and "can't help but be drawn to Elsa's icy magic and enjoys the cool snowflake treats she creates." After Elsa spent so much of the first movie in isolation, it'll be nice to see her make a tiny new friend in this one. And if Josh Gad's tweets and Bruni's adorable Japanese character poster are any indication, when we finally meet Bruni on screen, we fully expect to fall in love with the little guy ourselves.