Why Robert Downey Jr. Apologized During His D23 Disney Legends Awards Speech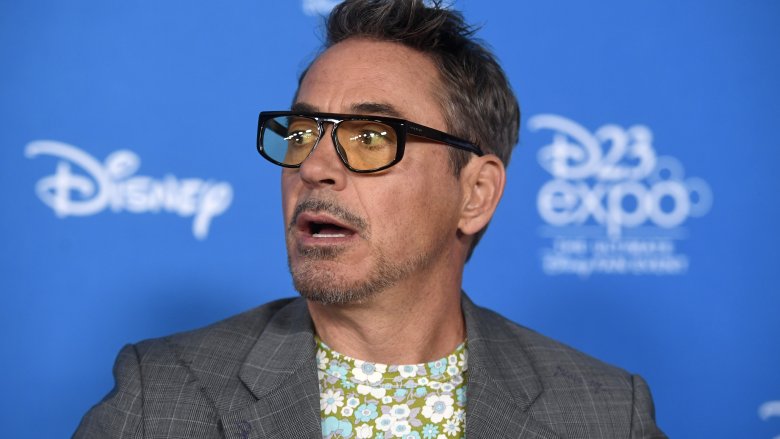 Frazer Harrison/Getty Images
Robert Downey Jr. has cleared his conscience decades later. 
At this year's D23 Expo on Friday, Walt Disney Company CEO Bob Iger welcomed Downey Jr. to the stage to induct him as a member of the 2019 class of Disney Legends. Downey Jr. — who spent a decade playing Tony Stark (better known as Iron Man) in the Marvel Cinematic Universe after laying a flawless foundation upon which the franchise flourished — inspired many laughs while delivering his acceptance speech, in which he recounted his first trip to Disneyland that got him into trouble with the park's employees. The actor felt that now was the time to apologize for his blunder at the happiest place on earth, saying sorry for getting caught smoking marijuana on Disneyland premises. 
"Here's a bit of trivia for you. The very first time I went to Disneyland I was transported to another place — within moments of being arrested. I was brought to a surprisingly friendly processing center, given a strict warning, and returned to, if memory serves, one very disappointed group chaperone," the ever-unpredictable, always-hilarious Downey Jr. said. "I've been sitting on that shame for a while and I'm just going to release it here tonight."
He continued with a coy smile, "I would like to make amends to whomever had to detain me for smoking pot in the gondola without a license. I don't want to further confuse the issue by insinuating that pot-smoking licenses for the gondola are in any way obtainable — or for any of the other park attractions, as far as I know ... Maybe the Imagineers, but that's their business. Anyway, that's a load off."
Off that chuckle-worthy anecdote, Downey Jr. got sentimental, addressing the thousands in attendance at the D23 2019 Disney Legends Awards ceremony to express just how much the honor means to him. 
"For my part, playing Tony over many years, the thematic idea that technology can guide our species towards enlightenment or destruction, it's been a really worthwhile and ongoing meditation. Honestly, it's been a great gift ... So I want to thank the fans who made all this possible starting back in 2008," he stated, going on to say that he's looking forward to the future even though his time as Iron Man concluded with Avengers: Endgame. "Here's what I get to do: I get to remain a fan of the first inclusive and evolving cinematic universe ever, so far, and, yeah, here's to the future."
When dealing with an actor as charismatic as Downey Jr., it's not too surprising that he gave such an unorthodox speech while accepting an award bestowed upon him by a very family-friendly company. His short story and subsequent apology garnered a ton of laughs from the crowd, and will likely make fans at home smile wide while remembering the joy and humor he brought to the MCU for so many years. Downey Jr. may be moving on from the Marvel movie world, but his legacy remains. Fans will continue to love him 3,000 — past bad behavior at Disneyland and all.