Birds Of Prey Trailer: What The Gentlemen Prefer Blondes Reference Could Really Mean
Emancipate this.
After plenty of teasing, Warner Bros. Pictures has dropped the official full-length trailer for the Margot Robbie-led girl gang flick Birds of Prey (and the Fantabulous Emancipation of One Harley Quinn). 
The footage, which followed after the release of four candy-colored posters bursting at the seams with girl power, features Robbie's Harley Quinn assembling her own squad of skilled ladies who have one thing in common. In the aftermath of her break-up with the Joker, with whom Harley was in a toxic relationship for the duration of 2016's Suicide Squad, Harley partners with a trio of "dames in Gotham looking for emancipation": Helena Bertinelli/Huntress (Mary Elizabeth Winstead), Dinah Lance/Black Canary (Jurnee Smollett-Bell), and Renee Montoya (Rosie Perez). 
Together, the girl group known as the Birds of Prey face off against the evil crime lord Roman Sionis, a.k.a. Black Mask (Ewan McGregor), after he threatens the life of a young girl named Cassandra Cain (Ella Jay Basco), who discovers a diamond belonging to him. They'll also cross paths with the vicious serial killer Victor Zsasz (Chris Messina) and a number of other baddies roaming the streets of Gotham, which has been left unprotected following Batman's sudden disappearance. 
Amidst the crackling one-liners, vivid colors, and high-intensity action all permeated by an infectious sense of fun and mischief, the Birds of Prey trailer includes glimpses of a scene in which Harley Quinn performs a musical number, presumably in Black Mask's nightclub where Black Canary is also seen singing. Dressed in a fuchsia dress and matching gloves, sporting a perfectly coifed blonde 'do, and wearing a heavy cluster of diamonds around her neck, Harley performs her heart out while a group of masked men dance behind her. Things go sour when someone enters the scene and opens fire. 
It all makes for an obvious reference to the 1953 musical comedy film Gentlemen Prefer Blondes, but what might the nod to the classic flick really mean in the context of Birds of Prey? Let's discuss.
How the Marilyn Monroe film clues us into the possible events of Birds of Prey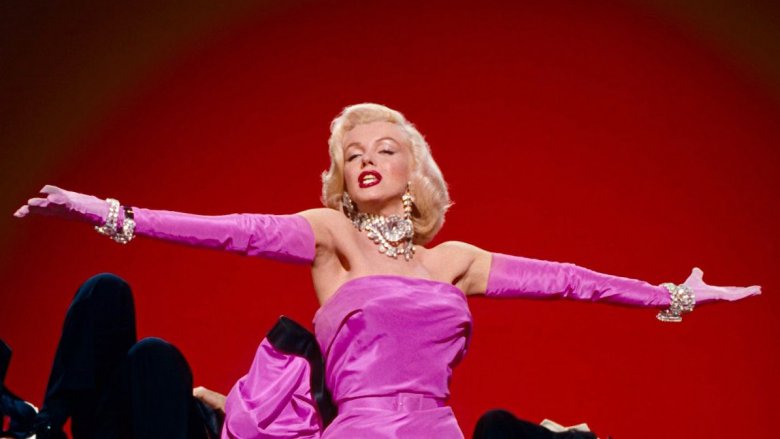 20th Century Fox
Based on the musical by Joseph Fields and Anita Loos, Gentlemen Prefer Blondes starred '50s screen icon Marilyn Monroe as Lorelei Lee, a showgirl whose love for money and diamonds leads her to believe that finding a wealthy man to marry will make her life complete. Luckily for Lorelei, she's bagged a man she feels will make the perfect future husband: the rich Gus Esmond (Tommy Noonan), who buys anything her heart desires. 
One of the most iconic scenes in Gentlemen Prefer Blondes is the one in which Lorelei performs the song "Diamonds Are a Girl's Best Friend" at the French nightclub she works at — a gig she's forced to take after the line of credit Gus granted her was cancelled when his father's private detective Ernie Malone (Elliott Reid) discovers that Lorelei has grown close to British diamond mine owner Sir Francis "Piggy" Beekman (Charles Coburn). Gus shows up at the nightclub to watch Lorelei sing "Diamonds Are a Girl's Best Friend," the lyrics of which explain why Lorelei thinks women should exploit men for their money. 
Considering what happens in Gentlemen Prefer Blondes and the belief system Monroe's Lorelei holds, it doesn't seem like a stretch to theorize that Birds of Prey might see Harley Quinn take on the same kind of attitude. Harley is clearly looking to change her life after breaking up with the Joker, and perhaps this leads her to want to exploit men by whatever means necessary and expose them for their wrongdoings as a way to expunge the memory of her abusive ex-beau and reclaim her independence. Maybe Harley, who is heard in the Birds of Prey trailer saying that people should be afraid of her and "not Mr. J," performs a "Diamonds Are a Girl's Best Friend"-style song at Black Mask's nightclub in the presence of Joker, just like Lorelei did with Gus. And who knows? Maybe the Clown Prince of Crime is the person who begins firing his gun at Harley and her back-up dancers, which could motivate Harley to fight back even harder and distance herself from the Joker even more. 
Or maybe Harley has a Lorelei-like attitude in Birds of Prey that she directs at someone else — Black Mask. Perhaps she will straight-up sing "Diamonds Are a Girl's Best Friend" from Gentlemen Prefer Blondes in Black Mask's face as a cheeky jab at the fact that Cassandra Cain came across his precious diamond. After all, Birds of Prey is about Harley's emancipation from the Joker, so why sing a song aimed at the man who made her life so awful?
This is all quite fun to think about in the months leading up to the early 2020 launch of Birds of Prey, and will be even better to watch play out on the big screen when that time finally comes. Birds of Prey (and the Fantabulous Emancipation of One Harley Quinn) will fly into theaters on February 7, 2020.