The Truth Behind Harley Quinn's Hyenas In Birds Of Prey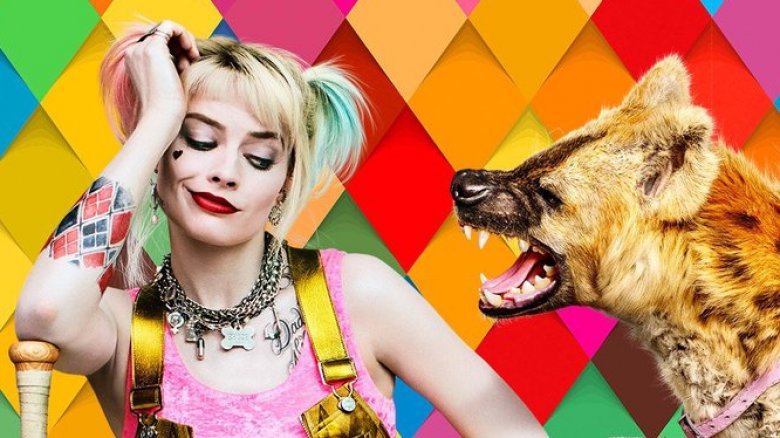 Warner Bros. Pictures/DC Films
If dogs are man's best friends, then hyenas are Harley Quinn's. 
In the newest batch of posters for Birds of Prey (and the Fantabulous Emancipation of One Harley Quinn), Margot Robbie's hell-raising half-villain, half-anti-heroine Harley Quinn is seen smirking on a sofa while a hyena bares its teeth at her. Sure, having a sharp-toothed carnivore (shown sporting a bubblegum pink collar in the poster) in her posse makes Harley seem cooler than ever before, but the animal isn't just an accessory. Here's why Harley has hyenas in Birds of Prey, where they came from, and what type of role they'll play in the upcoming flick. 
The tale of Harley and her hyenas
Harley Quinn has not one but two hyenas in the DC Comics canon. Their names are Bud and Lou — a nod to the famous comedy duo Bud Abbott and Lou Costello who were popular during the late '40s and early '50s — and before they came into Harley's life, they were locked up in a cage at the Gotham City Zoo. After Harley separated from the Joker and formed her girl gang, which the Birds of Prey movie is centered around, she freed Bud and Lou from the zoo and took them in as her pets and protectors. 
At one point in the comics, white-collar crooks steal Bud and Lou from Harley, placing them up for auction in hopes of scoring big bucks from wealthy people wanting a pair of exotic pets. Thankfully, Harley called on her pal Poison Ivy (who sadly isn't a part of the Birds of Prey pic) to help bust up the auction, with Harley rescuing Bud and Lou and Ivy causing some serious damage to the joint. 
When DC Comics underwent its New 52 reboot in 2011, Bud and Lou's connection to Harley was changed slightly. Still her pets — her "sweeties" or "babies," as Harley calls them — Bud and Lou were actually made to turn against Harley at one time. Joker, Harley's abusive on-again-off-again boyfriend, injected them with rabies and ordered them to attack Harley. It was believed during the time of the "Death of the Family" comic run that Harley ended up killing Bud and Lou to save herself — but in her own series, the two spotted hyenas are seen alive and healing at a zoo.
Bud and Lou have also appeared on the television shows Batman: The Animated Series, The Batman, The New Batman Adventures, Krypto the Superdog, and Justice League Action — doing everything from pranking people to devising their own dastardly plans to facing off against Ace the Bat-Hound. Additionally, video game enthusiasts have likely spotted the two hyenas in Batman: Arkham City (seen as taxidermied displays in Penguin's Cyrus Pinkney Institute for Natural History base) and Injustice 2 (popping up alongside Harley in battle and serving as her Supermove).
How will Harley's hyenas fit into Birds of Prey?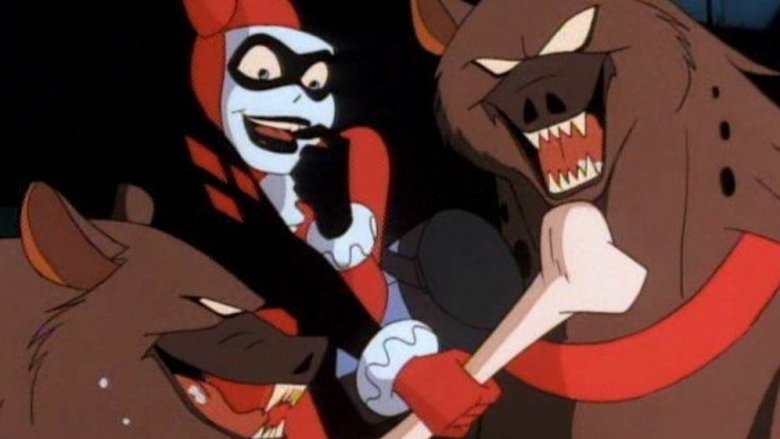 It stands to reason that Birds of Prey director Cathy Yan and screenwriter Christina Hodson opted to bring Bud and Lou into the film in the same way that the comics did: by having Harley and her Birds of Prey gang (which includes Huntress, Black Canary, and Renee Montoya) free them from the Gotham City Zoo after she splits with Joker. Not that the girls really need any additional force in their pack since they're all skilled in combat and have no issue shaking down their enemies, but having Bud and Lou in the mix will certainly send a big "back off!" message to anyone trying to mess with them — namely the serial killer Victor Zsasz (played in the flick by Chris Messina) and the criminal kingpin Black Mask (Ewan McGregor), who threatens the young Cassandra Cain (Ella Jay Basco).
Of course, fans will have to wait until the film arrives in theaters to know for sure how Bud and Lou fit into the narrative. Birds of Prey (and the Fantabulous Emancipation of One Harley Quinn) is set to debut on February 7, 2020.