How Jay And Silent Bob Would Join The MCU - Exclusive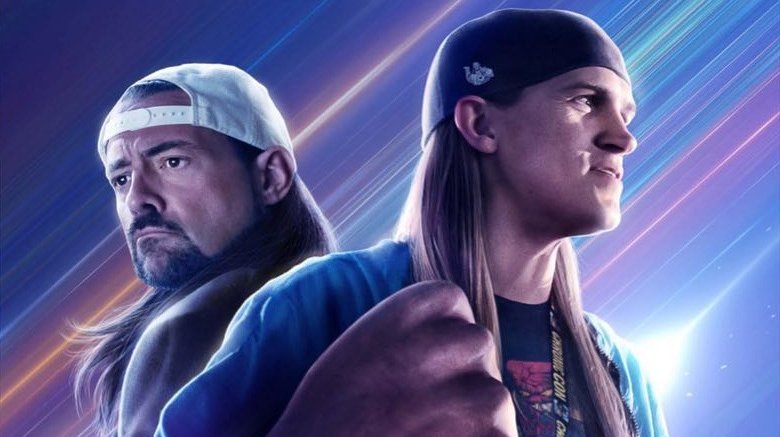 Jay and Silent Bob are coming back to spoof comic book movies, Hollywood, and more once again in Jay and Silent Bob Reboot. But what if Jason Mewes' and Kevin Smith's iconic stoner duo did more than just smoke herb and spoof superheroes? What if they actually went out and joined the superheroes' world?
It's not as strange as it might sound. Kevin Smith has directed and appeared on episodes of the CW's Arrowverse franchise, and Mewes has made appearances on the shows as well. The duo have also long lent their likenesses to the Red Bank, New Jersey comic book store Jay and Silent Bob's Secret Stash, owned by Smith since the late '90s. (You may recognize it as the setting of AMC's Comic Book Men, also developed and produced by Smith.) 
Long before the Arrowverse or the Marvel Cinematic Universe, Smith's own View Askewniverse beat Marvel Studios to the shared universe concept by an entire decade, with Jay and Silent Bob being the main thread tying together many different movies. Smith's films have even had comic book tie-ins, and Jay and Silent Bob have in-universe comic book alter egos: Bluntman and Chronic, who are both making a return in the story of Jay and Silent Bob Reboot. 
So, Jay and Silent Bob have comic book bona fides — that's been long established. But what would it look like if Bluntman and Chronic joined a slightly more serious superhero universe? What if they suddenly jumped from the Askewniverse to something a little more fantastical?
We spoke with Jason Mewes about that possibility during promotion for his new movie and directorial debut, Madness in the Method. During our chat, we got to talking about the sweeping next phase of the MCU, which will include the animated Disney+ series What If...?, a take on the classic series of speculative Marvel comic books. 
Considering that Marvel Comics has in the past crossed over with the likes of Star Trek, Transformers, and Ash from Evil Dead, it's not such a weird thing to wonder: what if Jay and Silent Bob went out and joined the MCU? 
If anyone knows the answer, it's Jason Mewes, a lifelong comic book fan. And while he may be sober these days, he knows his on-screen stoner character inside and out.
"I feel like Jay and Bob would be the Bruce Wayne and Dick Grayson of Earth-14," Mewes said. "And then we'd turn into Bluntman and Chronic. So it could almost be like a What If...?, you know?"
Mewes imagined the characters' origin story as being something straight out of Batman Begins — which is DC-branded, sure, but we don't think anyone's going to sue. 
"Instead of finding the Batcave, and the bats give Bruce Wayne the idea to dress as a scary bat," Mewes began, "it would be Jay and Bob going into a cave, and a bunch of weed is in there. And then all of a sudden we're like, 'There's the idea — we'll scare everyone with our Chronic and Bluntman costumes.'"
In other words, move over, Moon Knight. This dynamic duo would make for a much more amusing take on Batman-style crime-fighting. Maybe they can cross over at the same time as Deadpool.
Of course, there's more than one way to join the MCU. Technically speaking, Mewes already exists in the Marvel movie world, as do Jay and Silent Bob. That's all thanks to the late Stan Lee, who made one of his last on-screen appearances in 2019's Captain Marvel. Set in the 1990s, the movie shows Lee reading the script for Kevin Smith's Mallrats while sitting on a train, memorizing his lines out loud to himself. Lee made a cameo appearance in that movie (Smith's second), featured in the cast alongside Jay and Silent Bob. 
But enough of this in-universe speculation — let's just get direct about it. Jason Mewes is a working actor, so are there any comic book characters out there he'd want to play? The answer is, well, yes — not that he would necessarily accept the offer to play them.
"I think Vigilante or Deadshot would be really cool to play, because they're two of my favorite DC characters," said Mewes. "But I don't think I'd want to play a [comic book] character, because I love watching the movies and the TV shows so much."
Mewes appears to feel this way in general, not seeming to want to join in on the things he enjoys experiencing as a fan. 
"I feel like it would throw me out of the universe if I'm sitting and watching Netflix's Daredevil, and I was playing one of the main characters," he said. "Even if it was Foggy Nelson, you know? Because I just enjoy it so much."
Mewes continued, "I just feel like I wouldn't be able to sit and enjoy watching it and really getting into the stuff if I was a main character. But of course I'd love to be in any of the movies or TV shows, if I was like 'Journalist #2' who got to interview [the heroes] one or two scenes out of the series, or once in the movie or something."
He doesn't just talk the talk on this topic, either. This is more or less exactly what he's done on the Arrowverse series The Flash, on which he's played two characters: "Humvee Guy" and "Jay the Security Guard."
"I'd want to be like the reporter that was in like one, two episodes out of the thing," he said.
So, while you might not see Mewes headlining a superhero show on DC Universe or Disney+, you can still definitely catch him making hay on his home turf as Jay and his alter ego: the OG Chronic. 
You can see Jay and Silent Bob team up again in Jay and Silent Bob Reboot's touring roadshow, kicking off on October 15. And you can also check out Mewes' reunion with Stan Lee in Madness in the Method.