Everything You Need To Know About Jason Mewes' Directorial Debut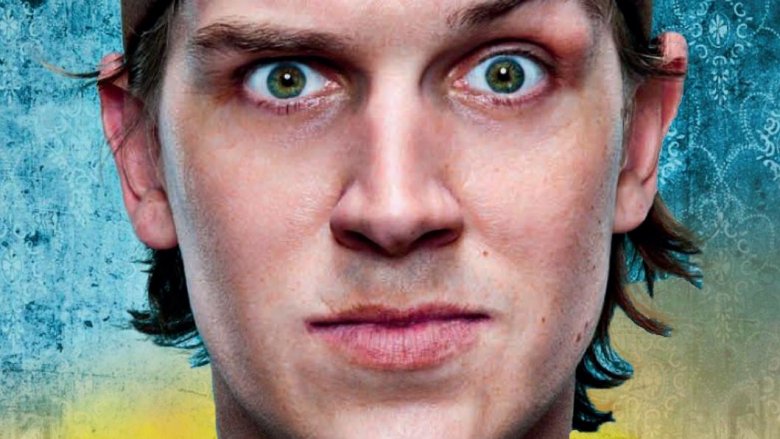 Jason Mewes is striking out on his own with Madness in the Method, his feature debut as a director with no Silent Bob in sight. 
The film, released in theaters and on VOD platforms on Friday, August 2, follows a fictionalized version of Mewes as he goes through the difficult process of trying to convince someone, anyone in Hollywood to hire him for an acting role with some meat on its bones. But despite his track record as one of the industry's most unlikely success stories, no one gives him a chance. 
Though he's accrued a robust filmography over the years as an actor, Mewes remains most closely associated with the character of Jay, whom he made famous in the 1990s with the popular films Clerks, Dogma, and Jay and Silent Bob Strike Back, among others. That series of films was spearheaded by Kevin Smith, who wrote and directed the movies while appearing on camera as Jay's companion, Silent Bob. But though Smith is involved in Madness in the Method — as a member of the supporting cast — this movie is all Mewes. 
The plot of Madness in the Method is loosely based on Mewes' own life, as he works to navigate a world that mostly knows him from the version of himself he's played onscreen. 
An iconic character, Jay became known for his sweet kind of stoner style, as likely to aggressively brag about sexual conquests as he is to drop everything — including his pants — for the sake of an impromptu dance number. 
While the character brought Mewes notoriety, it also resulted in a certain amount of pigeonholing, both from movie fans and casting directors. 
Those experiences, Mewes said, helped inform the screenplay for Madness in the Method, which was written by Chris Anastasi and Dominic Burns with story suggestions motivated by Mewes' real life. In a way, getting people to take Mewes more seriously as an actor is both the plot and the point of the film. 
Regarding the fictionalized version of himself that he plays in the meta Madness, Mewes said, "I can do other things besides the 'snootchie-bootchie,' slapstick-y stoner characters, and no one's giving me a shot in the movie."
After receiving some advice from frequent collaborator Smith, the movie Mewes decides to take his acting game to the next level. Following in the footsteps of the greats, he decides to go method — Christian Bale, Daniel Day-Lewis and Jared Leto-style. 
Mewes and Smith aren't the only pop culture figures who show up to play themselves in the movie. In keeping with the film's industry-centric plot, it also features appearances from the likes of Danny Trejo, Vinnie Jones, Dean Cain, and Stan Lee. 
"To me, Madness is technically... everyone plays themselves, but like a multiverse version of themselves," Mewes said, discussing the movie's plot. "If you're a fan of the Arrowverse — Flash and Supergirl and all that — you know there's different Earths. [...] To me it's almost like everyone plays themselves, but an 'Earth-12' version of themselves."
While the movie starts off with what feels like a foot in the real world, the situation quickly goes off the rails, with deadly results. By the end of the film, it's clear that the movie industry will never be the same.
In the film, movie Mewes takes an unorthodox approach to learning the art of method acting, following a mysterious guide to the craft that yields unexpectedly potent results. 
"I'm told to read it slow and really soak it in, and I read it too fast," Mewes said. "And then from there, an accident happens, and then a killing spree happens." (He described the movie as "a comedy-drama.")
The project first began to come about years ago thanks to a conversation Mewes had with friend Dominic Burns, who also produced the film in addition to writing its screenplay. During some downtime during the shooting of 2014's Devil's Tower, a film Burns produced that Mewes starred in, Mewes was asked about what he wanted to do with his career that he hadn't done yet. The answer was to direct a movie of his own.
"It's something I've been wanting to do since Clerks 2," Mewes said. 
But Mewes also wanted to stretch his acting muscles in a dramatic role with some menace to it, or at least some intensity — something like a Hannibal Lecter figure, or a hard-nosed crooked cop. So it's no surprise that Mewes' movie starts with an audition for just such a dramatic role — one which eventually devolves into the casting director just quoting Mewes' old movies back to him. It's a scenario that's occurred to the real Mewes with some frequency, not that he minds it too much.
"For people to be following us and know quotes and words and things from 20 years ago is pretty awesome, so I really appreciate it," Mewes said. "There definitely [are] moments when I'm like, 'Hey, just give me one sec.' But it's always amazing and I appreciate every one."
Madness in the Method is just a part of what's shaping up to be a major year for Mewes, with the filmmaker reuniting on-screen with Kevin Smith one more time for Jay and Silent Bob Reboot, a continuation of the two characters' story in the robust View Askewniverse. He plans to tour with that film alongside Smith while screening the movie in a roadshow format, starting with a nationwide Fathom Events release on October 15.
In addition to his work on those movies, Mewes is also venturing into the realm of stand-up comedy, with a touring show called Jay Mewes & His A-Mewes-ing Stories. He's also already looking forward to his next project behind the camera — ideally something that demands less of him on screen. 
"Hopefully next time I get to direct, it's just me directing, with maybe me in one or two scenes," Mewes said. That way he'll be able to enjoy the process more without worrying about his own performance — in other words, less madness, and more method for the second time around.