What's The Song In The El Camino: A Breaking Bad Movie Trailer?
Count on Breaking Bad to make meaningful musical choices. 
Netflix has dropped the latest trailer for El Camino: A Breaking Bad Movie, which will pick up directly from where the series finale left off to follow Jesse Pinkman as he attempts to avoid the many parties interested in his whereabouts and come to terms with his past. The trailer is unrelentingly bleak, yet it's soundtracked by a gentle, almost lullaby-like tune, in stark contrast to its tense feel and stark imagery. Breaking Bad fans are used to this kind of dichotomy, and trained as we are to read meaning into the songs selected for use in the show, we just have to know: what is that song in the El Camino trailer?
Well, we won't keep you in suspense: it's called "Black Water," and it comes courtesy of the Canadian indie folk band Reuben and the Dark. The song can be found on the band's 2014 debut album Funeral Sky.
The band has slowly been finding an audience in the U.S., and the inclusion of "Black Water" in the trailer for one of the most hotly anticipated movies of the year probably won't hurt. They were formed by singer/songwriter Reuben Bullock, who recorded the well-received solo albums Pulling Up Arrows (2010) and Man Made Lakes (2012) before deciding to adopt a band name for subsequent endeavors.
Funeral Sky was produced by Christopher Hayden of the English band Florence and the Machine, and we're thinking that he may have also had a little input as to the aesthetic of Bullock's band's name. (That's right: Reuben is the band leader, and his band is called "The Dark." If you were picturing someone sitting in a pitch-black room eating a sandwich with thousand island dressing and sauerkraut, trust us, you weren't alone.) "Black Water" was the lead single from the release, complemented by an atmospheric black-and-white video that plays up the song's themes, which — surprise! — have to do with a desire to leave behind one's past and start anew.
Music has always been important in telling the Breaking Bad story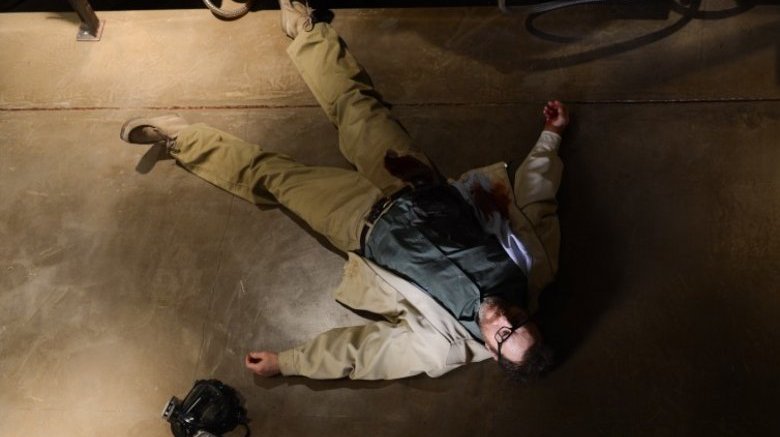 Breaking Bad is still commenting on itself by way of its music, which is exactly what we would expect. The series' musical selections were never anything less than extremely thoughtful and well-curated; for just one example, consider the use of Marty Robbins' "El Paso" in the series finale, "Felina." It's one of those story songs where the narrator dies at the end, and its narrative mirrors Walter White's journey in the finale; the song's protagonist is run out of town over his unrequited love for a girl (whose name happens to be Felina), but simply can't stay away, as the pull of his love is too strong. He returns, but is promptly gunned down and dies in the arms of the girl he loves, which just may ring a note or two of familiarity.
That episode saw Pinkman freed from bondage at the hands of the Neo Nazi gang that had been forcing him to cook for months, and as all hell was breaking loose, the young man went screaming off into the night in a stolen El Camino to an uncertain future. The use of "Black Water" in the El Camino trailer tie into Jesse's harrowing experience perfectly — just take a look at the the lyrics: "Well I get high and I get low / Oh but that's the way / These things go / I saw my face in the mirror / Though I know I've changed / Though it looks / Much the same / I found grace in the black water, bathe my soul / And tell my heart / I told you so / I like fate in the lion's cage / And wait for my time to come / But I'm begging please / I need this so / More than you'll ever know."
It's... it's not just us, right? That song could have been written by Jesse Pinkman himself, if the guy had any musical talent. (We're pretty sure he does not, but that's neither here nor there.)
It may not surprise you to learn that the music for El Camino: A Breaking Bad Movie is being handled by composer Dave Porter, who performed the same function on the original series as well as spin-off series Better Call Saul. Porter has also served as a composer on the TV series The Blacklist and Preacher, as well as the feature film The Disaster Artist.
He's a small but crucial component of the band that has gotten back together to bring us El Camino, which was written and directed by Breaking Bad creator Vince Gilligan and is said to include no fewer than ten characters that were featured in the series. Sure, it's not a sixth season, but for a couple of glorious hours, Breaking Bad will be back on our television screens, and maybe — just maybe — Pinkman will find some semblance of peace this time.
El Camino: A Breaking Bad Movie debuts on Netflix on October 11.