Sid Haig, House Of 1000 Corpses And Jackie Brown Actor, Dies At 80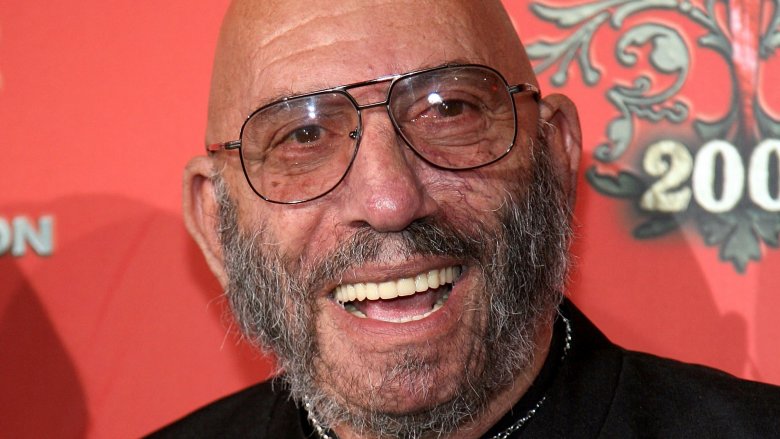 Michael Buckner/Getty Images
A Hollywood legend has made his final curtain call.
Sid Haig, whose career spanned decades and who was perhaps best-known for the role of Captain Spaulding in Rob Zombie's House of 1000 Corpses and its sequels, has died. He was 80 years old. His wife, Susan L. Oberg, announced his passing with a post to his Instagram account.
"On Saturday, September 21, 2019, my light, my heart, my true love, my King, the other half of my soul, Sidney, passed from this realm on to the next," Oberg wrote. "He has returned to the Universe, a shining star in her heavens. He was my angel, my husband, my best friend and always will be. He adored his family, his friends and his fans. This came as a shock to all of us... Goodnight, my love. We will find each other again, next time."
Sid Haig was born Sidney Eddie Mosesian on July 14, 1939. He seemed destined for stardom from a young age, but not necessarily as an actor; as a teenager, he displayed prodigious talent on the drums, and was capable of playing in a variety of styles by the time he left high school. Just a year after graduation, he signed a recording contract, and sat in as a session musician with vocal group the T-Birds on their 1958 single "Full House," which went all the way to #4 on the Billboard chart.
But Haig had also been bitten by the acting bug in high school, and in his early 20s, he decided to enroll in the Pasadena Playhouse, an acting school which had seen the likes of Gene Hackman and Dustin Hoffman pass through its doors. After a couple years, he and his roommate at the school (future Emmy-winning character actor Stuart Margolin) moved to Hollywood, where Haig made the acquaintance of a UCLA film student by the name of Jack Hill.
Hill, a contemporary of both Francis Ford Coppola and Roger Corman, would choose to follow the same path as the latter in diving into the burgeoning market for exploitation films in the '60s and '70s — and with his unique and intimidating look, Haig was a natural for such flicks. While the actor notched several guest appearances in television series like Batman, Gunsmoke, and Mission: Impossible throughout the '60s, he kept his foot firmly wedged in the door of the feature world via appearances in Hill's films, beginning with Spider Baby in 1967. 
Hill would cast Haig in such iconic exploitation flicks as Coffy (1973), Foxy Brown (1974), and Savage Sisters (1974), parlaying these roles into higher-profile parts in hit TV shows throughout the '70s. Haig's unusual mug popped up in such series as The Rockford Files, Police Story, Mary Hartman, Mary Hartman (on which he enjoyed a 55-episode run), and Charlie's Angels during that decade, and he also appeared in features such as the James Bond flick Diamonds Are Forever and George Lucas' sci-fi dry run THX 1138. 
The bit parts kept coming in the '80s, but essentially playing the same role over and over again was starting to take a toll on Haig. He retired in 1992, later explaining his decision in an interview. ""I just didn't want to play stupid heavies anymore," he said. "They just kept giving me the same parts but just putting different clothes on me. It was stupid and I resented it, and I wouldn't have anything to do with it."
Unfortunately, Haig's timing could not have been worse. That same year, he was offered the role of Marsellus Wallace in Quentin Tarantino's breakout film Pulp Fiction — and passed, a decision which turned out to be perhaps his biggest regret. Speaking with Fulle Circle Magazine in 2009, Haig said, "I made so many TV appearances doing the same character, with no thought other than getting whatever number of setups a day, that I just didn't want to do that anymore. When I went in to read for Quentin, I fell in love with the part. I wanted to play that character. Quentin wanted me to play that character. When I was offered the role I was told it would be one day's work. There were four different locations that the character would be seen in through the course of the the film. That just reminded me so much of how TV shows were shot that I turned it down. My agents never mentioned the fact that Quentin didn't work that way. He would take as much time as was needed to get what he wanted. If I had known that, my life would have changed for the better. The real shame is that I've never had the chance to sit down with Quentin and tell him why I turned it down."
Apparently, Tarantino didn't feel slighted in the least, because he wrote the part of the judge in his next film — 1997's Jackie Brown — specifically for Haig. It wasn't long afterwards that a chance meeting on a Universal Studios lot with Zombie would lead to his casting in 2003's House of 1000 Corpses, a collaboration which renewed the actor's passion for his craft and gave him his signature role.
Haig's appearance as Captain Spaulding, the murderous patriarch of the Firefly clan, added a strong dash of extremely off-kilter seasoning to one of the most singularly bizarre horror films of all time, and he would reprise the role in 2005's The Devil's Rejects and this year's 3 From Hell, which was destined to be his final screen appearance. The ongoing collaboration with Zombie led to a late career resurgence as a horror icon; over the last couple decades, Haig appeared in such fright flicks as Night of the Living Dead 3D, Zombie's Halloween reboot, Hatchet III, and Bone Tomahawk.
Zombie posted a touching tribute to his friend on his Facebook page after Haig's passing. It read, in part: "Sid and I had a long talk on the day that he told me of his condition and he knew 3 From Hell would most likely be his last appearance on screen. Sadly it was. I knew it was very important to Sid that Captain Spaulding make one more round and he did. Sid's time [in] the film is brief. He was in rough shape that day, but he gave it his all and made his scene very memorable."
The director continued, "As we were making House Of 1000 Corpses neither of us knew he was creating a character that would live on and grow in popularity every year. Sid told me many times how thankful he was for the Captain and how that character changed his life. He had completely given up on acting and now suddenly had found a whole new audience at the age of 60. I know he was thrilled and blown away by that fact. The Captain is gone... but he will never be forgotten. Rest in Peace Sid."