El Camino: A Breaking Bad Movie To Feature Matt Jones' Badger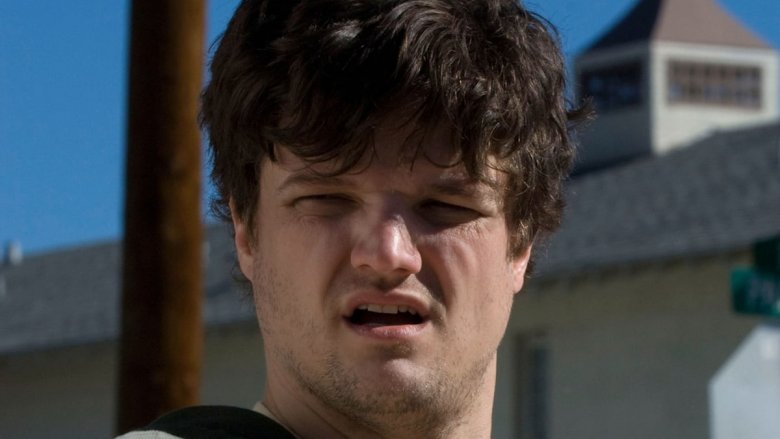 AMC
Where one goes, the other usually follows.
It's now been confirmed that both of Jesse Pinkman's best buddies will appear in El Camino: A Breaking Bad Movie, as it's been announced that Matt Jones will reprise the role of low-level street dealer Brandon "Badger" Mayhew from the series. (via The Hollywood Reporter)
The involvement of Badger's constant companion Skinny Pete (Charles Baker) in El Camino had already been made plain by the dramatic first teaser trailer for the movie, in which the slender half of the drug-dealing duo is sitting in a stark room being interrogated by the authorities over the whereabouts of Pinkman (Aaron Paul).
"I don't know what to tell you I ain't said, like, 500 times already," Pete says. "I have no idea where he is. Don't know where he's headed, either. North, south, west, east, Mexico, the Moon... I don't have a clue. But, yo — even if I did? I wouldn't tell you. 'Cause I've been watching the news, same as everybody else. I seen that little cage of his they kept him in, I heard about what all they did to him to make sure he kept cooking. So, sorry, I don't know what to tell you. There's no way I'm helping you people put Jesse Pinkman back inside a cage."
It was great to see ol' Skinny Pete again, if only for a few moments, but the spot prompted instant speculation as to whether Badger would also be making an appearance. The pair were virtually inseparable during all of their appearances on Breaking Bad; when they were last seen, they were shining laser pointers through the window of Walter White's former business partners Gretchen and Elliott Schwarz, in order to make them think they were being targeted by ruthless hitmen who wouldn't hesitate to blow their heads off if they failed to disburse the ill-gotten gains from White's meth operation to his family. Always up to some antics, those guys.
It's nice to know that both of Pinkman's most trusted friends will be around for the events of El Camino, because the ace meth cook and former partner of White — sorry, Heisenberg — is going to need all the help and support he can get. At the conclusion of Breaking Bad's final episode, Pinkman — having been freed by White from the Nazi gang that had been holding him captive, in an absolute bloodbath that only he survived — was tearing off into the night for parts unknown, laughing, crying, and screaming all at the same time. 
There are going to be many interested parties as to his whereabouts, not the least of which being the Albuquerque police, the DEA, and whatever shady criminal organization those Nazis were in bed with. The only guy to reliably help Pinkman out of such dire straits in the past is sleazy lawyer Saul Goodman, and we know (from the season-opening flash-forwards of Breaking Bad spin-off series Better Call Saul) that he is currently managing a Cinnabon in Omaha, Nebraska, under an assumed name while constantly watching his own back. 
They may not be the smartest, the most well-connected, the most dangerous, the most... okay, let's face it, they're a couple of lowlife nobodies. But Badger and Skinny Pete have always seemed to be exceedingly loyal to Pinkman, and that's more than can be said for virtually anyone else who has ever come into his orbit. Oh, except for his girlfriend Jane, whom White allowed to die of a heroin overdose. And his other girlfriend Andrea, who was shot in the head as punishment for an escape attempt from the Nazis. Pinkman has really not had the best luck.
Since Breaking Bad ended, Jones has lent his talents to a number of TV series, including the CBS sitcom Mom and the Netflix animated comedy F is for Family; he's also appeared in features such as 2017's The Layover and this year's superhero-horror mashup Brightburn.
The casting announcement is just one more tantalizing tease for fans of Breaking Bad, who have waited for years for series creator Vince Gilligan — who wrote and directed El Camino — to return to the series' world. So far, Paul, Baker, and Jones are the only cast members to have been announced, which leads us to believe that Gilligan is holding a few secrets close to the vest (and we would expect no less).
It's been a long wait, but fortunately, it's almost over. El Camino: A Breaking Bad Movie debuts on Netflix on October 11; it will subsequently air on AMC, and will also enjoy a limited theatrical run from October 11 to October 13.