Looking For Alaska Trailer Reveals Hulu's Adaptation Of Beloved John Green Novel
Get ready to cry, because John Green's latest novel is hitting the small screen soon.
Based on the young adult novel from the prolific author of The Fault in Our Stars, Paper Towns, and Turtles All The Way Down, Looking for Alaska will soon drop on Hulu as a new original series — the first trailer for which was just released. 
Looking for Alaska focuses on Miles "Pudge" Halter, played by Charlie Plummer (best known for his roles in Boardwalk Empire and All the Money in the World), who moves from Florida to Alabama to attend boarding school after a terrible high school experience. It's there that he meets the mysterious and enigmatic Alaska Young (played by The Society's Kristine Froseth), and he quickly falls for her. However, the story soon takes a turn when Pudge learns about Alaska's troubled past, which leads to tragedy that affects him, her, and the rest of their friends. 
Hulu's adaptation will run for eight episodes as a limited series, and features a group of young, relatively new actors alongside industry veterans like Timothy Simons (Veep) and Ron Cephas-Jones (This Is Us). 
The trailer gives audiences a perfect glimpse into the series — promising plenty of drama, teen angst, and big emotional moments, which is de rigueur for Green, who's produced plenty of tearjerkers over the years. It also does a keen job of hinting at the many mature elements of its story — like sex, drugs, depression, grief, anxiety, and the like, which have caused quite a stir over the years. 
The trouble with Looking for Alaska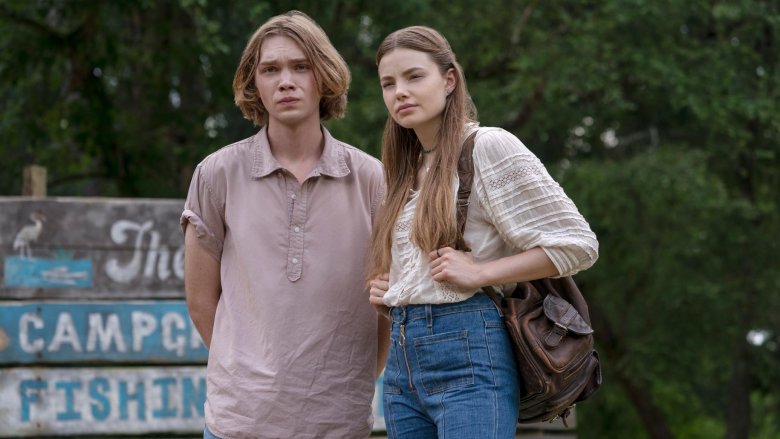 Hulu
After its publication in March 2005, Looking for Alaska received both high praise and harsh backlash — scoring the American Library Association's Michael L. Printz Award in 2006 and soon after getting banned from a number of middle and high schools around the country. Many parents and school administrators feared that if students read Looking for Alaska, they would pick up on the adult language used throughout. Others worried that the book would "lead a student to sexual experimentation," given the novel explores that particular aspect of life as well. 
As a result of the continued controversy, Looking for Alaska ended up on the American Library Association's Frequently Challenged Books list five separate times — in 2008, 2012, 2013, 2015, and 2016.
Fans of Looking for Alaska have defended it over the years, with one teacher keeping it on her reading list despite pressure to remove it. Marion County High School English teacher Emily Veatch said in a written statement published in 2016, "To claim that this beautiful piece of young adult literature is responsible for encouraging students to experiment with sex, drugs, and alcohol is misguided. To claim that our students are not mature enough to discuss grief, forgiveness, and their place in the world is doing them a disservice ... Looking for Alaska allows students to connect with and read about characters who they relate to on a very personal level. The problems that the characters in Looking for Alaska face reflect the problems and struggles of our own students."
In April 2016, Green himself released a video that addressed the Looking for Alaska ban. His thoughts can be summed up in a single sentence: "If you have a worldview that can be undone with a novel, let me submit that the problem is not with the novel."
Considering all the contention that surrounded Looking for Alaska, it's quite incredible that the book scored a series adaptation. It seems the world has open-minded streaming sites like Hulu and an increasingly mature generation of teens and young adults to thank for that. 
Looking for Alaska will hit Hulu on October 18, so grab the nearest box of tissues and settle in this series that will hit you right in the feels — and may teach you a thing or two about life along the way.