Christian Bale Shares His Thoughts On Joaquin's Joker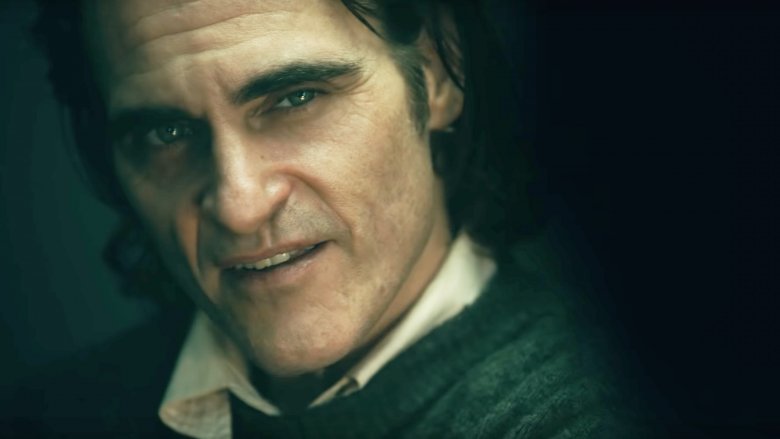 The Dark Knight has spoken, and he apparently can't wait to get a look at the latest incarnation of his most iconic foe.
At this year's Toronto International Film Festival, both Joaquin Phoenix's Joker and Christian Bale's upcoming car racing biopic Ford v Ferrari screened to lucky audiences in attendance. Bale's latest film premiered mere hours before Joker debuted at TIFF 2019, where Entertainment Tonight took the chance to get the former Dark Knight's take on Phoenix's Joker when he walked the red carpet.
Like most of the world, Bale himself hadn't yet seen Phoenix's work in Joker. He did, however, take the opportunity to throw some love in Phoenix's general direction, and to note he finds it admirable that Phoenix is following in the footsteps of the late Heath Ledger, the Joker to Bale's own Batman. 
"Joaquin is one of the best actors around, you know, and obviously I worked with Heath... You know, it's a brave thing to follow up that performance and he always makes interesting choices," said Bale. "Dying to see it... I wish them the best with that." 
Needless to say, but the world is also "dying to see" what maniacal delights Phoenix and director Todd Phillips have conjured with their standalone Joker flick. According to most critics who caught the film at TIFF, Phoenix and Phillips have legitimately redefined the character for a new generation of Bat-fans — delivering the gritty, wickedly insightful version of the Joker the world didn't know it needed. Many also agree that Joker will change audiences' perception of what comic book movies can be when it hits theaters this October.
As for Bale's kind words for Phoenix, they're certainly high praise from an actor of his stature — particularly one who's already being tapped to face off against Phoenix for awards season glory in the months ahead. Given Bale's past experience with the Clown Prince of Crime, that praise is perhaps the most meaningful kind Phoenix can receive for playing the Joker. After all, it was Christian Bale who occupied the Batsuit when Heath Ledger delivered his iconic, Oscar-winning take on the supervillain in Christopher Nolan's genre-redefining comic book opus The Dark Knight. Ledger's work as the bullet-, gasoline-, and anarchy-loving Joker truly is the stuff of legend; the brave actor pushed the character far beyond the frames of any comic book, film, or television version of the Joker we'd seen before.
Purely from a legacy standpoint, most fans believed the Joker character would remain off-limits indefinitely — with Ledger's performance continuing to cast a long, dark shadow over the role. To the surprise of many, just eight years passed before the Joker made his big-screen return. The Clown Prince of Crime came back with Jared Leto's wildly over-the-top take in the 2016 comic book misfire Suicide Squad. Needless to say, Leto's turn wasn't exactly what fans were looking for in Joker's return. To this day, most Batman fans consider Leto's Joker to be the worst of the criminal mastermind's live-action appearances.
In the wake of the Suicide Squad debacle — and with Cameron Monaghan delivering an equally divisive version of the Joker on Fox's series Gotham — many believed it would be an even longer wait to see Joker in a feature film again. But then Martin Scorsese announced he was producing a standalone Joker movie. And when Martin Scorsese speaks, the film world listens — even if he's telling us said Joker film would be directed by The Hangover trilogy's Todd Phillips. 
Though Scorsese eventually dropped out of the project, things only got better for Joker with time. With Phoenix on board in the leading role and the welcome news that the movie would spin an original take on the character not beholden to any Joker that came before, there was plenty reason to think Joker might actually turn into something special.
As Bale noted in his remarks to ET, it was indeed "a brave thing" to follow in Ledger's clown-shoe-sized footsteps and bring Joker back to the big screen (though we also can't help but notice that in noting as much, Bale appears to wholly ignore Leto's divisive work in the villainous role). If the largely positive early reviews (not to mention a couple of festival wins so far) are any indication, Phoenix's bravery is more than paying off. In fact, many are hailing his Joker as a bleak and bold re-imagination of the legendary character's progeny, and some are even tapping the film to be a major player come awards season.
Though Bale may soon be facing off against the Joker for an Oscar instead of, you know, the soul of Gotham, it appears Phoenix's Joker already has a fan in the former Batman actor. Here's hoping Bale's opinion remains the same once he's actually seen the film.
Phoenix's Joker is set to bring some chaos to moviegoers on October 4, and Bale's Ford v Ferrari will race into theaters on November 15.