Dark Shadows Sequel Series In The Works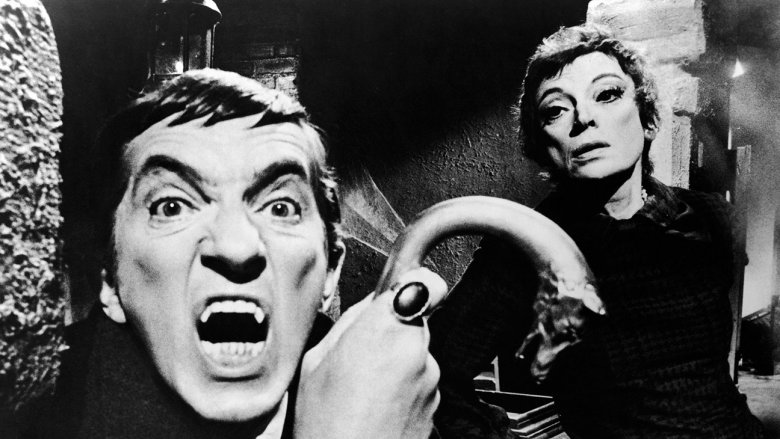 ABC
Prepare to immerse yourself in Dark Shadows once more.
A Dark Shadows sequel series is officially in the works at the CW and Warner Bros. Television, Deadline has confirmed.  
Entitled Dark Shadows: Reincarnation, the forthcoming gothic horror drama reimagines Dan Curtis' Dark Shadows, the cult classic series from 1966. Each episode of Dark Shadows: Reincarnation will run for 60 minutes. The series as a whole is billed as a "modern-day continuation of the strange, terrifying, and sexy saga of the Collins family of Collinsport, Maine." The Collins aren't your typical family, of course — they're influential, enigmatic, and just so happen to be afflicted by a centuries-old curse. Supernatural occurrences are the norm for the Collins, as are transformations into terrifying creatures. 
Mark B. Perry (Revenge, Ghost Whisperer, Brothers & Sisters) is set to write the pilot episode of Dark Shadows: Reincarnation, as well as serve as an executive producer. An avid fan of the original series, Perry has devoted the past two years of his life to obtaining screen rights for Dark Shadows. His plan for Reincarnation is to stick as closely to the feel of the source material as possible, while still extending into new territory, as the new show is a sequel and not a remake. 
"As a first-generation fan, it's been a dream of mine to give Dark Shadows the Star Trek treatment since way back in the '80s when Next Generation was announced, so I'm beyond thrilled and humbled to be entrusted with this resurrection," Perry said in a statement alongside the news. "I also want to reassure the fans of the original that this version will treat the show's mythology with the same reverence given to Star Trek, but will also make the show accessible for audiences who aren't yet familiar with the macabre world of the Collinses. My plan is to take as few liberties as possible with the Dark Shadows canon, while bearing in mind a quote from a 1970s episode delivered by the inimitable Oscar-nominee Grayson Hall as Dr. Julia Hoffman: 'The Collins family history is not particularly famous for its accuracy.'"
Tracy and Cathy Curtis, the daughters of Dark Shadows creator Dan Curtis, have the utmost faith in Perry and Dark Shadows: Reincarnation executive producer Tracy Mercer. Said Tracy Curtis of the creative duo, "I knew Tracy was a die-hard fan of my father's work and would protect his vision by bringing on someone who understood how special this property is. My expectations were surpassed when she introduced us to Mark and I heard his incredible take. I felt my father was watching from above and smiling down on us. Tracy and I couldn't be happier to have Mark take viewers back to Collinwood. Mark has opened up our father's universe with fresh storylines and new characters that will delight original fans even as they thrill younger viewers."
Dark Shadows: Reincarnation isn't the first post-original-series adaptation to exist. In 1991, MGM Television released a Dark Shadows revival starring Ben Cross as Barnabas Collins, Joanna Going as Victoria Winters / Josette Du Pres Collins, and Joseph Gordon-Levitt as David Collins / Daniel Collins. It aired on NBC for just over two months – from January 13 to March 22, 1991. The reason for its incredibly short life on the small screen? The onset of the Gulf War shortly after its debut. NBC had to shuffle the series' broadcast time on numerous occasions, causing ratings to tumble since it was difficult to know when a new episode of Dark Shadows: The Revival would air. The network had little other choice but to pull the plug. Fans were none too pleased with the decision, and even picketed to demand that NBC bring the show back.
That didn't end up happening — though it may have if things had gone better in 2004, when the WB created a pilot for a Dark Shadows remake. The pilot featured the likes of Alec Newman, Marley Shelton, Alexander Gould, Martin Donovan, Jenna Dewan, and Jessica Chastain, but it sadly didn't receive a series order. 
Hollywood's attempts to bring Dark Shadows into the light for another television series died down after those two failed projects. However, in 2007, Warner Bros. scored the film rights to Dark Shadows, with Johnny Depp expressing his intent to be involved with a movie adaptation. Two years later, a Dark Shadows movie was being written. Tim Burton joined the project as its director, and Depp was set for the lead role of 18th-century vampire Barnabas Collins. Eva Green, Michelle Pfeiffer, Helena Bonham Carter, Chloë Grace Moretz, and more starred alongside Depp in the Dark Shadows movie, which sadly opened to poor reviews and disappointing box office returns (particularly in North America) when it hit theaters in May 2012. 
It seems clear that it's not easy revamping Dark Shadows, but perhaps Dark Shadows: Reincarnation will be the exception to the rule. The project appears to have everything going for it: the perfect medium to tell as many wild stories as possible, a passionate writer and executive producer on board, and a television landscape that now prioritizes out-there series that bring something interesting to the table. 
Check back with Looper for additional updates on Dark Shadows: Reincarnation as more information is made available.