Game Shows You Can Watch On Netflix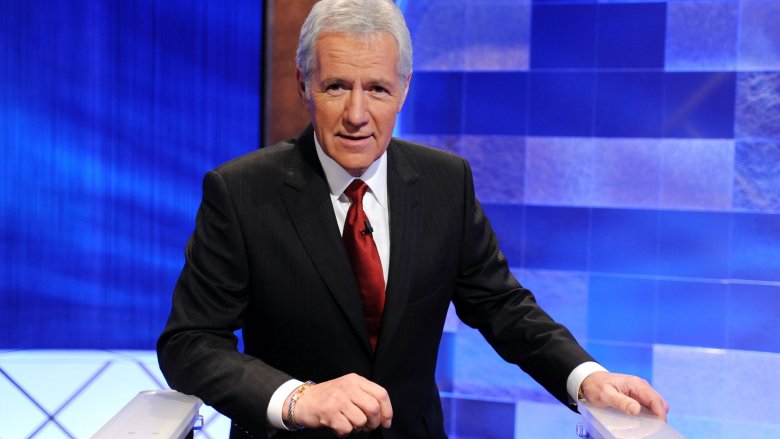 Amanda Edwards/Getty Images
In just a few short years, Netflix has become the master of all media. As it's an on-demand, subscription-based streaming service, it lacks all the bounds of regular TV — commercial breaks, time slots, and a narrow notion of branding. This means that Netflix can be all things to all people. It can and does compete with HBO in the area of prestige dramas, holds its own against Comedy Central for stand-up content, and if you know where to look, it can feel like those couple of hours before primetime where local broadcast TV networks air game shows five nights a week. Yes, in addition to its hundreds of original TV series and huge library of theatrical films, Netflix offers quite a few game shows. They've got episodes of familiar ones from broadcast TV, entire seasons of shows overlooked in their original airings, and of course, there are plenty of "Netflix originals." Play along at home and peruse the many prizes that could be yours as we look at some of the best game shows you can watch on Netflix.
Awake: The Million Dollar Game will definitely keep you up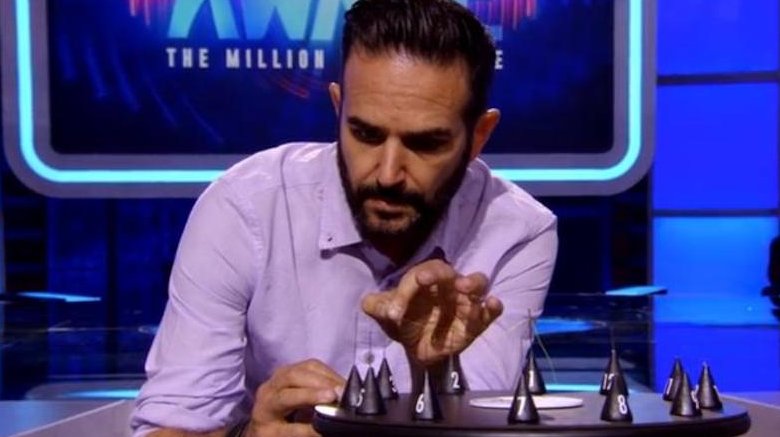 Most game shows are about people showing off the skills that make them a little bit better than the average Joe. But what if somebody made a game show about the limits of the human mind? That's the idea behind Awake: The Million Dollar Game, a Netflix original game show that's more of a neurological experiment than a battle of the wits. The show's contestants enter the game having been kept awake for 24 hours ... then set loose in the disorienting environment of a game show set in front of lights, cameras, the booming voice of host James Davis, and a live studio audience. 
To win as much money as possible, the seemingly-drunk-but-actually-sleep-deprived contestants engage in challenges that wouldn't be too problematic for the well-rested, like counting things in their heads or threading as many needles as possible in two minutes. Awake is an inadvertent PSA for sleep health, while remaining embarrassingly hilarious and fascinating. 
You'll spend hours binge-watching Minute to Win It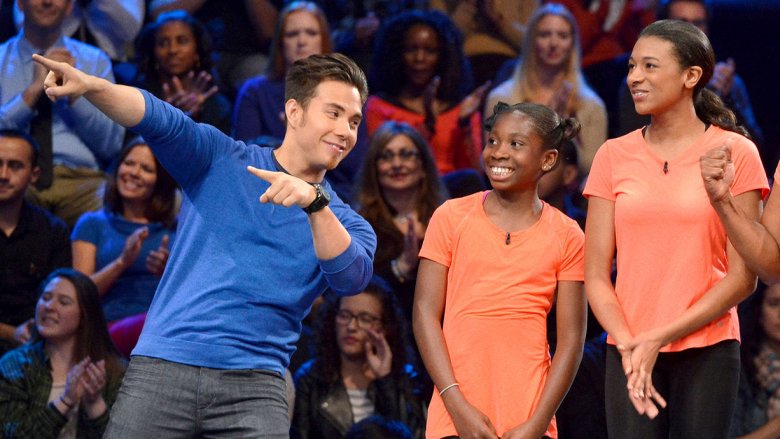 Don't let that zippy rhyming title fool you. Minute to Win It is actually a remake of a remake. In 2013, GSN ran an iteration hosted by medal-winning Olympic speed skater Apolo Anton Ohno, two years after NBC canceled its version hosted by television food personality Guy Fieri. The game itself is highly reminiscent of the classic '50s game show Beat the Clock. The premise is simple: Teams of contestants are tasked with a series of games and challenges they must compete to stay in the game, each one harder than the last. (The games involve party tricks and bar bet type stuff, like knocking over a pencil with marbles or using the air inside a balloon to move an object.) As they do so, they move up a ladder of winnings, and if they complete all ten games — which they have to accomplish in, spoiler alert, a minute — they take home a cool million bucks. 
Jeopardy! is an all-time classic game show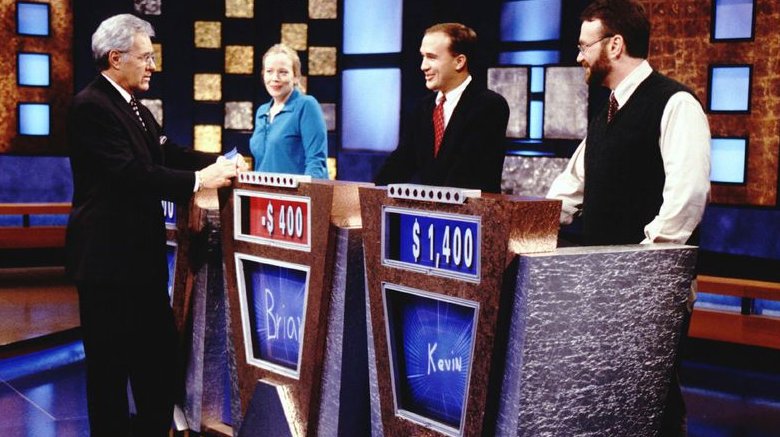 Jeopardy! just might be the quintessential game show. After a run in the '60s and '70s with host Art Fleming, it returned in 1984, with sleek video screens, a flashy new set, and fabulously mustached host Alex Trebek. Since then, the show has become a classic of TV history, with Trebek holding court for 30 speedy minutes of three rounds, all featuring difficult trivia questions. And of course, contestants must phrase their responses in the form of a question because all the clues are actually "answers."
Jeopardy! has been one of the top-rated shows in daily syndication for three decades, and Trebek has helped thousands of smart people with quick trigger fingers and the ability to game a "Daily Double" become instantly rich. Netflix doesn't have the complete run of Jeopardy!, but instead offers carefully curated "collections," which include 32 season premiere episodes, the "IBM Challenge" (in which all-time champs Ken Jennings and Brad Rutter face off against the Watson supercomputer), and a teen tournament.
Nailed It! is a Netflix original about cooking food and having fun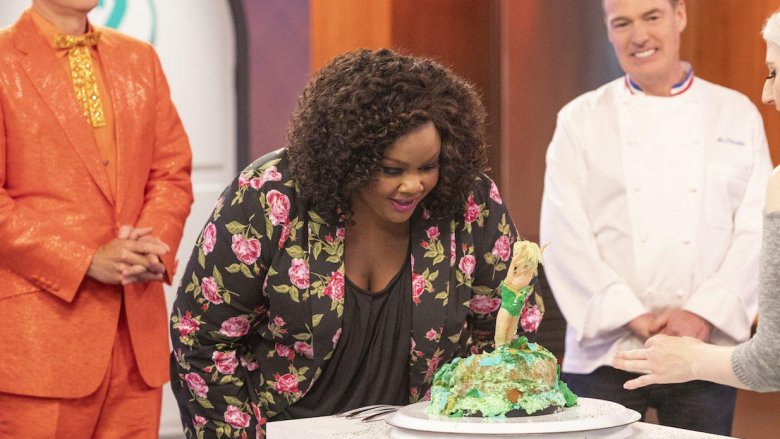 Nailed It! only looks like one of those many interchangeable competitive baking shows on cable TV, what with its brightly colored set full of cake decoration supplies. The twist is that this is a show for very bad bakers who think they're very good bakers, and they never even come remotely close to "nailing" the show's tasks, which are to re-create professional, elaborately-decorated cakes. They're given a time limit — which wouldn't even be enough for a professional — and viewers get to watch them sputter and flail at their kitchen stations as they try to figure out how to construct cake pops and make figurines out of fondant. 
All the while, the judges — standup comedian Nicole Byer, respected chocolatier Jacques Torres, and a guest — quietly make fun of the contestants just out of earshot. But hey, if they win the first task of the episode, they get to wear a golden chef's hat, and if they win the whole game, they get to take home a stand mixer that they'll probably break the first time they use it.
Netflix's Flinch is certain to make you jump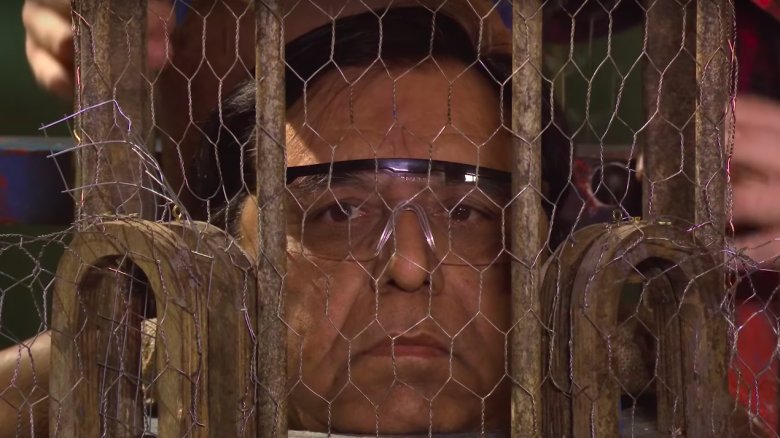 Imagine if somebody got the idea to remake Fear Factor, that extreme NBC game show from the turn of the new millennium, but removed the innate nihilism that resulted in contestant challenges like eating bugs and animal organs. Well, that show would probably look a lot like Flinch. The Northern Ireland-produced series (filmed in a giant, creepy barn, of all places) is more funny than it is sadistic, challenging people to truly stand up to common fears (and situations of mild to moderate discomfort). 
The premise is simple. If contestants flinch in any way during a carefully constructed mini-game, the consequences are swift and palpable. Take, for example, the poor guy who gets his head locked into a chicken-wire helmet attached to a long plank ... onto which a huge rat is released. When the rat gets right up in his grill, he flinches, and a mousetrap painfully snaps his fingers. Of course, the traumas that Flinch inflicts upon its contestants are things that are impossible for a human being with properly working reflects to ignore, such as cymbals crashing in their faces and paint cans swinging at their heads. So yeah, there are a whole lot of punishments being handed out.
Idiotest will seriously tease your brain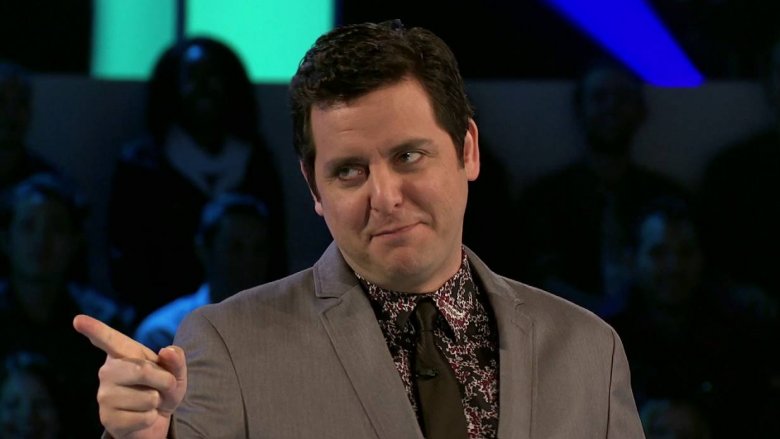 Popular stand-up comedian Ben Gleib writes and hosts Idiotest, and his crackling wit permeates both his banter with contestants, as well as the GSN show itself. The show's title combines "idiot" with "test," into the portmanteau Idiotest, which is something that successful Idiotest contestants would probably know. The show aims to test how smart people really are, because while virtually anyone can memorize and quickly recall thousands of facts, it's a different skill entirely to solve problems (especially on TV and in front of a studio audience). 
Contestants on Idiotest are shown visual brainteasers — some of them based in wordplay, some oriented around math. Either way, they get progressively more difficult as the show goes on. The answer is always somewhere in that image, however. (For example, when asked to find the "stacks on sticks on stacks," one pair of contestants choose the pancakes on twigs on poker chips, obviously). Competitors are encouraged to work out their thought process after the fact, so Idiotest may even teach viewers some valuable critical thinking skills.
The Final Table is a truly epic cooking competition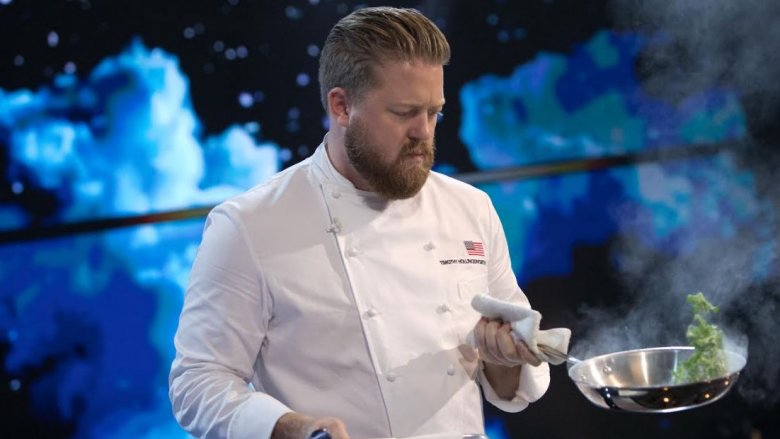 This extremely ambitious cooking show, native to Netflix, gleefully celebrates the wide variety of food cultures from around the world. It also rightfully fawns over some of the most talented celebrity chefs working today ... by submitting them to cook-off challenges in one of the most convoluted game shows ever conceived. 
The series begins with 12 two-person teams of highly regarded chefs, each of them from different countries. (The contestants hail from the US, Canada, Japan, the Netherlands, South Africa, India, Mexico, the UK, Brazil, Ecuador, and more.) Then they're tasked with cooking the best dish they can toward the theme of the individual episode, which is the storied cuisine of a particular nation. 
In round one, the teams' creations are judged by a panel that includes a professional food critic, along with two well-known people from the country whose food was cooked. (For example, the "USA" episode featured New York Times food editor Sam Sifton, alongside actors Dax Shepard and Colin Hanks.) Everyone but the teams with the three lowest scores earn safe passage to the next episode, while the bottom three have to compete again in "The Final Plate Challenge," again cooking the country-of-the-week's signature cuisine with an important ingredient selected by a guest celebrity chef. The team that scores the lowest here gets eliminated while the others return to cook again, until the competitors are whittled down to one, American Idol-style.
Netflix's Ultimate Beastmaster conquers all other game shows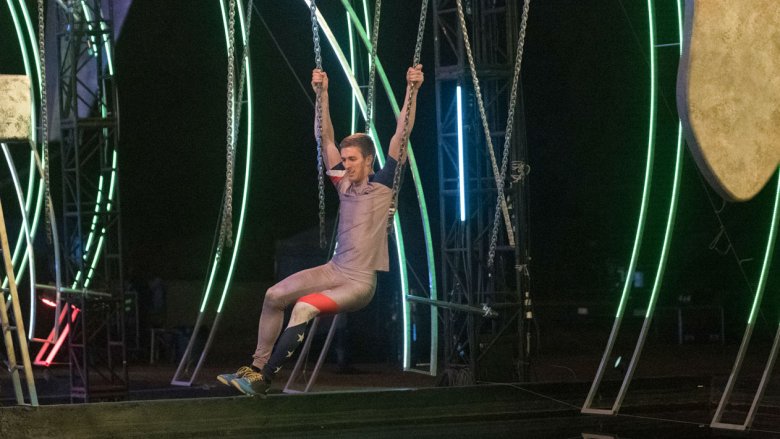 Unfortunately, this isn't a real-life game show version of the 1982 fantasy film The Beastmaster, forcing contestants to imitate Marc Singer and go on a great journey to defeat a sorcerer and his army of animal warriors. Fortunately, it is a show that pits really strong and fit people from around the world against each other in a test of their athletic mettle. In each episode, 12 contestants — two each from six different countries — run a punishing, seemingly physics-defying, American Ninja Warrior-style obstacle course. The winner of each episode is crowned "Beastmaster," and all the Beastmasters from a season's worth of installments then compete against each other to be named the titular "Ultimate Beastmaster."
The other layer of entertainment, and what makes Ultimate Beastmaster such a unique "beast," is the multicultural celebrity element. Viewers get to experience play-by-play and commentary from announcer teams representing the same six countries as the contestants. At various times, that slate has included Brooklyn Nine-Nine's Terry Crews, wrestler CM Punk, UFC fighter Anderson Silva, and Australian singer Dannii Minogue. So yeah, Ultimate Beastmaster is like the Olympics of obstacle courses.
Watching Winsanity is even crazier on Netflix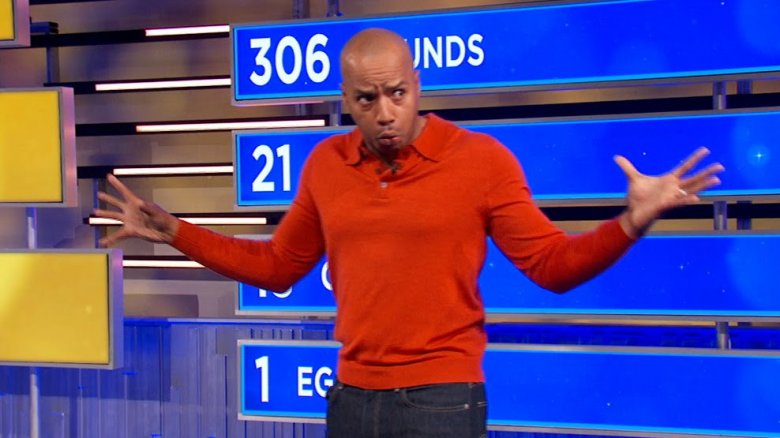 Winsanity feels like an updated, high-tech version of The Price is Right. As on that game show institution, contestants are plucked right from the audience. Host Donald Faison smashes a glowing green button, summoning to the stage whichever lucky audience member's green wristband is suddenly alight. Once up on that stage, the contestant is presented with a challenge — math-based but far more difficult and with an element of general knowledge not generally required for those grocery pricing games on The Price is Right. 
First, the competitor has to figure out the numerical answers to a series of questions, and then arrange them in proper order, from largest to smallest. The rounds keep getting tougher, and if a single contestant can advance through all four rounds unscathed, they win $10,000, and maybe also a car, both for themselves and for the member of the audience they're "playing for." And Faison (so charming and funny in Clueless and Scrubs) makes for a great game show host, offering just the right mix of encouragement and high energy to keep the game going, the studio audience pumped, and the show moving right along.
Hyperdrive is a fast and furious contest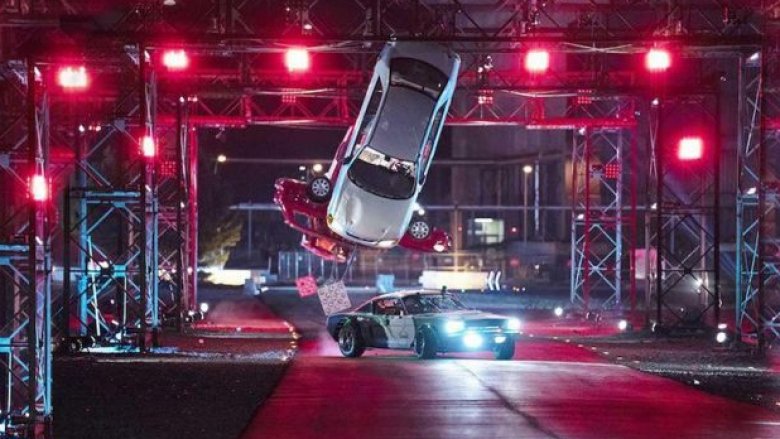 Somebody found a way to take all the best parts of the Fast & Furious movies (with a little Top Gear and Talladega Nights thrown in) and turn them into one of the most exciting and potentially dangerous game shows of all time. Hyperdrive (co-produced by car-centric Mad Max: Fury Road star Charlize Theron) pits its 12 accomplished street racers from around the world in a contest to see who can best and most quickly navigate their amped-up super cars through an automotive obstacle course (at night), built into an abandoned New York industrial park. 
Among the absurd hindrances they have to deal with, there's a gigantic ramp at a 40-degree incline, impossibly narrow and elevated passageways, and the threat of complete underwater submersion. More than just a bunch of people racing cars, there's an emotional component, too. Viewers learn exactly why, deep down, these drivers risk life, limb, property damage, and sky-high insurance premiums to do what they do.
Blown Away is a surprisingly awesome game show about glass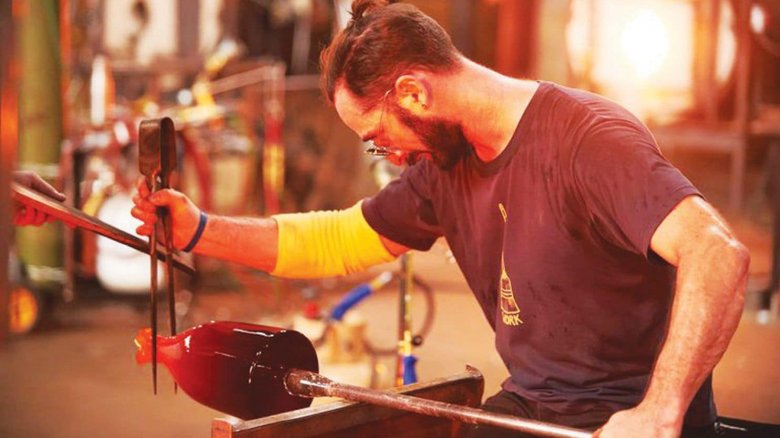 Who could've predicted that one of the most fascinating game or reality shows in recent memory would be this series from Canada about competitive glassblowing? Blown Away features 10 glassblowers plying their art in the "hot shop," an Ontario warehouse where they make beautiful, fragile works of art using heat, glass, and their own breath — which looks just as tough and dangerous on TV as it does when you see these artisans do it at craft fairs and art walks. 
In watching just one episode, viewers learn how glassblowing happens. Contestants melt sand and minerals into a putty in a 2,000 degree oven, add color, pick it all up, and blow air into it through one tool while simultaneously shaping it with an iron rod. (It's a tricky process — things can and often do go very wrong for the competitors on Blown Away.) Hosted by YouTube science personality Nick Uhas and judged in part by glass artist and professor Katherine Gray, the ultimate winner gets $60,000 and a residency at the Corning Museum of Glass, the "big time" for glass artists.