How The Charles Manson Actor In Once Upon A Time In Hollywood Landed The Role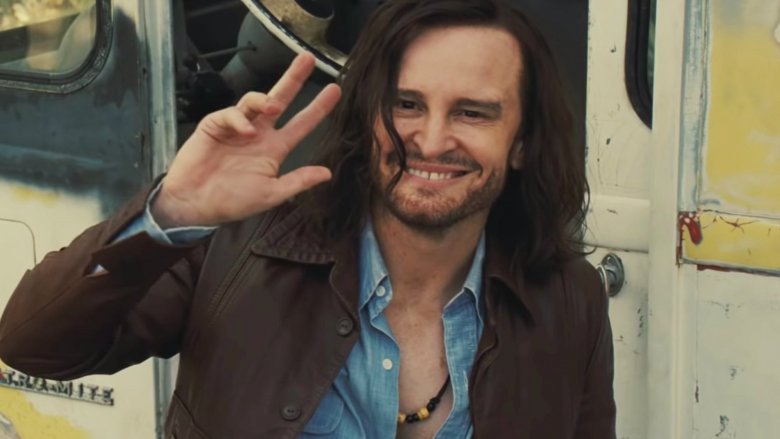 Watching Damon Herriman in Quentin Tarantino's Once Upon a Time in Hollywood feels a little like actual time travel. The Australian actor's take on Charles Manson is a dead ringer for the real cult leader, pre-Tate-and-LaBianca-murders. It's as if Herriman was made for the role — but what it took for him to land it may surprise you.
Once Upon a Time in Hollywood — Tarantino's revisionist tale about 1969 Hollywood — hit theaters on July 26, 2019. A month later came the second season of Netflix's true crime drama Mindhunter, which takes place in 1980. Herriman plays Charles Manson in both, and while his portrayal for each is completely different, they both feel incredibly authentic. They also have absolutely nothing to do with each other. 
Speaking with Entertainment Weekly, Herriman explained that although he was cast in one right after the other, he in no way landed the second role because of the first. 
When asked how Once Upon a Time in Hollywood came about, Herriman said, "Two friends I had that were working on that film already put in a word for me ... It was a completely separate situation. People assumed that one job led to the other, but absolutely not at all." 
Herriman's two connections to Once Upon a Time in Hollywood weren't both work-related, either. Nicholas Hammond, who plays director Sam Wanamaker, relocated to Herriman's native Australia in the 1980s, and the two met there. Then there's Timothy Olyphant, who plays leading man James Stacy. He and Herriman worked together on Justified, a show that Olyphant knew Tarantino had been a fan of. As Herriman explained, "Once he made that connection, the audition came through from that."
Funnily enough, even though Once Upon a Time in Hollywood was released a full month ahead of Mindhunter, Herriman actually played the older Manson first, as his part on the Netflix series was shot before the Tarantino flick. His Mindhunter auditions also took place before those for Once Upon a Time in Hollywood. 
"Mindhunter came about six months earlier," the actor said. "By chance, they ended up shooting within a couple of weeks of each other. That was pretty weird."
And while Herriman's turn in Once Upon a Time in Hollywood happened through the help of mutual friends, landing the role in Mindhunter was a little more complicated. He shared, "I auditioned three times between, I think it was October and January between 2017 into '18. Obviously, they wanted to be sure."
With Herriman having that much practice under his belt going into Once Upon a Time in Hollywood, one might assume that playing the younger Manson would have been easy for him. The actor was quick to point out that wasn't the case: "Because one of them is 1969 and one is 1980, that is quite a distinct difference in the way Manson was appearing and behaving and speaking." Referring to audition tapes that Manson had recorded between 1967 and 1968, Herriman went on to explain that his voice once had a "playful court jester quality."
Herriman doesn't consider himself an expert on Manson, either, despite the months he spent studying him. 
"I would say he was almost certainly schizophrenic and probably was suffering from a number of different mental disorders," the actor said, explaining that Manson would frequently change his personality in interviews, depending on how he was approached. 
One thing Herriman is sure about Manson, though, is that he knew how to work a crowd: "For me, I can see why people were mesmerized by him. He was never short of thought or a philosophy on anything. But what he actually believes and what was the kernel of the guy, I really don't know even now."
So, will we be able to see Herriman play the famed cult leader ever again? According to Herriman, "Twice is plenty."