Maleficent: Mistress Of Evil Footage, Poster Unveiled At D23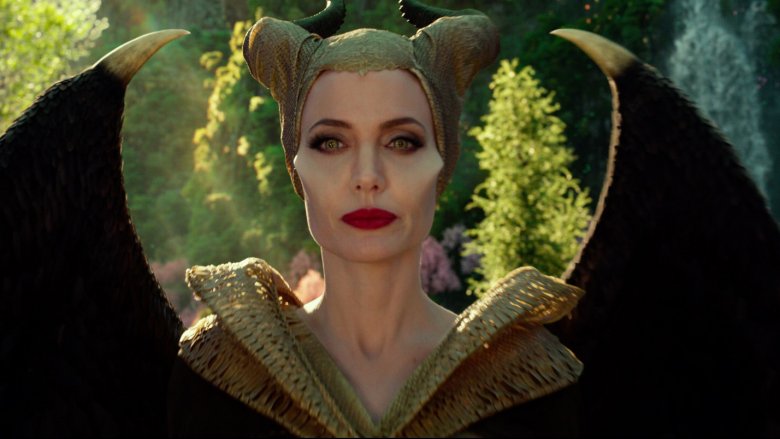 It's time to head back into the Moors.
The upcoming sequel to 2014's Maleficent, Maleficent: Mistress of Evil, has some new footage — which was revealed to the audience at Disney's D23 Expo on Saturday, August 24. 
Angelina Jolie, who plays the striking title character, gave attendees some insight as to what can be expected from the 2019 film (via ComicBook.com). She shared, "Now, in this one, we return and we see that Aurora is older and they're facing the world and challenges of the world and it is being emphasized to them how different they are. They are encouraged to not be a family and pulled apart by their differences. We really pose the question and fight for the belief that what is different makes you stronger. What is family and what defines family is what you believe in."
As for the footage, most of it takes place at the palace dinner seen in the film's official trailer. Everyone is nervous, it seems, and things only become more tense when Maleficent is served a roasted chicken. "Bird, delicious," she says with an eerie tone. 
Queen Ingrith (Michelle Pfeiffer) then sets into a line of questioning that makes everyone uncomfortable — particularly Maleficent. She wonders how Aurora (Elle Fanning) became Queen, and whether her father died or was killed. "Both," Maleficent says. 
Things go back and forth between the Queen and Maleficent, with polite accusations flying in regard to human and fairy lives. Eventually, the Queen says that Aurora will "finally get the love of a real mother," which sets Maleficent off.
Later, footage reveals Connal (Chiwetel Ejiofor) and others flying through the woods, forming an army that Maleficent will lead. 
Maleficent: Mistress of Evil picks up a few years after the events of Maleficent, with Maleficent and Aurora already in an established mother-daughter type relationship. Things become strained when Aurora agrees to marry Prince Phillip (Harris Dickinson), a union that Maleficent does not approve of. According to ComicBook.com, "The film continues to explore the complex relationship between the horned fairy and the soon to be Queen as they form new alliances and face new adversaries in their struggle to protect the moors and the magical creatures that reside within."
Along with the new footage, a new poster for the film was also revealed. The one-sheet pits Maleficent and Connal opposite Queen Ingrith and King John (Robert Lindsay). Between them are Aurora and Prince Phillip — the centerpieces of the inevitable war.
Maleficent: Mistress of Evil will arrive in theaters on October 18.