Jeff Goldblum Teases He Might Be In Thor: Love And Thunder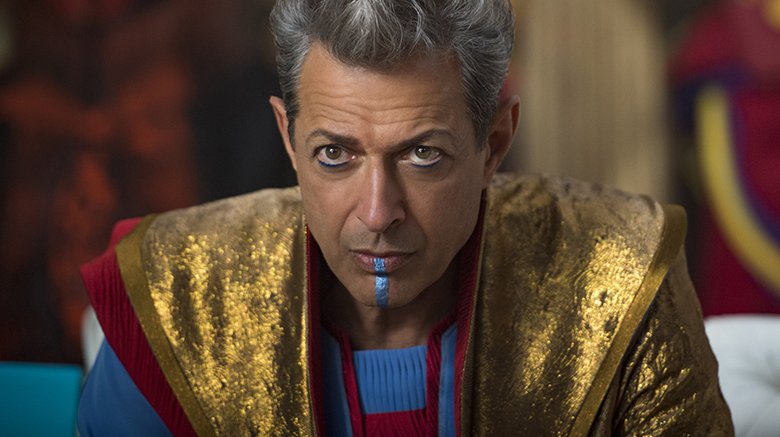 Is the Grandmaster going to make a grand comeback? Actor Jeff Goldblum isn't ruling out the possibility. 
In fact, he teased to Entertainment Weekly during an interview at the 2019 D23 Expo that he genuinely might reprise his role as the eccentric and enigmatic ruler of Sakkar for the upcoming fourth Thor movie, Thor: Love and Thunder. 
As Goldblum-y as ever, the actor noted that there have been some whisperings about his Love and Thunder return, but he isn't at liberty to discuss anything right now. 
"I can't reveal any secrets, not that I know anything definitively, but there's a whisper of a thought or notion that I might have some participation in it. I would love to, to the extent that Taika Waititi is directing it," teased Goldblum. "I would show up anywhere where Taika Waititi is — and all of Marvel too."
If Goldblum does join the Thor: Love and Thunder mix, he'll reunite with Chris Hemsworth, whose God of Thunder hero Thor competed in the Grandmaster's Contest of Champions during Thor: Ragnarok, and Tessa Thompson, who played the hard-drinking (and hard-headed) heroine Valkyrie. 
That duo recently appeared in Avengers: Endgame, which saw Thor pass down the kingship of Asgard to Valkyrie as he joined the Guardians of the Galaxy on their journey to locate the missing Gamora (Zoe Saldana). Love and Thunder will feature Thor doing, well, any number of things while Valkyrie oversees Asgard and looks for a queen to rule beside her — which could come in the form of Jane Foster (returning MCU actress Natalie Portman), who is confirmed to transform into the Mighty Thor in the film. If Portman, who was last seen in the Marvel realm in Thor: The Dark World (she didn't film any new sequences for Avengers: Endgame) can come back to the franchise after many, many years away, then it's likely that Goldblum can too after only a brief hiatus. 
The good news is that even if the whispers fade away and Goldblum doesn't appear in Thor: Love and Thunder, fans will still get to see his face on their screens. Goldblum has his own National Geographic series, entitled The World According to Jeff Goldblum, scheduled to hit the Disney+ streaming site on November 12. Per the man himself, the series will "give you some sort of extraordinary, unexpected info about how we came to have this thing, what its current impact is of it on our lives, what the future of it might be" — all with a Jeff Goldblum spin. 
Meanwhile, Thor: Love and Thunder is slated to debut in theaters on November 5, 2021.