Get Your First Look At Emma Stone As Cruella De Vil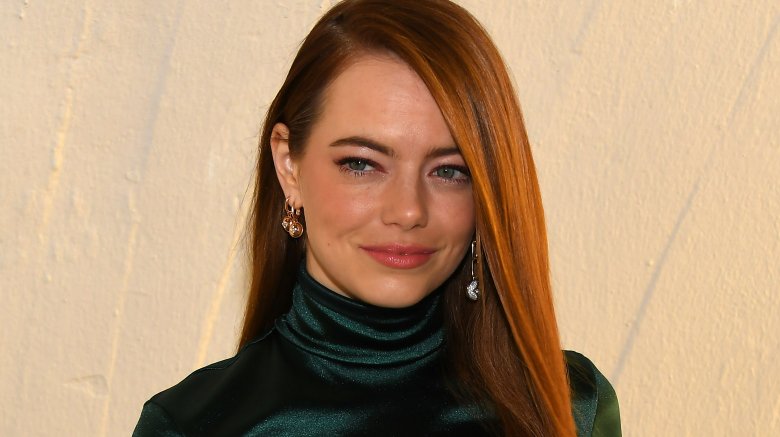 Nicholas Hunt/Getty Images
If she doesn't scare you, no evil thing will. 
During the D23 Expo in Anaheim, California on Saturday, August 24, Walt Disney Studios unveiled the first look at Emma Stone as Cruella de Vil for the upcoming feature film Cruella. 
An Academy Award-winner whose star in the Hollywood sky keeps getting brighter with each passing year, Stone will take on a goth-inspired aesthetic when bringing to life the iconic Disney villain who first appeared in the 1961 animated film 101 Dalmatians. With curly half-white, half-black hair atop her head and a trio of Dalmatians (her very favorite breed of dog) on leashes in front of her, Stone's young Cruella looks every bit as intimidating as one would expect her to be. Add in the fact that she sports heavy black eye makeup, a bold red lip, and a patent leather top with checkerboard sleeves, and Cruella in her younger years is certainly not anyone you'd want to mess with. She's a little Rocky Horror, a little "person who never outgrew their Hot Topic phase," and pretty badass.
Also included in the first image from Cruella are two other characters from the flick: Horace, played by Unbreakable Kimmy Schmidt actor Paul Walter Hauser, and Jasper, portrayed by Joel Fry, whom many will recognize as the Ghiscari noble Hizdahr zo Loraq from Game of Thrones. In Disney's animated film 101 Dalmatians, Horace and Jasper are Cruella's lackeys. They successfully steal a litter of Dalmatian puppies in a bid to fulfill Cruella's dream of creating a coat made of only Dalmatian fur. Considering Cruella focuses on the dastardly diva in her youth, it stands to reason that Disney may have tinkered with the source material just a tad to make all three characters the same age. 
Though Cruella may appear like a typical modern adaptation of an animated classic — like this year's Aladdin and The Lion King — there's more to it than meets the eye. The pic has immense fire power behind it: in addition to Stone, who took home an Oscar for her performance in Damien Chazelle's La La Land, leading the project, Oscar-winning I, Tonya filmmaker Craig Gillespie sits in the director's seat. Beyond that, Cruella is also taking a familiar face and giving her an origin story — not simply rehashing what everyone already knows about her or remaking 101 Dalmatians beat for beat. 
Cruella is a new kind of project for Stone, who has mostly stuck with drama films after breaking through with Superbad and Zombieland, and we can't wait to see how her take on the iconic baddie will turn out. 
Also starring another Emma (Emma Thompson, in an undisclosed role), Cruella will hit theaters on May 28, 2021.