Ms. Marvel Series Underway At Disney+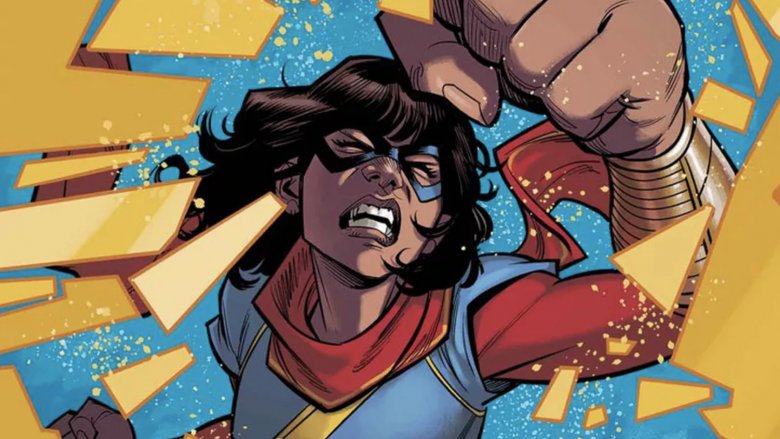 Cameron Stewart/Marvel Comics
"My name is Kamala Khan. And I'm here to take out the trash."
Ms. Marvel, the Pakistani American teen vigilante otherwise known as Kamala Khan, is officially getting the screen treatment. 
Per The Hollywood Reporter, Marvel Studios is developing a live-action television series centered on the high-flying, super-powered Ms. Marvel for the upcoming streaming platform Disney+. 
The series is expected to be formally announced at the Disney+ presentation during this year's D23 Expo on Friday, August 23. 
The wheels are already turning on Ms. Marvel (the series doesn't yet have a title, though it's assumed that it will bear the same name as the heroine upon which it's based), with Marvel having tapped Four Weddings and a Funeral remake scribe Bisha K. Ali as showrunner and head writer. Since it's still very early days for the project, no casting announcements have been made just yet. 
Created by writer G. Willow Wilson, editors Sana Amanat and Stephen Wacker, and artists Adrian Alphona and Jamie McKelvie, Kamala Khan is the newest heroine to take on the Ms. Marvel moniker in the Marvel Comics canon. The first instance of the "Ms. Marvel" name came in 1976, when Carol Danvers (whom we now know as Captain Marvel) used it as her crime-fighting pseudonym. A year after Carol assumed the Captain Marvel name in 2012, Khan made her print debut in the August 2013 issue Captain Marvel #14; thereafter, she landed her solo comic series Ms. Marvel in February 2014.
Throughout the comics, readers follow the New Jersey-born teen as she discovers Inhuman genes, hones her shapeshifting skills, and takes over the Ms. Marvel mantle from Carol, whom she considers her idol. In addition to realizing her strength, Khan also navigates life in a religious family and finding her identity in a society that isn't always understanding. 
The news that Kamala Khan is getting her own series on Disney+ is huge — not only because she's the first Muslim character to top-line her own Marvel Comics series, but also because Khan has already made headlines this week. Just days ahead of this break, it was announced that Ms. Marvel will be a character in Square Enix's forthcoming video game Marvel's Avengers, due out in 2020. 
It's unclear when exactly the Ms. Marvel television series will premiere on Disney+, but a project featuring the heroine at the forefront has been a long time coming. In July 2018, Marvel Studios head honcho Kevin Feige revealed that Ms. Marvel would be coming to the MCU at some point in the future, also stating that her introduction into the company's superhero landscape was "definitely sort of in the works" as of May 2018. 
Though there was no follow-up from Feige thereafter, Ms. Marvel's eventually name made its back way into the news cycle earlier this year, when The Mindy Project and The Office alum Mindy Kaling revealed that she had spoken to Marvel executives about making some kind of Ms. Marvel project.
"I think the people I've spoken to [at] Marvel about it are so excited about the character and I think that they're trying to figure out what to do with it, and I told them I would help in any way because I truly love her," Kaling said in June 2019. "They really seemed interested, and I think they will probably do something. Now that there's like this streaming platform with them, it might be something like that, but I think they understand how much excitement there is." 
As of right now, there's no telling whether Kaling has any sort of involvement in Ms. Marvel, but honestly, we wouldn't be surprised if she's on board as an executive producer, writer, or general behind-the-scenes magic-maker. 
Until we know more about Ms. Marvel, read up on everything we know about the Marvel superhero projects slated to premiere on Disney+.