Will There Be A Hobbs And Shaw Sequel?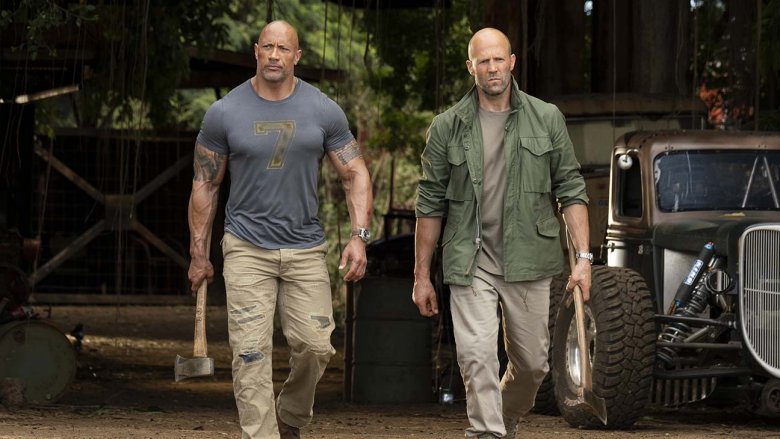 Universal Pictures
Will this odd couple return for another mismatched team-up?
Coming from the Fast & Furious movies, a franchise known for sequels, the tale of Hobbs & Shaw probably won't end with just one movie, and it should come as no surprise that a Hobbs & Shaw follow-up could be in the works. The film — alternatively titled Fast & Furious Presents: Hobbs & Shaw — is about as bankable as a "new" franchise can possibly be. With two massive stars in Dwayne Johnson and Jason Statham as protagonists Luke Hobbs and Deckard Shaw, the always-great Idris Elba as a scene-chomping baddie, and an astounding budget of $200 million, the action flick has everything audiences are looking for when it comes to a nice distraction from the summertime heat. 
It seems that all signs point to Hobbs & Shaw snagging a follow-up film. Interestingly enough, though, it could be the outsized budget that kills the film's chance at a sequel.
With outrageous budgets come outrageous expectations, as the rule of thumb in Hollywood is a film needs to more than double its production budget in revenue to actually be profitable. With major pictures, studios tend to spend nearly the same amount on advertising campaigns as they do on production, meaning Hobbs & Shaw needed to clear $400 million at the box office before Universal could start counting their money. Though the film has yet to release in China, it hasn't even crossed the $450 million mark at the box office at the time of this writing. This means, seeing as sequels tend to cost more than original films they follow, the future of the possible Hobbs & Shaw franchise is up in the air. 
Some of the film's stars have come out and said they'd be very interested in continuing on with the Hobbs & Shaw story. Idris Elba mentioned to Digital Spy that he'd like to play the villainous Brixton Lore again, saying, "He also has an ego and he's out of control. It would be nice to figure out where that came from." Rumors have also come out stating that Ryan Reynolds, who has a cameo in the picture as CIA agent Locke, will return in the sequel with a bigger overall role if Universal decides to go ahead with the picture. 
The three post-credits scenes of the movie certainly tease a sequel as well, with Shaw's mother (Helen Mirren) seemingly about to escape from jail setting up more breezy action hijinks in the future. Whether that happens in a Hobbs & Shaw sequel, remains to be seen. 
If nothing else, at least Fast fans have a ninth and a tenth movie to look forward to.