Here's Who Kit Harington Thinks Should Have Killed The Night King On Game Of Thrones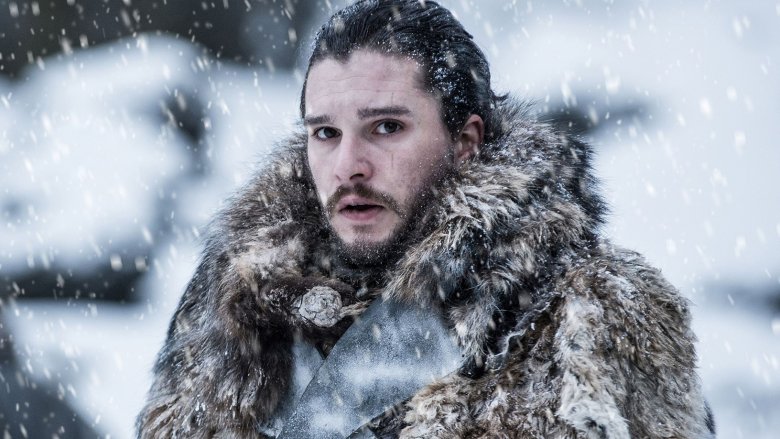 HBO
His watch has ended, but not the way he thought it would.
As most people know, HBO's hit fantasy drama Game of Thrones came to an end earlier this year (it was a pretty massive cultural moment, so we'd be surprised if you weren't aware of it), but the conversation surrounding the television series certainly hasn't stopped. Fan discourse about the controversial final season is as strong as ever, and the series' actors, moving on to the next phase of their careers, keep getting pulled into the fray. And that includes the King in the North himself. 
During a roundtable interview with The Hollywood Reporter, Kit Harington opened up about the eighth and final season of Game of Thrones, ultimately revealing who he believes should have killed the Night King. In the actor's eyes, his own character, Jon Snow, should have been the one to bring the icy villain to his end.
"I was a bit pissed off, only because I wanted to kill the Night King," Harington said. "I think I felt like everyone else did, in that it had been set up for a long time, and then I didn't get to do it." 
Harington is talking about the moment in the third episode of the eighth and final season where Maisie Williams' Arya Stark finally kills series baddie the Night King after years of prelude. It isn't surprising to hear Harington assume he would be the one to take down the Night King once and for all, as the two clashed at Hardhome in a fan-favorite episode from the fifth season, which set up a redeeming arc for the character that never came to fruition. 
Of course, Harington wants to take nothing away from Williams. "But it was a really great twist, and it tied up Maisie's journey in a really beautiful way. Over the seasons, we've seen her build up these skills to become this hardened assassin, and she uses it all to kill our main antagonist," he said. 
While fans will be debating the moment for years to come, coming up with theories to justify a moment they found to be underwhelming, it seems Ned Stark's adopted son has moved on. Though, continuing the theme of fan controversies, Harington probably does have another Thrones murder on his mind.