The Mandalorian Will Show 'Darker, Freakier Side' Of Star Wars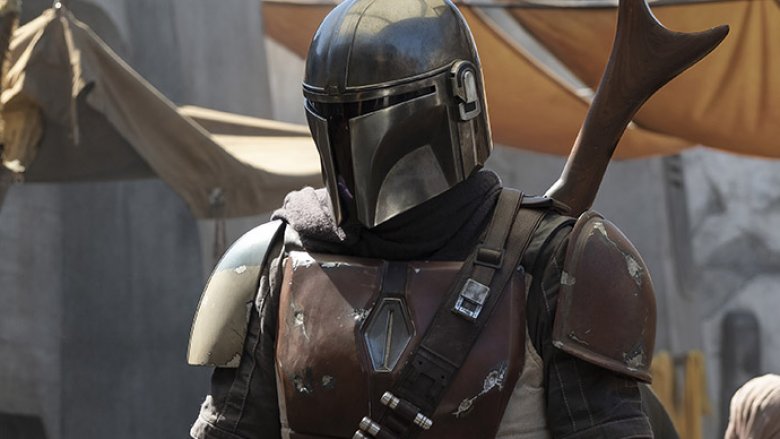 Lucasfilm
Jon Favreau seems to be well-versed in the dark side of the Force.
Coming off the success of both The Jungle Book and The Lion King, Favreau is writing and executive producing the upcoming Star Wars series The Mandalorian, scheduled to debut with the launch of the Disney+ streaming service on November 12. While sitting down for an in-depth interview with The Hollywood Reporter, Favreau gave a few hints as to what his small-screen take on the space opera franchise will have in store for viewers. The most interesting tidbit? That Favreau's interest in the "darker, freakier" aspects of the hallowed film series will spill over into The Mandalorian.
"I'm trying to evoke the aesthetics of not just the original trilogy but the first film. Not just the first film but the first act of the first film," Favreau said. "What was it like on Tatooine? What was going on in that cantina? That has fascinated me since I was a child, and I love the idea of the darker, freakier side of Star Wars, the Mad Max aspect of Star Wars." 
Franchise purists who have shunned both the prequel trilogy done by George Lucas in the late '90s and early 2000s — as well as the newest series of films spearheaded by J.J. Abrams — should be excited to hear Favreau's words of exaltation for the 1977 original. Favreau was so excited at having the chance to leave his mark on the Star Wars universe that he began writing The Mandalorian before he inked a contract with Disney. As he shared, "I wrote four of the episodes before I even had a deal, because I wanted to do this but only if they wanted to do the version that I wanted to do."
The Mandalorian is set after the events of 1983's Return of the Jedi – after the Empire had fallen thanks to Luke and the Rebellions' heroics — and before the First Order could rise from the Empire's ashes. The First Order, of course, serves as the franchise's main bad guys beginning with 2015's The Force Awakens. Based on the little concrete information shared thus far, the show follows the trials and tribulations of a lone gunslinger — wearing a helmet fans will surely find familiar — in the "outer reaches of the galaxy far from the authority of the New Republic." The series has cost a reported $15 million an episode, and will star Game of Thrones fan favorite Pedro Pascal in the titular role. 
Here's to hoping Favreau truly has carte blanche to let his dark imagination run wild with the project.
The Mandalorian will release through the Disney+ streaming service on November 12.