The Real Reason Laurence Fishburne May Not Return As Morpheus In The Matrix 4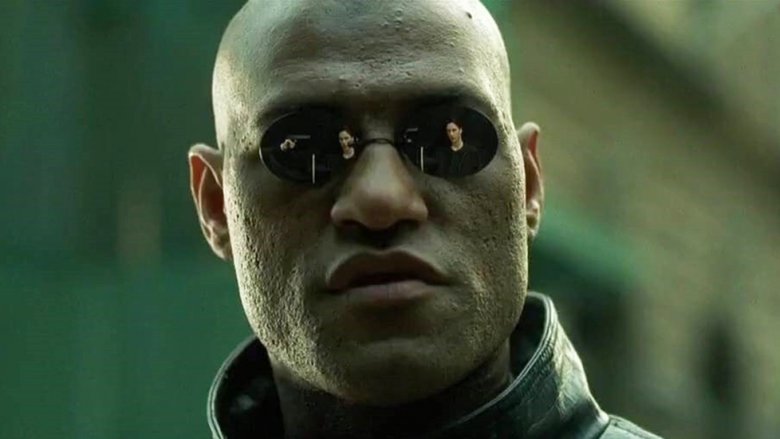 The world is about to re-enter the Matrix, but will Laurence Fishburne be on the other side?
Warner Bros. dropped a bombshell on August 20 when it announced that filmmaker Lana Wachowski — one half of the directorial duo behind the original Matrix and its two sequels The Matrix Reloaded and The Matrix Revolutions — is set to write and direct the long-awaited fourth Matrix film. Keanu Reeves, who starred in the sci-fi trilogy as computer-programmer-slash-hacker Thomas A. Anderson (better known as Neo), will reprise his role in The Matrix 4, and his co-star Carrie-Anne Moss is confirmed to step back into her role as Nebuchadnezzar crew member and Neo's love interest Trinity.
That news break came as a welcome surprise, and it seemed that The Matrix 4 would be one big Matrix family reunion. The only problem? There was no mention of Laurence Fishburne's involvement in the film. Fishburne starred opposite Reeves and Moss in all three Matrix movies, playing Morpheus, the Nebuchadnezzar caption who recruited Neo to aid in the fight to break humanity free from the virtual reality known as the Matrix. Considering Morpheus, Neo, and Trinity are the core trio of the Matrix franchise, and given that Reeves and Moss are locked in for The Matrix 4, one would assume that Fishburne will soon board the upcoming film. 
However, that might not end up happening. 
According to Variety's Justin Kroll, Fishburne may not return for The Matrix 4 because the film might not include his character at his current age. The Matrix 4 will reportedly feature a young version of Morpheus, and Warner Bros. is said to be on the hunt for the perfect person for the gig. Kroll wrote on Twitter shortly after the initial news broke that Warner Bros. executives are currently "looking [at] a variety of actors" to potentially play young Morpheus. He also teased that fans should "stay tuned on that front," suggesting that Warner Bros. will be making a casting decision sooner rather than later.
One might be hesitant to believe Kroll's words as completely true, but it's crucial to note that he was the one who had the exclusive on The Matrix 4 news. It stands to reason that if sources delivered to him confirmation of the fourth Matrix movie being underway at Warner Bros., they would have also dished up the intel that the studio is seeking an actor to play young Morpheus. 
Now, just because Warner Bros. is apparently in an active search for the right person to portray a fresh-faced version of everyone's favorite tiny-sunglasses-wearing freedom fighter doesn't completely rule out the possibility that Fishburne will appear in The Matrix 4. Someone new to the Matrix franchise might step up and portray young Morpheus, with Fishburne appearing in flashback sequences or in a very limited capacity. 
However, if writer-director Wachowski does intend to feature a younger and a current version of Morpheus, why not simply cast Fishburne in both roles and use digital de-aging technology to make him appear younger? Captain Marvel did it with both Samuel L. Jackson and Clark Gregg (to impressive results, we might add), and Ang Lee's upcoming flick Gemini Man did it with Will Smith, who portrays a younger and older version of his character. Casting a second actor as Morpheus in The Matrix 4 might be more time-effective, as we're sure the de-aging process in post-production takes quite a while to complete, but it probably isn't as cost-effective. And don't even get us started on how difficult it is to find an entirely separate person who can look and act like the younger counterpart of a famous character.
Perhaps Warner Bros. knows exactly what it's doing here, and is purposefully holding out on announcing Fishburne's inclusion to build additional buzz around The Matrix 4. (You're tuning into this news now, so it's obviously working already.) The studio already hit us with huge news when it confirmed that the project was happening, that Wachowski was writing and directing, and that Reeves and Moss were returning. Maybe Warner Bros. brass doesn't want to give franchise fans everything all at once, and is holding onto the juicy tidbit that is Fishburne's potential involvement until a later date. 
On that note, there's also the chance that Warner Bros. is still negotiating with Fishburne about returning as Morpheus in The Matrix 4. It isn't every day that an actor learns that the franchise they last appeared in 16 years ago is getting another installment, and Fishburne could very well be conflicted about the idea of being a part of the new movie. He has remained incredibly busy in the time since The Matrix Revolutions debuted in 2003 — appearing in films like Mission: Impossible III, Days of Wrath, Predators, Man of Steel, Batman v Superman: Dawn of Justice, Ant-Man and the Wasp, John Wick: Chapter 2, and John Wick: Chapter 3 – Parabellum. Fishburne has also found success on the small screen in his post-Matrix life, playing Dr. Raymond Langston on a handful of CSI series, Jack Crawford on Hannibal, and Earl "Pops" Johnson on Black-ish and Grown-ish. This considered, it's plausible that Fishburne is completely satisfied with his professional life and may not be interested in reprising his Matrix role that he hung up so many years ago. 
It's a mystery for now whether Fishburne will be involved in The Matrix 4, but for our part, we're holding out hope that we'll get to hear him say "free your mind" at least one more time.