The Irishman Netflix - What We Know So Far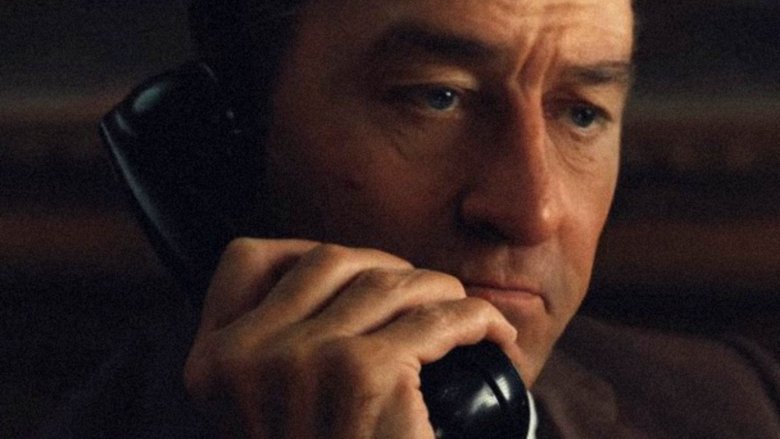 We may receive a commission on purchases made from links.
"As far back as I can remember, I always wanted to be a gangster."
Netflix is bringing Martin Scorsese, Robert De Niro, and Joe Pesci back to the gangster genre with The Irishman, an ambitious drama about real-life alleged mob hitman Frank Sheeran. Given the project's astronomical budget, the incredible talent involved, and the (possibly) true stories that inspired the film, there are a lot of rumors floating around about what's going on in The Irishman — onscreen as well as behind the scenes. Fortunately, if you want to know more about this highly anticipated movie, you've come to the right place.
We'll be going over all the essential information on The Irishman right here: the release date, who's involved with the film, and the basics of the plot. If you're on the fence about The Irishman, here's everything you need to know about the movie before you decide whether to add it to your Netflix queue.
What's The Irishman's release date?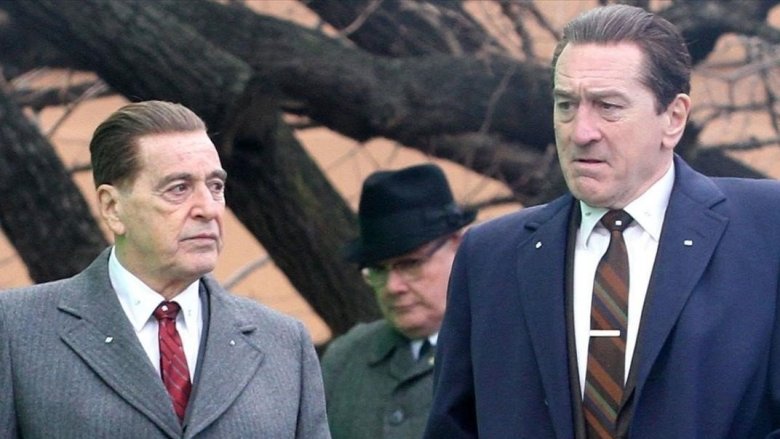 Interestingly, we still don't know the exact date that you'll be able to watch The Irishman on Netflix. We only have a nebulous "late 2019" date for the streaming service as of this writing, but we do know when a few lucky filmgoers will be able to witness its theatrical premiere.
Many of the films picked up by Netflix have also had limited theatrical runs so they can be in contention various honors during the annual awards season — like Roma and The Ballad of Buster Scruggs, for example — and execs at the streaming giant are banking on the same success for The Irishman. The film will make its United States debut at the New York Film Festival on September 27, 2019, with its international debut scheduled to take place at the London Film Festival on October 13. 
Most Netflix-produced films have moved pretty quickly to the service after debuting in theaters, but The Irishman might be a bit different; Netflix may want to leave more time for ticket sales because of the film's massive budget. Either way, plans currently appear to call for The Irishman to arrive on home screens sometime before the end of 2019.
Who directed The Irishman?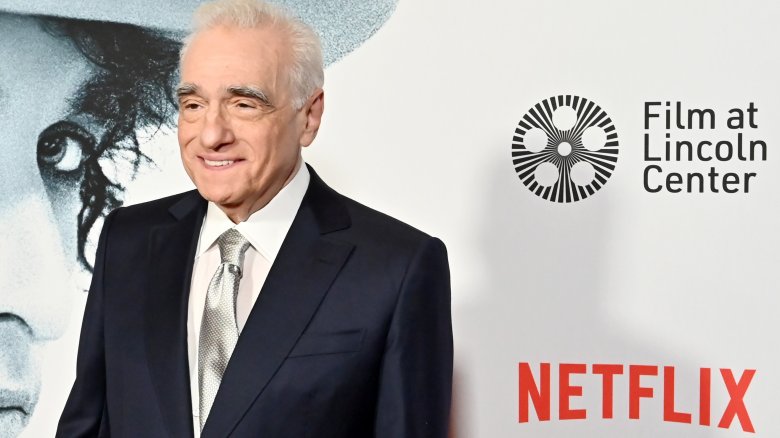 Astrid Stawiarz/Getty Images
Martin Scorsese has dabbled in multiple genres over the course of his long career, but to many film fans, he'll always be the king of the mobster movie — and his position in the director's chair for The Irishman has been one of its biggest selling points since the project was announced. This is Scorsese's first feature film since 2016's Silence, and his first true gangster film in over a decade — his last was The Departed in 2006.
Scorsese made a name for himself directing films based around the mob — Goodfellas, Casino, and The Departed are still considered some of the best entries in the genre. Even when he's strayed from "traditional" mob movies, Scorsese has always loved exploring dark, criminal aspects of society; some of his other major works include The Wolf of Wall Street, Gangs of New York, Taxi Driver, and Raging Bull.
The Irishman has been an absolutely massive undertaking, but it generally isn't wise to bet against Scorsese when he's working in this genre. The man knows what he's doing.
What's the story of The Irishman?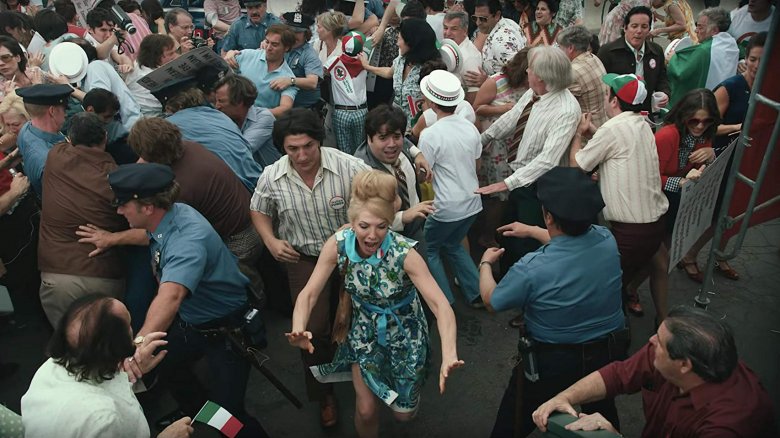 Netflix's description of The Irishman doesn't give us a ton to work with: "Martin Scorsese's epic saga of organized crime in postwar America, as told by a hit man, stars Robert De Niro, Al Pacino and Joe Pesci." It may as well read "A bunch of guys who play mobsters make a mobster movie."
However, it isn't too hard to find out a bit of what's going on in the movie. Robert De Niro stars as Frank Sheeran, a real-life war veteran turned alleged mob hitman. Most of the story features Sheeran looking back at the events of his life, specifically involving his work with (and the disappearance of) Jimmy Hoffa.
Hoffa was a union boss linked to the mob who eventually went to prison for several crimes. He disappeared in 1975, after he was released from prison. He was declared legally dead in 1982, although his body was never found. The details surrounding his disappearance still are not truly known. The Irishman may not tell a true story, in other words — but it's based on I Heard You Paint Houses, the book based on Sheeran's own account of his life and exploits, so audiences can expect it to hew as closely as possible to actual events.
What does the Irishman's trailer show us?
The suitably dramatic trailer for The Irishman showcases the central cast and some of the cutting edge de-aging technology that the film utilizes to allow actors like De Niro and Joe Pesci to play men decades younger than themselves. The footage mainly shows our central trio: De Niro as Frank Sheeran, Al Pacino as Jimmy Hoffa, and Joe Pesci as crime boss Russell Bufalino. There are also glimpses of a few other actors, such as Anna Paquin portraying Frank's daughter Peggy.
The trailer does very little to give away plot details, however. It mainly juxtaposes extreme violence with the almost religious traditions you often see in mob films. One prominent line from the trailer features Hoffa telling Sheeran "I heard you paint houses," a callback to the aforementioned memoir — and mob slang for "I hear you kill people for money."
Who's in the main cast of The Irishman?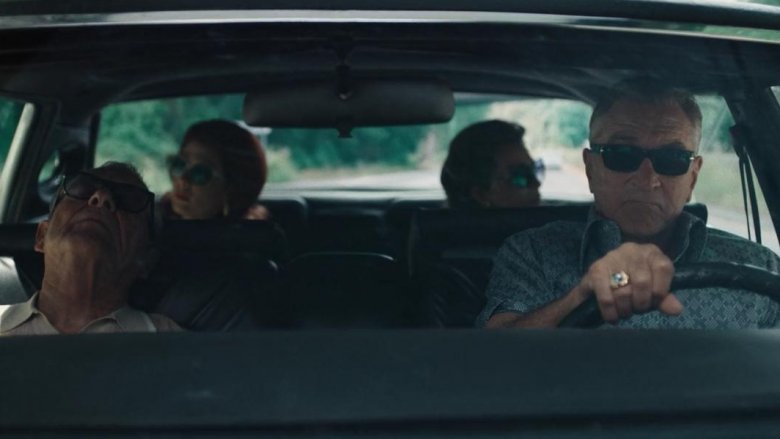 If you know anything about The Irishman at this point, you've probably had your interest piqued by the cast. Two of director Martin Scorsese's heavy hitters are featured in this film, one of whom was coaxed out of retirement to do so.
Joe Pesci has only appeared in three Scorsese films at this point, but it's a pretty impressive list. He was nominated for an Oscar for his role as Joey LaMotta in Raging Bull, and he later won the Academy Award for Best Supporting Actor as Tommy DeVito in Goodfellas. He also appeared in Casino. Pesci has been semi-retired since 1999; The Irishman is only his fourth film credit since then.
Few actor-director pairs are linked like Scorsese and Robert De Niro, as The Irishman will be the ninth feature film the two have collaborated on. The first, Mean Streets, was a low-budget gangster movie shot in 1973. Most of their work together has been on mobster films (Goodfellas, Casino), although they've had success in other genres with movies like Cape Fear, Taxi Driver, and Raging Bull.
Who else stars in The Irishman?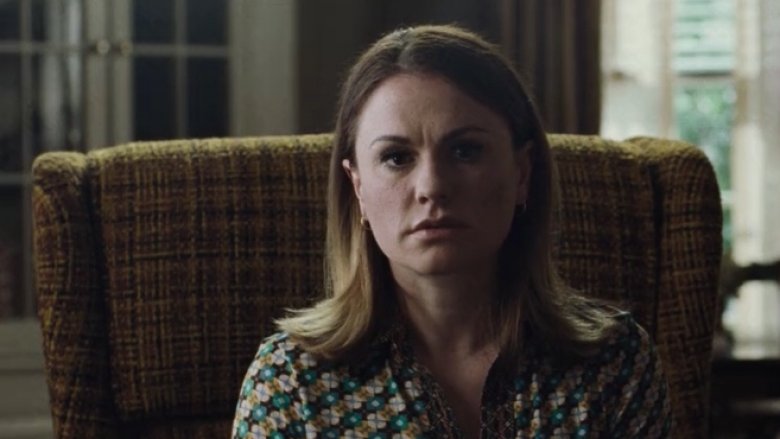 Besides De Niro and Pesci, there's a lot of impressive star power involved with The Irishman. Al Pacino, one of the kings of gangster movies, has somehow never worked with Martin Scorsese before. He appears in The Irishman as Jimmy Hoffa. Harvey Keitel will appear in the film, as will Stephen Graham. Both men have appeared in plenty of gangster films before, with Keitel starring in movies like Reservoir Dogs, Pulp Fiction, and Cop Land. Graham has worked in Snatch and Gangs of New York.
It isn't just mafia movie veterans in the cast of The Irishman — several big-name actors make appearances in the film and some, like Anna Paquin, appear to have pretty decent-sized roles. You'll also catch see Ray Romano, Jesse Plemons, Bobby Cannavale, Aleksa Palladino, and Jake Hoffman, among others. Many of the actors appearing in The Irishman have worked with Scorsese before, although his frequent collaborator Leonardo DiCaprio apparently missed the cut this time around.
What's The Irishman based on?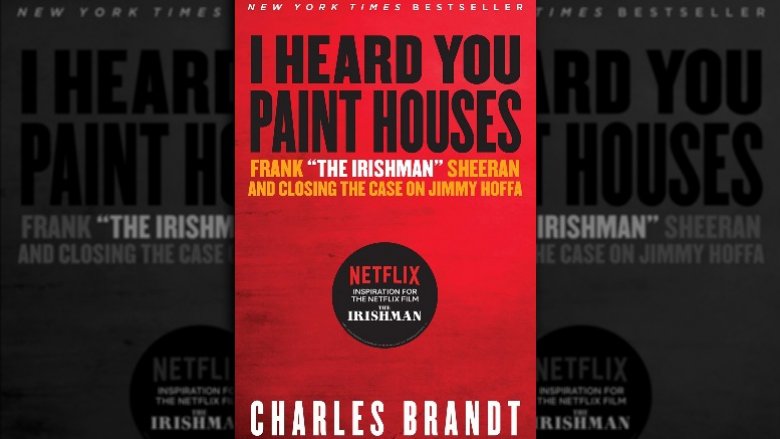 One of the lines that stands out in the trailer for The Irishman is "I heard you paint houses," said to Robert De Niro's character as he's shown murdering someone. That line is the title of the book that The Irishman is based on, written by Charles Brandt, which takes the form of a confession of Sheeran's life as a hitman for the mob, including the murder of Jimmy Hoffa. Although Sheeran's version of events has been called into question repeatedly since the book's publication, it's easy to understand what drew Scorsese to the project.
When it came time to turn Brandt's book into a screenplay, Steven Zaillian, the screenwriter behind films like Clear and Present Danger, The Girl with the Dragon Tattoo, and Moneyball, was brought in to start spinning movie magic out of Sheeran's story. Zaillian isn't quite the household name that some of the others involved with The Irishman might be, but he's got his own accolades — including the Academy Award he won for writing Schindler's List.
Why was The Irishman in development for so long?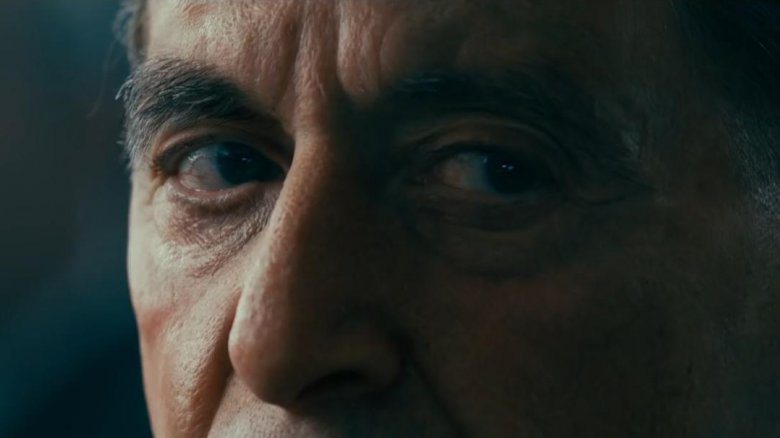 Martin Scorsese. Robert De Niro. Al Pacino. Joe Pesci coming out of retirement. How did this movie end up on Netflix instead of getting a major theater push? Apparently, Netflix wasn't always Scorsese's plan, but the budget proved too much of a risk for many studios.
According to the Wall Street Journal, streaming companies like Netflix are more likely to fund risky projects like The Irishman, since ticket sales aren't what drives their profits. Fox Business reported that the film wound up costing at least $173 million to make, and other sites have put the figure over $200 million.
Major studios aren't as likely to risk that type of money on movies that might not have mass market appeal. Much of the budget went into the de-aging technology that was used on the lead actors — in the era of a box office dominated by superheroes, it's understandable why some studios were wary about a mature crime drama that cost as much as The Irishman, even one with a cast and crew as impressive as this.
How will The Irishman make its characters look younger?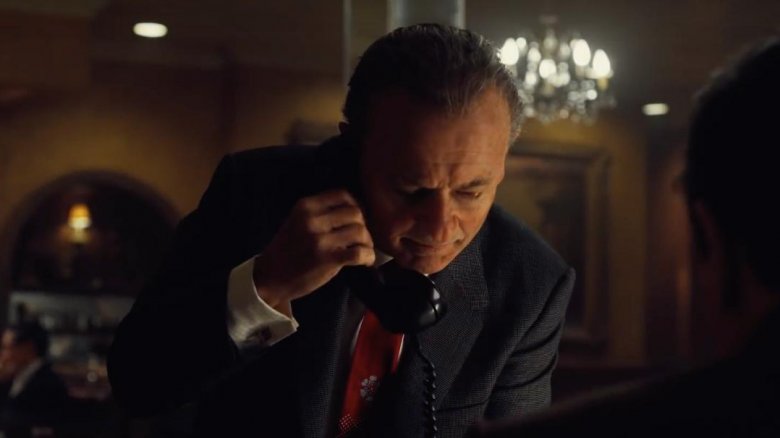 Outside of the film's cast, one of the central draws of The Irishman is the impressive technology on display. Just like the novel it's based on, the events of The Irishman have mostly happened in the past: they're merely being told to the audience by Frank Sheeran. We'll see those events play out with the digitally de-aged Robert De Niro, Joe Pesci, and Al Pacino portraying the younger versions of their characters.
The Hollywood Reporter wrote up an interesting piece on the technology, which was developed by Industrial Light & Magic. We'll have to see it in full effect once the film arrives but, watching the trailer, there is absolutely no sign of an uncanny valley effect. Digitally de-aged Robert De Niro looks like young Robert De Niro.
It will be interesting to see how this technology continues to develop and what other uses it might have outside of just "make the actors look younger." If The Irishman pulls it off, it might be an odds-on favorite to pick up some technical Academy Awards at the Oscars in 2020.
Where can you see The Irishman?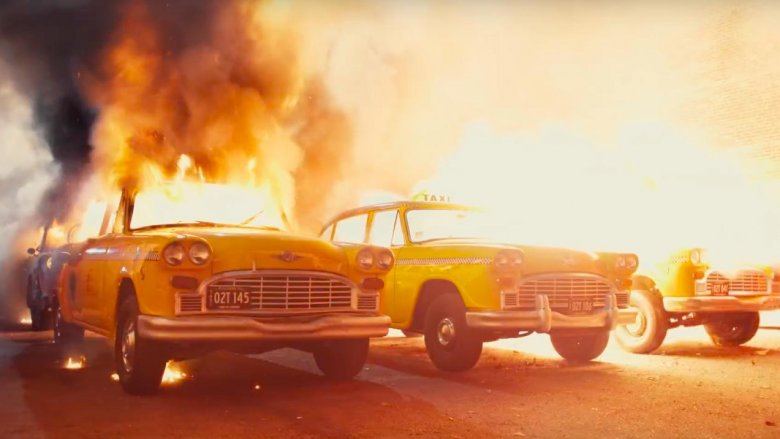 In 2018, Roma was Netflix's big play for Oscar consideration. Alfonso Cuaron's passion project was given a short theatrical release before being brought onto the streaming platform, enabling it to receive consideration for Academy Awards. The gamble worked: Roma brought home three Oscars after being nominated for ten.
Netflix seems to be repeating that strategy with The Irishman, which will screen at the New York and London film festivals and have a limited theatrical run before appearing on Netflix. Kent Jones, head of the NYFF, had this to say about why the film was selected to premiere there: "It's the work of masters, made with a command of the art of cinema that I've seen very rarely in my lifetime, and it plays out at a level of subtlety and human intimacy that truly stunned me." Obviously, he's a bit biased, but that's a pretty glowing endorsement. 
Theater chains are still resistant to movies bankrolled by streaming services, but maybe The Irishman can deliver the goods and help break down those walls... or at least paint some houses.