The Real Reason Joe Pesci Came Out Of Retirement To Act Again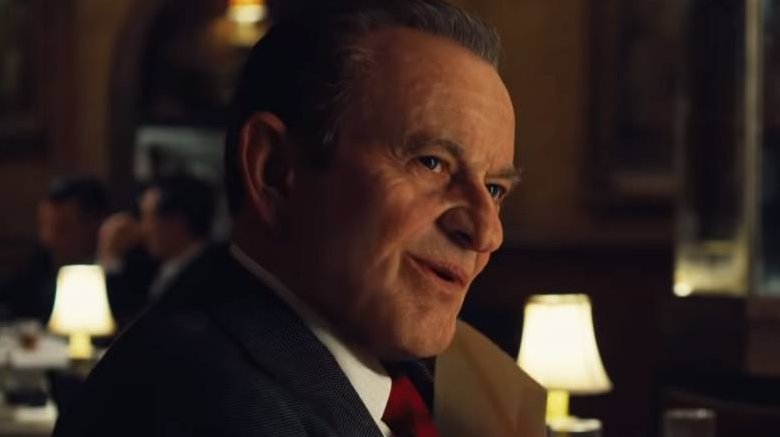 Joe Pesci is a name most people in the world have heard before, and if they haven't, the face attached to the name will certainly strike familiarity. An Academy Award-winning actor who scored top-billing roles in some of the biggest films of the 1980s and 1990s, Pesci gained international notoriety for his works in movies like Raging Bull, Once Upon a Time in America, Goodfellas, JFK, Casino, My Cousin Vinny, the first two Home Alone films, and the Lethal Weapon franchise. Considering all the fame and fortune and fans who followed his work, it came as somewhat of a shock when Pesci announced in 1999 that he was retiring from acting to pursue a career in music, only appearing in small roles in three films (The Good Shepherd, Love Ranch, and A Warrior's Tail) and since then. 
Twenty years later, Pesci has come out of retirement to act again, and we know the real reason why. 
Pesci is reuniting with several of his longtime collaborators for his first major film role post-retirement — in a movie that's already generating Oscar buzz.
In 2017, it was reported that Pesci would re-team with his Raging Bull, Goodfellas, and Casino director Martin Scorsese for The Irishman, which also stars Pesci's frequent on-screen co-star Robert De Niro. A biographical crime drama based on the non-fiction book I Heard You Paint Houses by Charles Brandt, The Irishman focuses on the eponymous labor union leader and alleged mob hitman Frank "The Irishman" Sheeran, played in the film by De Niro. Pesci is set to play American mafioso Russell Bufalino, the leader of the Northeastern-Pennsylvania-based Bufalino crime family to whom Sheeran was believed to have serious connections. Following Sheeran in his old age as he reflects on the crimes that defined his career in the Mafia, The Irishman also stars Al Pacino (another of Pesci's contemporaries) as Jimmy Hoffa, a fellow union leader and President of the International Brotherhood of Teamsters who disappeared in 1975 and was declared legally dead in 1982. Before his death in 2003, Sheeran claimed that he was the man who killed his old friend Hoffa. 
Clearly, The Irishman is a film that will have all the grit and intensity characteristic of famous Scorsese films. After Paramount Pictures dropped the project, Netflix acquired distribution rights to The Irishman, which is scheduled to hit the streaming service in late 2019 and will see a theatrical launch around that time in order for the film to meet the requirements for Academy Awards eligibility. (This is exactly what Netflix did with Alfonso Cuarón's gorgeous black-and-white film Roma, which wound up winning three Oscars at the 91st annual Academy Awards.) When Netflix unleashed the first teaser for The Irishman, which showed off stunning de-aging technology used to make Pesci and co. appear decades younger, many said the movie is tracking for "a bunch of Oscar nominations, if not Oscar victories."
Taking all this into account, one could argue that coming out of retirement to star in The Irishman was a no-brainer for Pesci. Reuniting with Scorsese, De Niro, and Pacino for a movie that could very well earn several Academy Award nods (or wins), and potentially see him add another golden statue to his collection of accolades? Pesci would be foolish to turn that down for a humble life making more music to follow up his 1998 album Vincent LaGuardia Gambini Sings Just for You, or, you know, trying to land more gigs in Snickers commercials.
But that's actually what happened... at least according to past reports. Per Deadline, Pesci didn't immediately jump on the chance to step out of the shadows and back into the limelight for The Irishman. Pesci is said to have repeatedly turned down the offer, with some sources stating that he said no "about 50" times. 
This stubbornness could have been a combination of his reluctance to come out of retirement and his past bad experience with getting lined up to play a mobster in a movie. Pesci was reportedly promised the role of real-life Gambino crime family capo Angelo Ruggiero in director Kevin Connolly's Gotti, and put on 30 pounds for the part, which he never actually landed. He wound up suing producers Fiore Films for $3 million, and settled out of court in 2013.
It evidently took persistence and convincing to get Pesci to sign on for The Irishman and officially come out of retirement to act again, but something tells us that the tipping-over point came when Pesci got the full scope of the project and the opportunities it could afford him. Knowing he would reunite with Scorsese was one thing, learning that he'd be joined by a glittering cast was another, and we suspect that when Pesci got a taste of the intense true-life story, he realized how good The Irishman would be and ultimately said yes. 
After all, Pesci has long maintained that he only wants to appear in movies in which he has "good roles." He told The New York Times in March 1992, "I love to star in movies, but I want to have good roles. It doesn't help to get starring roles in something that's no good. I mean, that will just kill you." Seven years after making that comment, and just a year following the release of the not-so-awesome Lethal Weapon 4, Pesci announced his retirement. 
It was always going to take a fantastic gig to bring Pesci out of retirement, and the role of Russell Bufalino in The Irishman was that one.
See Pesci make his triumphant return to acting when The Irishman rolls out later this year.