The Reason Steve Carell Almost Didn't Appear In The Office Finale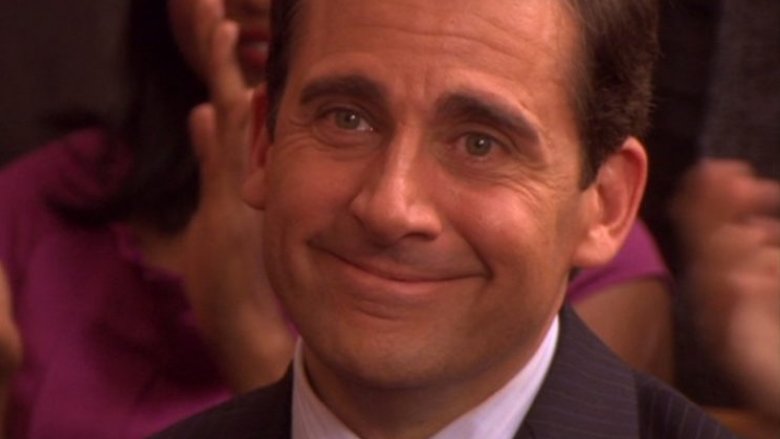 When The Office wrapped up its nine-season run in 2013, fans were thrilled to see one familiar face who had been missing since the seventh season: Michael Scott, Dunder Mifflin's long-time leader played by Steve Carell. However, this appearance nearly never came to fruition. Here's why Carell almost didn't make it back to Scranton for the Office finale. 
Constantly boorish and misguided but somehow charming (thanks in large part to Carell's performance), Michael Scott was the heart and soul of the titular office for seven long seasons — before Carell departed for greener pastures (specifically, a bustling film career during which he's racked up several Academy Award nominations). After years as Dunder Mifflin's regional manager, Michael's story came to an end when he got engaged to the love of his life, Holly Flax (Amy Ryan), with whom he moved to Colorado. Though the show tried to recreate the magic without him, it did end up losing some steam during the eighth and ninth seasons.
However, fans and critics alike were largely happy with the tail end of the final season of The Office, especially the finale. Following a penultimate episode that saw the documentary about Dunder Mifflin finally hit fictional airwaves, the finale picks up one year later, with Angela Martin (Angela Kinsey) and Dwight Schrute's (Rainn Wilson) wedding just days away. The rest of the gang is doing just fine as well: Darryl Philbin (Craig Robinson) is heading to Austin thanks to his career with Athlead; Stanley Hudson (Leslie David Baker) is enjoying his retirement in Florida; Andy Bernard (Ed Helms) has overcome a seriously embarrassing YouTube video and is now working at his alma mater, Cornell; Kevin Malone (Brian Baumgartner) and Toby Flenderson (Paul Lieberstein) have new careers as a bar owner and a writer, respectively; and, of course, Jim Halpert (John Krasinski) and Pam Beesly-Halpert (Jenna Fischer) are still raising their family in Scranton while Jim continues his work with Athlead.
As the best man at Dwight's wedding, Jim decides to stick to tradition and pull a bunch of pranks on his longtime-nemesis-turned-close-friend, but with a twist this time. Instead of mean pranks, Jim decides to pull "guten pranken," or good surprises. From tricks involving a fully functioning bazooka to seeing Angela get trapped in a trunk, the "guten pranken" go as planned, with one last one saved for Dwight's wedding day. Just before the ceremony, Jim tells Dwight that the best man needs to be older than the groom, so he can't do it — but someone else can. In walks Michael, delivering the best "that's what she said" line in the show's history.
Carell only appears in a few scenes during the finale, serving as Dwight's best man and showing off pictures of his kids to Pam (along with one final camera confessional), but his time on screen makes the finale all the more emotional as one of The Office's most beloved characters makes his return. However, this emotionally charged moment very nearly didn't end up happening.
In the lead-up to the Office finale, network NBC, the cast, and the crew all kept insisting that Carell definitely would not return for the finale. They maintained that Carell didn't want to overshadow anyone else's goodbyes and that his final episode was perfect just the way it was, and gave the typical lines about scheduling concerns. 
Still, rumors kept circulating, and once Carell did indeed pull off a perfect surprise cameo, everyone revealed that they'd been lying for months in order to achieve this particular moment. Showrunner Greg Daniels told Entertainment Weekly that they went so far as to exclude Michael's scenes from the dailies and give his lines to Creed (Creed Bratton) during the table read. Carell admitted that he, the cast, and Daniels just flat-out lied to the press in leading up to the finale to keep everything a tightly wrapped secret.
Carell and his former cast members might have pretended that he would be left out of the finale of The Office, but luckily, he did appear, giving longtime fans the closure they wanted from the beloved show.