What Andrew Garfield Has Been Doing Since Playing Spider-Man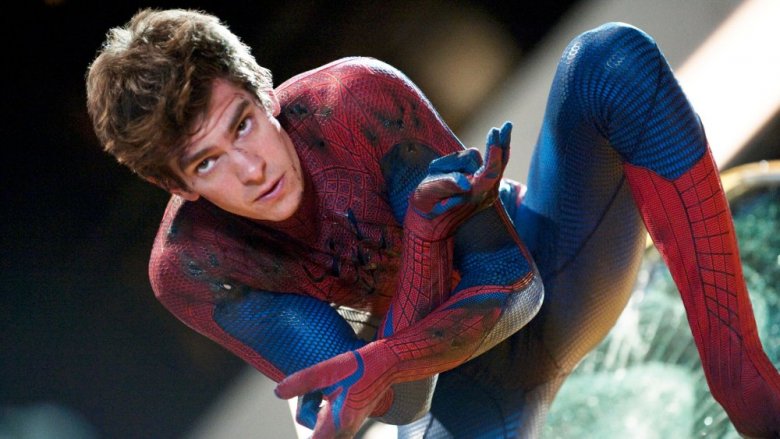 He may have been the shortest-lived Spider-Man to date, but British actor Andrew Garfield has kept plenty busy since his stint as the friendly neighborhood web-slinger ended. Here's what Andrew Garfield has been up to since The Amazing Spider-Man franchise came to a close.
Garfield has been a Hollywood staple ever since he first got his breakout roles in two prestige films, but he worked steadily before that, appearing in U.K. staples like Doctor Who and the 2007 British series Boy A. The late aughts brought Garfield a few small roles in international films like Lions for Lambs (in which he acted alongside huge names like Tom Cruise, Meryl Streep, and Robert Redford) and The Other Boleyn Girl (in which Garfield played Francis Weston, one of Anne Boleyn's doomed courtiers) before finally hitting it big with two flicks in particular.
In 2010, Garfield starred in a pair of drastically different yet equally high-profile films: Never Let Me Go, an adaptation of Kazuo Ishiguro's acclaimed novel, and The Social Network, David Fincher's re-telling of the creation of Facebook. In Never Let Me Go, Garfield appeared alongside Carey Mulligan and Keira Knightley — all of whom played teenagers raised to be organ donors in a dystopian alternate universe. Ultimately, Garfield received plenty of praise for his role as Tommy D. However, his turn in The Social Network was arguably much, much splashier. Garfield impressed as real Facebook co-founder Eduardo Saverin, who constantly butts heads with his business partner Mark Zuckerberg (Jesse Eisenberg) until their relationship completely dissolves, and left audiences everywhere insisting that their "Prada's at the cleaners." In the end, The Social Network was nominated for several Academy Awards, including Best Picture.
Once Garfield had racked up plenty of prestige credits and international acclaim, it made sense for him to transition into big superhero films. He did just that by taking on the role of Peter Parker in Marc Webb's reboot of the Spider-Man franchise. Throughout two films, Garfield's performance was well-received by critics — especially thanks to scenes where Garfield appeared against future Academy Award winner Emma Stone, who played the Gwen Stacy to his Peter. (The two ended up in a real-life relationship, and as a result, their on-screen chemistry visibly crackled.) However, after a merger between Sony and Marvel brought the character back to the MCU, Garfield's sequels were canned, and Tom Holland went on to pick up the mantle for a third reboot that began in Captain America: Civil War.
In a post Spider-Man world, Garfield has kept his calendar full, appearing in films directed by some of Hollywood's most storied names. Following his own tradition of appearing in two acclaimed films in the same year, Garfield had an amazing 2016, headlining both Mel Gibson's Hacksaw Ridge and Martin Scorsese's Silence. In the former, Garfield played a combat medic during World War II, delivering a performance that ultimately earned him his first Academy Award nomination for Best Actor. In the latter, he joined Adam Driver in an intense drama to play one half of a pair of Jesuit priests who attempt to spread their faith in Japan. Silence earned underwhelming returns at the box office, but Garfield's performance was widely praised, and it cemented him as a renowned young actor. 
After wrapping up yet another banner year in 2016, Garfield took a small break from the screen and elected to appear in high-profile roles on the stage. In 2017, Garfield booked an enormous role in Marianne Elliott's National Theatre production of Angels in America, based on Tony Kushner's era-defining, Pulitzer Prize-winning drama. As Prior Walter, a gay man suffering from AIDS who experiences visions seemingly from heaven, Garfield had the opportunity to serve as the two-part play's emotional core. For his efforts, he was rewarded with an Olivier Award nomination for Best Actor (the British equivalent of a Tony Award).
Recently, Garfield has returned to film work, appearing in Under the Silver Lake, which premiered at the 2018 Cannes Film Festival and was released to the general public in the spring of 2019. Garfield earned praise for the role, in which he plays an unemployed, listless man who searches for his missing neighbor. 
Looking ahead, he has plenty of upcoming projects on his plate — including Gia Coppola's Mainstream (with Jason Schwartzman and Stranger Things breakout Maya Hawke); a turn as real pianist James Rhodes in Instrumental; and a gig alongside Jessica Chastain in a biopic about televangelist couple Tammy Faye and Jim Bakker. 
Tom Holland might wear the Spidey suit these days, but Garfield isn't hurting for work or opportunity. It seems his time as Spider-Man paid off, short as it may have been.