Why Kelly McGillis' Charlie Blackwood Isn't In Top Gun: Maverick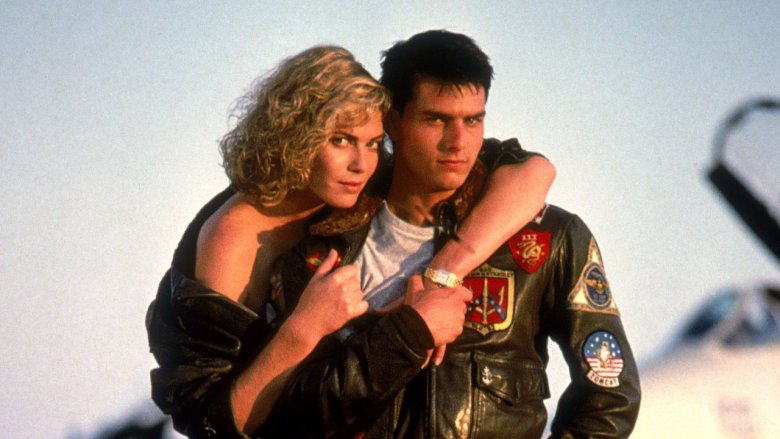 Kelly McGillis doesn't "feel the need" to return to the world of Hollywood blockbusters.
In a recent interview, the Top Gun actress has had to field the question of why she isn't appearing in the long-gestating sequel, Top Gun: Maverick. The answer is pretty simple — she wasn't asked — but, judging by her remarks, she likely wouldn't have returned even if she had been.
McGillis appeared as Charlie Blackwood, the love interest to Tom Cruise's navy fighter pilot Pete "Maverick" Mitchell, in the original film. In a telephone interview with Entertainment Tonight, the actress revealed that while nobody from Maverick's production team saw fit to reach out to her — instead offering the part of Maverick's love interest to Jennifer Connolly — she wasn't terribly disappointed, as Hollywood is pretty much the furthest thing from her mind these days.
"I think just my priorities in life changed," she said. "It wasn't like a major decision that I made to leave, it was just that other things became more important. I love acting, I love what I do, I love doing theater, but I don't know. To me, my relationships to other people became far more important than my relationship to fame."
She also opened up about her struggle with an undisclosed addiction, implying that perhaps Hollywood wasn't the ideal place for her to sort out her issues, and that she had to embark "on a journey to figure out who the hell [she was]" outside of her career — especially considering her most fulfilling role, that of parent to two children.
"It was very challenging for me to have any kind of sense of self or self-identity or real self-worth other than what I did for a living," she explained. "And it just — it didn't become a priority; what became the priority initially was raising my girls and being the best sober parent I could be."
Released in 1986, Top Gun was the highest-grossing film of that year, a massive hit that propelled McGillis (who only had two prior features under her belt) to worldwide fame and cemented the exploding stardom of its lead, Cruise. Directed by the late Tony Scott (brother of Ridley), the flick set a new standard for aerial-based action sequences, and generated one maddeningly enduring catchphrase: "I feel the need... the need... for speed."
Over three decades down the road, it remains to be seen whether audiences will flock to see the continuing story of Maverick. One thing, though, is certain: at 57 years old, Cruise can still pull off the kind of roles that would leave his younger contemporaries gasping for breath and clutching their various broken limbs. For evidence, look no further than the entirety of the Mission: Impossible franchise.
To this point, McGillis got decidedly blunt when addressing the question of why she hadn't been invited back for Maverick. "I'm old and I'm fat and I look age-appropriate for what my age is, and that is not what [Hollywood] is about," McGillis said. "But...I'd much rather feel absolutely secure in my skin and who and what I am at my age as opposed to placing a value on all that other stuff."
Hers is a refreshing point of view, and these days, McGillis is still working steadily while enjoying the home life that she so treasures. She's popped up in the cult favorites Stake Land and We Are What We Are, and over the last few years has appeared in several TV movies as well as the 2015 feature Blue — all while keeping her focus on her privacy and devotion to her family.
"I am a home person. I'm really rooted in my home life," she said. "I feel really blessed that I don't have to work, you know? But I get the option to work, so I'm really blessed in that way. Not many people get that option later in life, so I feel very lucky."
One bullet that McGillis must feel lucky to have dodged is the inevitable massive promotional push for Top Gun: Maverick, which will put the very idea of extremely belated sequels to pop culture-permeating films to the test. The flick will face some stiff competition when it drops next June. Also hitting theaters that month are Patty Jenkins' DC sequel Wonder Woman 1984 and producer Jordan Peele's Candyman, and early July will see two more high-profile releases vying for moviegoers wallets: Jason Reitman's Ghostbusters 2020, and the as-yet untitled next entry in the reliably profitable Purge series.
Top Gun: Maverick is being helmed by TRON: Legacy director Joseph Krosinski from a script co-written by frequent Cruise collaborator Christopher McQuarrie, who has penned Jack Reacher, Edge of Tomorrow, Mission: Impossible — Rogue Nation, The Mummy, and Mission: Impossible — Fallout for the star. In addition to Cruise and Connolly, the flick boasts an impressive supporting cast which includes Jon Hamm (Good Omens), Miles Teller (Whiplash), Ed Harris (Westworld), and — reprising his role as Tom "Iceman" Kazansky from the first film — Val Kilmer, who hasn't appeared in a bonafide summer blockbuster since his turn as Bruce Wayne in 1995's Batman Forever.
We'll see just how high Top Gun: Maverick can fly when it hits the big screen on June 26, 2020.