The Avengers: Endgame Star Who Still Hasn't Seen The Movie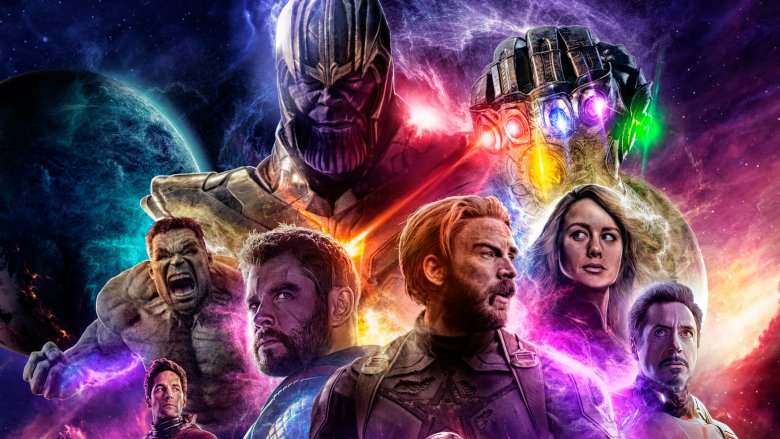 It takes a lot of ticket sales for a movie to become the top-earning film in history. Avengers: Endgame achieved that goal thanks to the millions of moviegoers who bought tickets to preview screenings, repeat showings, and the extra-special re-release of the movie. However, one person who didn't contribute a dime to help Endgame become the biggest movie of all time is someone who was actually in the film themselves.
Angela Bassett, who made a cameo appearance in Avengers: Endgame as Ramonda, the mother of Black Panther (Chadwick Boseman), recently admitted that she still hasn't seen Avengers: Endgame. 
Speaking with EW Live on SiriusXM to promote her upcoming Netflix film Otherhood, Bassett confessed that the three-hour runtime of Avengers: Endgame is part of the reason why she hasn't watched the film, which hit theaters over three months ago in April 2019. 
"It's three hours long, right? I haven't seen it," the actress said. Bassett was quick to share that she does plan on seeing Endgame, though not from a theater seat or the comfort of her own couch: "Wait a minute. It is going to be on the plane. Oh, my God, carve out three hours?"
Since Bassett was only in Avengers: Endgame for a short amount of time and because she's one of the few people left on Earth who hasn't seen the film at least once, there's the question of whether she actually has any idea what goes on in the movie. She said that she "kinda" does considering she was there on set, but she doesn't exactly know "how it plays out."
Bassett may not have seen Avengers: Endgame, but her children most definitely have — multiple times. While her 13-year-old twins were in the theater experiencing the epic superhero ensemble, Bassett was off doing her own thing, knowing that her kids would likely fill her in on the details when they came home. The actress shared with a laugh, "They've seen it. They've seen it twice. I'm like, 'Y'all have fun. I'm just gonna relax and chill at home, thanks. Tell me all about it.'"
One good thing about Bassett not experiencing a film she's a part of is that she escaped potential embarrassment by falling asleep during the showing, which is something that apparently happens to her a lot. 
"[My kids] tell me, 'You always fall asleep in the movies, Ma,'" she laughed. "Then I wake up and I got, like, the general gist of what happened. And the bad guys went down and the good guys solved it and it's all good, right? Okay!"
It would be far more shocking to hear that, say, Captain Marvel actress Brie Larson or Ant-Man star Paul Rudd had yet to see Avengers: Endgame three months after its theatrical debut. Those two were prominent players in the film, and Bassett's Ramonda was, well, not. She was amongst the dusted in Avengers: Infinity War, meaning there was no way for her to join the action until the 11th hour during the last battle with Thanos (Josh Brolin) after Professor Hulk (Mark Ruffalo) brought everyone back to life. Though Endgame, the culmination of 11 years of the Marvel Cinematic Universe, is momentous and exciting and thrilling, it carries a lot more weight to some actors (like those who play the now-retired-or-dead Avengers Captain America, Iron Man, and Black Widow) than it does to others (like Bassett and the rest of the bunch who only appeared on screen for a minute or two). Bassett's Ramonda is a key part of the Black Panther franchise, but not the Avengers film series, so there's something to be said about just how emotionally invested into Endgame Bassett really is. We can understand why Bassett wouldn't race off to see a three-hour-long movie solely for her small cameo, and it doesn't seem like she's contractually obligated to be a massive fan of the MCU just because she's in it. 
Hopefully Bassett can soon catch Avengers: Endgame and find out why it's now the most commercially successful movie ever. Fingers crossed she doesn't fall asleep before the credits roll.