Watchmen: Damon Lindelof Fires A Shot At Comics Creator Alan Moore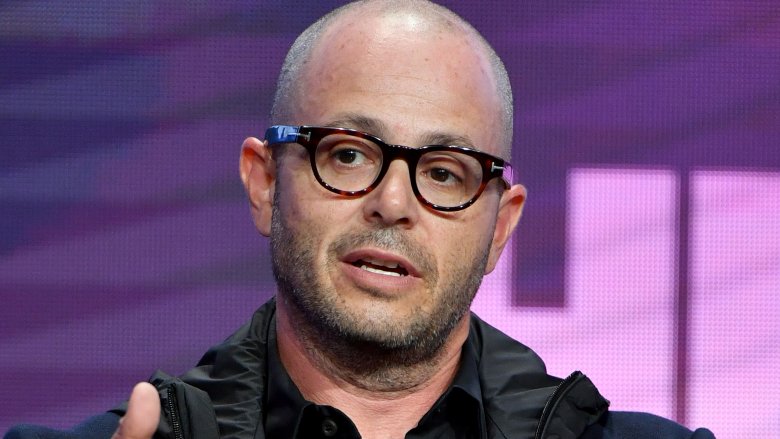 Amy Sussman/Getty Images
The gauntlet has been thrown... in a half-joking, half-serious kind of way. 
Watchmen television series creator Damon Lindelof offered some choice words in response to Watchmen comics creator Alan Moore's apparent disapproval of the upcoming HBO adaptation. 
According to HBO's president of programming Casey Bloys, Moore, who created the Watchmen maxiseries with artist Dave Gibbons and colorist John Higgins for DC Comics in 1986, recently stated that he's "not thrilled" about the small-screen take on the property. But Lindelof doesn't care all that much. He fired a shot at Moore, saying that he's continuing the show whether he likes it or not, and delivered a pretty vulgar message in the process: "F*** you, I'm doing it anyway" (via Entertainment Weekly).
Lindelof explained at the Television Critics Association's summer press tour on Wednesday, July 24 that his heated words aren't meant to start a war — and neither are Moore's. Rather, there's always been some tension between the two, and Moore's choice to not be involved with Lindelof's small-screen translation of Watchmen has been "an ongoing wrestling match" that essentially began the minute the project was announced. 
The Watchmen showrunner admitted that he doesn't think he's "made peace" with the fact that Moore has distanced himself from the series, and is more so channeling Moore's own "rebellious spirit" in telling him to bugger off and let him do what he wants to. In the same breath, Lindelof praised Moore as a creative and said that he wants to respect Moore's choice to stay as far away as possible from the Watchmen HBO series — even after Lindelof made "personal overtures" to fully explain to Moore what he was planning to do with the property. 
"Alan Moore is a genius, in my opinion, the greatest writer in the comic medium and maybe the greatest writer of all time," said Lindelof. "He's made it very clear that he doesn't want to have any association or affiliation with Watchmen ongoing and that we not use his name to get people to watch it, which I want to respect."
He then joked that he views Moore as a father figure when it comes to the Watchmen TV series, so his "f*** you" response to him comes partially from a place of a teenager sticking it to the man. Lindelof also noted that he feels Moore has a "punk rock spirit, a rebellious spirit," and that if someone told him he couldn't do something, he'd defy them and keep rolling. 
"As someone who's entire identity is based around a very complicated relationship with my dad, who I constantly need to prove myself to and never will, Alan Moore is now that surrogate. The wrestling match will continue," said Lindelof with a laugh. "I do feel like the spirit of Alan Moore is a punk rock spirit, a rebellious spirit, and that if you would tell Alan Moore, a teenage Moore in '85 or '86, 'You're not allowed to do this because Superman's creator or Swamp Thing's creator doesn't want you to do it,' he would say, 'F*** you, I'm doing it anyway.' So I'm channeling the spirit of Alan Moore to tell Alan Moore, 'F*** you, I'm doing it anyway.'"
Regarding what exactly Lindelof is doing with the Watchmen team, a group of vigilantes who live in a decidedly anti-vigilante world, he's not rebooting the property but is instead re-exploring it. He's not rewriting anything, retconning any part of the original source material, or screwing around with what fans love from Moore's works. Lindelof promised that he adores the original Watchmen comics and even said that he experienced intense terror about potentially messing everything up. Though he's still fearful that he'll make some kind of mistake with Watchmen series, Lindelof reiterated that he has "a tremendous amount of respect for this."
Evidently, that respect comes in the form of an F-bomb and a determined attitude. 
Watchmen is set to premiere on HBO this October.