Riverdale Season 4 Casts Shannen Doherty For Luke Perry Tribute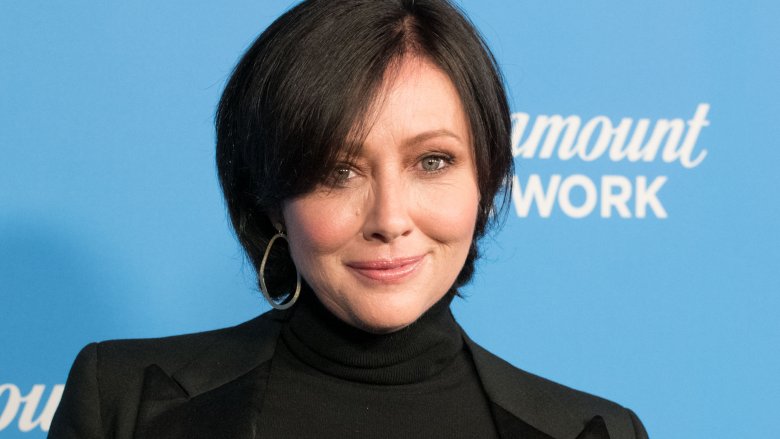 Earl Gibson Iii/Getty Images
Shannen Doherty is joining the cast of Riverdale season 4 for a very special reason. 
Announced at the series' panel at San Diego Comic-Con 2019 on Saturday, Doherty will be a part of the Riverdale season 4 premiere, which will tribute Fred Andrews actor Luke Perry, who passed away in March at the age of 52. 
Variety confirmed the news. 
What makes Doherty's Riverdale casting all the more emotional is that she and Perry worked together for years on the drama series Beverly Hills, 90210. Doherty played Brenda Walsh opposite Perry's oh-so-cool bad boy Dylan McKay on the series, which featured their two characters falling in and out of love (and the traumas that go along with it). After the series wrapped in 1998, Doherty and Perry remained close friends, and news of Perry's untimely death hit the actress incredibly hard. She admitted at the time that it felt "impossible" to process, and she was "struggling" to come to terms with the heartbreaking loss. 
Riverdale executive producer Roberto Aguirre-Sacasa kept a tight lip on details about Doherty's character, though he did offer a few details about what the season 4 premiere will entail. He described the episode as "very emotional," centering on a tribute that reflects "Perry's enduring legacy and the indelible imprint his character" had on Riverdale. Aguirre-Sacasa also noted that Doherty was meant to guest star on Riverdale quite a while ago, and said that Doherty's involvement with the show is "something that Luke wanted to happen since season 1."
"They were such good friends, and when we were putting together this tribute episode, we wanted to make it as special as possible," said Aguirre-Sacasa. "And so we asked Shannen to do a pivotal, super-emotional role. She read the script and immediately said 'yes.' It's very impactful ... We really wanted to honor Luke, to honor Fred and we wanted it to be a standalone, really emotional, really focused on what this character meant to this group of people."
Jughead Jones actor Cole Sprouse also shared his thoughts on working with Doherty for the moving tribute episode: "It was cathartic for all of us, it put the cherry on top of that episode and made a nice tribute. She was overjoyed to have the ability to share some of the burden of Luke's passing that she had gone through in a cathartic setting with the rest of us."
Mum's the word on whether Doherty's Riverdale season 4 character will appear on later episodes, or if she's sticking around for one episode only. She won't be the only fresh face on Riverdale's upcoming season, though: The Fosters star Kerr Smith will take on the role of Mr. Honey, the "hard-ass" new principal of Riverdale High, for season 4.
With season 3 of Riverdale continuing along the bizarre path season 2 set up and finally arriving at Crazy Town during the season finale, the show could benefit from some focused, purposeful storylines that pack an emotional punch that make it worth watching again. Kicking the newest season off with a tribute to Perry starring one of his closest friends could be just the thing the series needs — in addition to being something fans of the late actor will undoubtedly appreciate. 
Riverdale season 4 will premiere on Wednesday, October 9 on the CW.