R-Rated Terminator: Dark Fate Bringing Back Edward Furlong As John Connor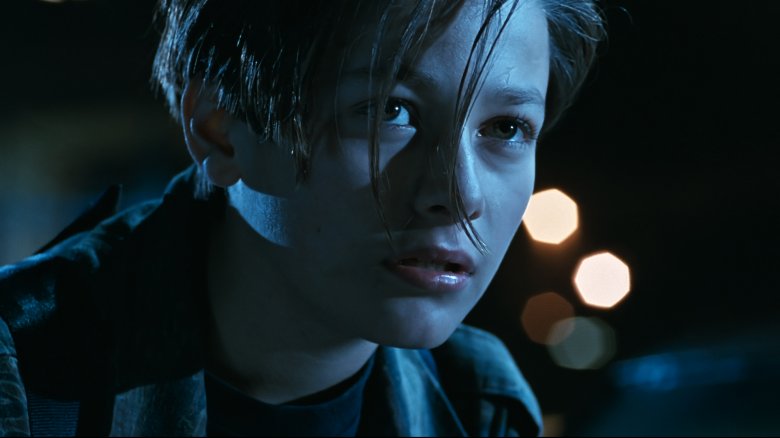 Betcha didn't see this coming. 
During the Terminator: Dark Fate presentation at San Diego Comic-Con 2019 on Thursday, July 18, the cast and creators of the newest Terminator flick took to the stage to make several announcements about the film. One of the most shocking, news-making drops was the confirmation that Edward Furlong will return for Dark Fate and reprise his role as John Connor (via Entertainment Weekly).
With Terminator franchise legends Linda Hamilton and Arnold Schwarzenegger up on the Hall H stage — joined by director Tim Miller and cast members Gabriel Luna, Mackenzie Davis, Diego Boneta, and Natalia Reyes – Terminator: Dark Fate producer James Cameron delivered the news in a video message live-streamed from the set of Avatar 2. Cameron confirmed that Furlong, who debuted on the silver screen in the 1991 film Terminator 2: Judgment Day as the son of Hamilton's Sarah Connor, will appear alongside the rest of the Dark Fate crew as the once-promised leader of the Resistance. Though entries in the Terminator film series that came after Judgment Day saw several other actors become the figurehead of the anti-Skynet movement, Dark Fate ignores everything post-Terminator 2 and directly follows up that film and its predecessor, the original film from 1984. 
Surprising as it is to hear Furlong will be back for Terminator: Dark Fate, it makes sense. Hamilton is on board as Sarah Connor, Schwarzenegger is attached as his famous T-800 model Terminator, and the film looks to tie up the narrative from the first two Terminator movies while introducing a new generation of humans and cyborgs to keep the film series alive for years to come. It only seems right that the prophesied protector of humanity would be a part of this next chapter, which Cameron previously described as being a way for the franchise to "pass the baton" to new characters. And, as Miller explained during the SDCC 2019 panel, Dark Fate will see Sarah Connor grappling with the finale of Judgment Day, which saw her eradicate Cyberdyne Systems. Obviously, something went very wrong in the years since that event.
Unfortunately, not everyone is particularly thrilled that Furlong is re-entering the Terminator scene. One Twitter user wrote in response to the news, "Am I the only one trepidatious at the thought of Edward Furlong returning as John Connor? At face value it sounds exciting, but don't use nostalgia to mask bad writing and execution. Furlong won't make a bad movie better. Let's hope it's good! And Edward has cleaned himself up." Another criticized Furlong's acting skills, while someone else said that they believe this announcement is just one big marketing ploy to bait Terminator fans into seeing Dark Fate for the now-increased nostalgia factor.
For our part, we're interested to see how Furlong will fit into Terminator: Dark Fate – which is now confirmed to be R-rated. The film picks up 27 years after Terminator 2: Judgment Day and follows a young woman named Dani (played by Reyes), who discovers that she is being hunted by a liquid metal Rev-9 Terminator (Luna), sent to the past by Skynet to kill her. A cyborg-assassin named Grace (Davis) comes to Dani's aid, as do Sarah Connor and the original Terminator. It's possible that Sarah will reach out to John and ask for his assistance in protecting Dani, the presumed new savior of humanity, and ensuring that the world doesn't fall to the machines. 
Fingers crossed that however Furlong's John Connor factors into Terminator: Dark Fate, the film will blow us all away when it hits theaters on November 1.