Mindhunter Season 2 Scores Official Release Date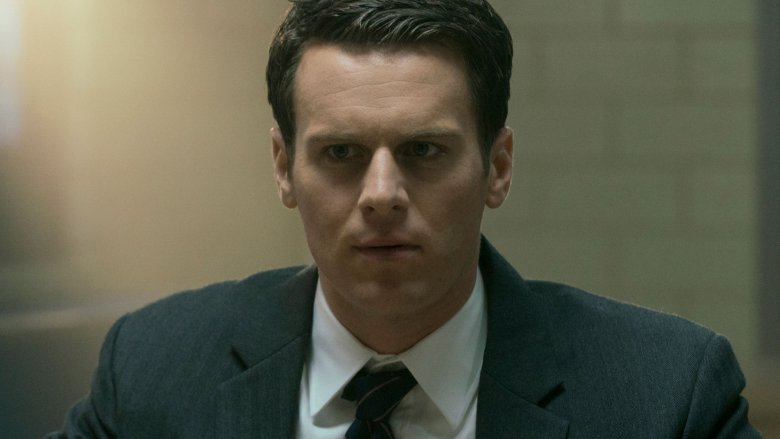 Deep breath, everyone. It's happened, and it's not a drill. Mindhunter season 2 finally, officially has a release date. 
Mindhunter director and executive producer David Fincher confirmed during a recent appearance on KCRW's The Treatment podcast that the long-awaited second season of the series is hitting Netflix on August 16. 
"Yes, there is now [a date]. I'm not sure, I guess I'm allowed to say it, but, yeah, it's gonna be the 16th," Fincher stated. 
While Fincher himself didn't mention the month in which Mindhunter's second season will drop on Netflix, his fellow executive producer Charlize Theron previously let that detail slip when she spoke with Howard Stern on his podcast earlier this year. Amid a flurry of compliments Stern was giving to Theron and Mindhunter as a whole, Theron said that season 2 is indeed headed our way in August. 
Fincher, Theron, and the rest of the Mindhunter crew (including series creator Joe Penhall) have been keeping their cards close to their chest when it comes to discussing the upcoming second season, but we do know the basic premise of the new batch of episodes: the story picks up in 1979, two years after the start of the first season, and continues through to 1981 to focus on the Atlanta child murders that took place during that time period. 
FBI Behavioral Science Unit special agents Holden Ford (Jonathan Groff) and Bill Tench (Holt McCallany), as well as psychology professor Wendy Carr (Anna Torv), will, of course, continue building the FBI's criminal profiling unit as they interview imprisoned serial killers to better understand the motivations behind their heinous crimes. The freshman season of Mindhunter ended with – spoiler alert — Holden collapsing into a panic attack after notorious murder Ed Kemper (Cameron Britton), one of Holden's interviewees with whom he had developed an interesting dynamic, wraps him in a bear hug and says he could kill him if he wanted to. Fans will likely learn how that experience affected Holden, and the ways in which the criminal profiling unit will refine its approach to interviewing murderers to avoid endangering themselves ever again. 
Mindhunter season 2 should build upon its predecessor in more ways than one, including its collection of characters. Real-life murderer Dennis Rader (a.k.a. the BTK Killer), who was teased all throughout season 1, might play a part in the new story. And Charles Manson, whom Damon Herriman in set to portray on the show, definitely will. (Funnily enough, Herriman is also playing the infamous serial killer in Quentin Tarantino's upcoming film Once Upon a Time in Hollywood.) 
Though the new season will be shorter than the first at a clipped eight episodes, Mindhunter is expected to stick around for the long haul. Creator Penhall is already thinking of where the story is going beyond the second season, sharing with Metro that he envisions five seasons for the series, with later seasons exploring "Holden's growing narcissism" and the final season depicting Holden as a successful author and film consultant. 
"I wrote a five season Bible, so the idea is ... that these guys become increasingly successful and the caliber of the interviewees becomes increasingly illustrious and famous," Penhall said. "I mean you see that emerging at the end of season 1, their own narcissism, their own self-absorption, their own need for attention and fame starts to accrue in the way that criminals and psychopaths need attention and fame ... The idea is for it to get weird."
Find out just how weird the new season of Mindhunter will be when it hits Netflix in August.