Bill & Ted Face The Music Casts Holland Taylor, Kristen Schaal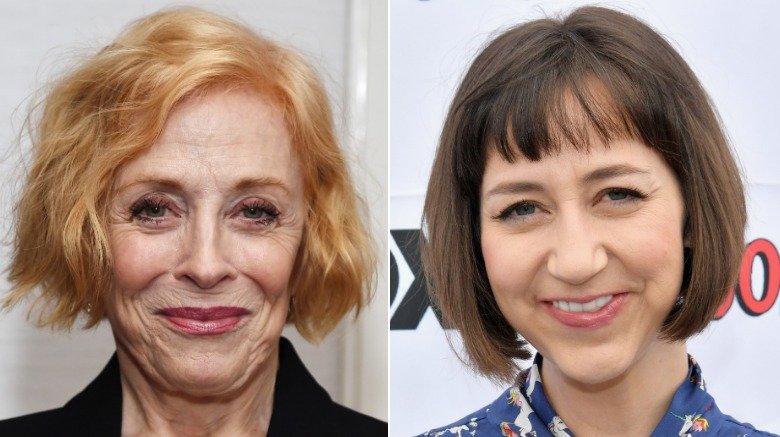 Bill & Ted Face the Music has added a couple more famous faces to its growing cast. 
The long-awaited threequel, which is currently before the cameras, has added Holland Taylor (Mr. Mercedes) and Kristen Schaal (Toy Story 4) to its roster., which may finally complete the film's casting. (via Entertainment Weekly)
The third chapter of the story begun by Bill & Ted's Excellent Adventure (1989) and Bill & Ted's Bogus Journey (1991) will see the pair, now middle-aged with daughters of their own by their beloved princesses, coming to terms with the fact that their band Wyld Stallyns never got around to making the totally excellent music that was destined to bring peace to all of existence. In order to get their lives and the universe back on track, they must once again take up their guitars to try to finish the job with the help of some famous friends, while time-traveling weirdos attempt to both help and hinder their efforts.
Although they were late additions, Holland and Schall are both portraying characters who will be crucial to the plot. Holland is playing "The Great Leader," the most powerful person in the universe, who presumably will initiate the quest to squeeze some universe-saving music out of a couple of aging knuckleheads. Schall's character, who is named Kelly, will reportedly be taking over the "messenger from the future" role so ably filled in the previous two films by the late, great George Carlin's Rufus.
The pair join a cast that has expanded faster than the universe Bill (Alex Winter) and Ted (Keanu Reeves) are trying to save. It includes Brigitte Lundy-Paine (Atypical) and Samara Weaving (The Babysitter) as the pair's adult daughters; Jayma Mays (The League) and Erinn Hayes (Children's Hospital) as their wives, the princesses; Anthony Carrigan (Gotham) as an unnamed "relentless antagonist"; Jillian Bell (Fist Fight) as Dr. Taylor Wood, a couples' therapist; Beck Bennett (Plus One) as Deacon Logan, Ted's younger brother; and rapper Scott "Kid Cudi" Mescudi in an undisclosed role, all appearing in the franchise for the first time. 
Reprising their roles from the previous films alongside Winter and Reeves are Amy Stoch as Bill's stepmother, Missy; Hal Landon, Jr. as Ted's dad, Captain Jonathan Logan; and William Sadler as Death, whom the pair famously defeated at nearly every board game in existence during the events of Bill & Ted's Bogus Journey.
Bill & Ted Face the Music has taken the long road to the screen, having been in active development since at least 2010 — but now that the band is back together, so to speak, they certainly seem to be cooking up a threequel that will please fans who have been wondering if they'd ever get a third installment for nearly 30 years. Original screenwriters Chris Matheson (Rapture-Palooza) and Ed Solomon (Now You See Me) are back on board, and the flick is being directed by Dean Parisot, who has worked on such acclaimed TV series as Santa Clarita Diet and Grace and Frankie, and also helmed the classic 1999 spoof Galaxy Quest.
According to EW's report, the cast of Bill & Ted Face the Music has now been officially rounded out with the addition of Holland and Schall. Principal photography began on July 1, and should wrap before the end of the summer, but that doesn't mean we still don't have a bit of a wait. The flick is scheduled to hit the big screen on August 21, 2020, a little over a year from now — but hey, what's another year when we've been waiting for decades?