New Walking Dead Series Adds Three Actors To Its Cast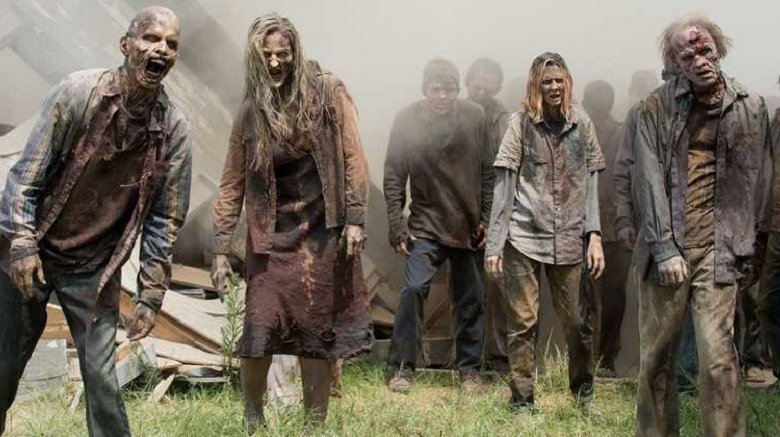 AMC is beginning to stock up its roster of players for the third series in the Walking Dead franchise.
The cabler has cast young actors Alexa Mansour, Nicolas Cantu, and Hal Cumpston in the as-yet unnamed series, which will focus on the first generation to grow up in the aftermath of the zombie apocalypse, according to Variety.
The Walking Dead has become an absolute cash cow of a property for AMC, which has fielded ten seasons of the flagship series along with five seasons of Fear the Walking Dead, which focuses on the lives of its characters as the zombie epidemic is in its early stages. This new series will take the exact opposite tack, and it seems likely that it was conceived with an eye toward a long and profitable run, as Fear is already starting to explore territory which has long been staked out by its parent series. By contrast, a show centered on the future generations of a zombie-infested world will never have to worry about having that problem, nor will it have to concern itself with whether or not it's pleasing fans of the source material, as there is none.
Considering its premise, it's no surprise that the first additions to the new series' cast are all on the young side. Mansour is the seasoned veteran of the bunch; she's been popping up in TV series and indie features since 2014, and most recently appeared on the big screen in the underrated sequel Unfriended: Dark Web. The character she'll be portraying is said to be "a good-natured rule breaker who lives for today. She is likable and funny on the outside but sad on the inside."
Cantu has only been in show business for a couple of years, but he's been quite busy for the entirety of that time. He's lent his voice talents to TV series such as Disney XD's Lego Star Wars: The Freemaker Adventures and Future-Worm!, and since 2017 he's voiced the title role on the Cartoon Network and Boomerang series The Amazing World of Gumball. His character will "be small for his age in addition to being friendly and an old soul. He also has a black belt in karate."
Cumpston only has one credit to his name, but it's an interesting one: the Australian dramedy Bilched, which he wrote and which was directed by his father Hal. His character will be "big for his age... a shy loner that scares some kids, but he hates the fact that he scares people."
The new series was co-created by Scott Gimple, who began his involvement with The Walking Dead as a producer on season two, and served as showrunner on seasons four through eight. Filling that role on the spin-off will be Matt Negrete, who co-created the series alongside Gimple and has served as a writer and producer on the flagship series for the last five seasons.
The new series is a key component of AMC's master plan to keep The Walking Dead's audiences on the hook, using a combination of new faces and old favorites. In addition to the spin-off (which will decidedly focus on those new faces), the network also has plans for three feature-length offerings centered on the character of Rick Grimes (the OG old favorite). Andrew Lincoln, who so memorably introduced TV audiences to the world of The Walking Dead with a pilot episode focused nearly exclusively on the plight of his character after awakening from a coma to a zombie-infested world, will reprise his role.
Hopefully, today's news will be received as balm for fans still smarting over the recent announcement that the comic series on which The Walking Dead is based has abruptly ended after a 16-year run comprising 193 issues. While a firm release date for the new series hasn't been revealed, AMC is expected to begin airing episodes sometime in 2020. Considering that casting has now begun, we can expect more details to start shambling menacingly our way sooner rather than later; we'll keep an eye out for any news, and report it as it becomes available.