Why The Cast Of The New Charlie's Angels Reboot Looks So Familiar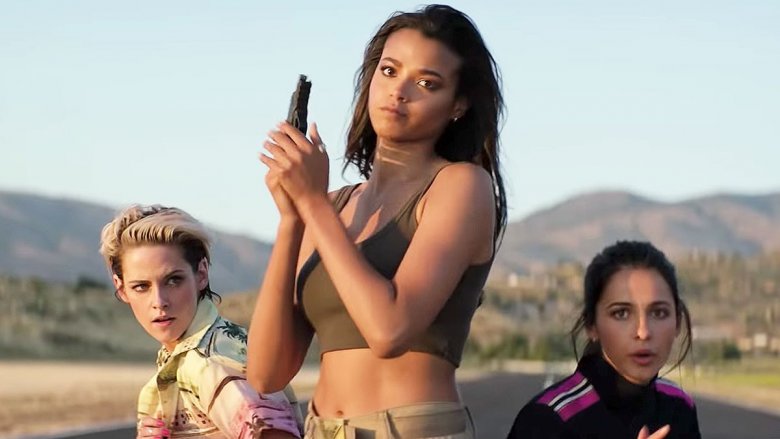 Good morning, Angels, and welcome back! It's been 16 years since the last big-screen adaptation of Charlie's Angels, and now it's time for a reboot. Elizabeth Banks is both directing and starring in the new project, which is a major positive when you consider the success of her last directorial attempt, Pitch Perfect 2, which grossed nearly $300 million at the box office.
At its core, Charlie's Angels is about the power of sisterhood. Thus, in order to be successful, the Angels must make audiences buy into their chemistry. Kate Jackson, Jaclyn Smith, and Cheryl Ladd (after Farrah Fawcett dropped out) accomplished this in the original TV show, which aired from 1976 to 1981. Drew Barrymore, Cameron Diaz, and Lucy Liu were the next three to take the reins, and although their 2000 debut earned mixed reviews, it still made enough money to warrant a sequel. In 2011, Minka Kelly, Rachael Taylor, and Annie Ilonzeh gave it a shot on ABC's short-lived attempt to revive the franchise, but the show was cancelled after only eight episodes.
It's now up to Banks to breathe new life into this long-dead IP, and she's hoping to do it by bringing in fresh faces who'll recapture that chemistry of the original series. Let's take a look at the highly-anticipated new cast and where you might've seen them before.
Kristen Stewart is playing Sabina Wilson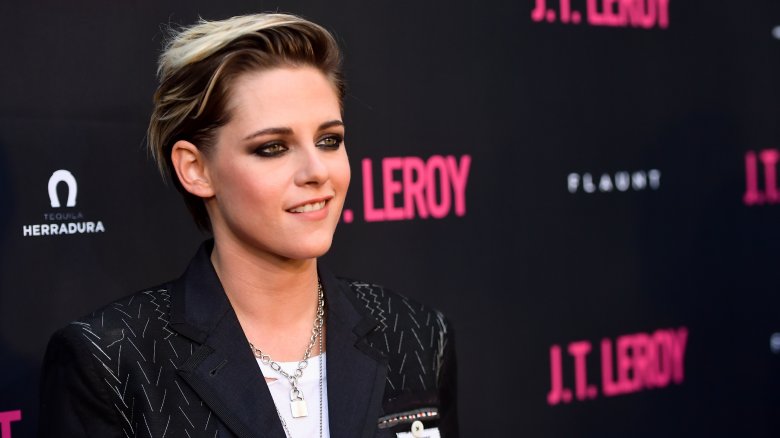 Matt Winkelmeyer/Getty Images
Arguably the most recognizable face in the new cast is Kristen Stewart, who will be playing Sabina Wilson, the apparent leader of the Angels. K-Stew became a household name back in 2008, when her portrayal of vampire-lover Bella Swan in the Twilight series simultaneously brought her both massive fame and extremely harsh (and perhaps unfair) criticism. 
Since her time as a blood-sucking fiend, Stewart has gone on to star in other less-than-stellar pictures, such as 2012's Snow White and the Huntsman and 2015's American Ultra. But for the most part, she's managed to rehabilitate and revitalize her image with critically-lauded performances in films like Camp X-Ray and Personal Shopper. Plus, she became the first American actress to win the coveted Cesar award for her work in Clouds of Sils Maria. (And honestly, she should've won the Oscar for that one.)
Still, the Twilight shadow looms large, but while some fans may be hesitant to accept her as the lead actress, Angels' director Elizabeth Banks is more than confident in Stewart's abilities, showering her with praise in an interview with People. "I felt that I could surprise audiences with a Kristen performance," Banks said. "And I think that people will be delighted by just how much fun she's having in this movie."
Naomi Scott is playing Elena Houghlin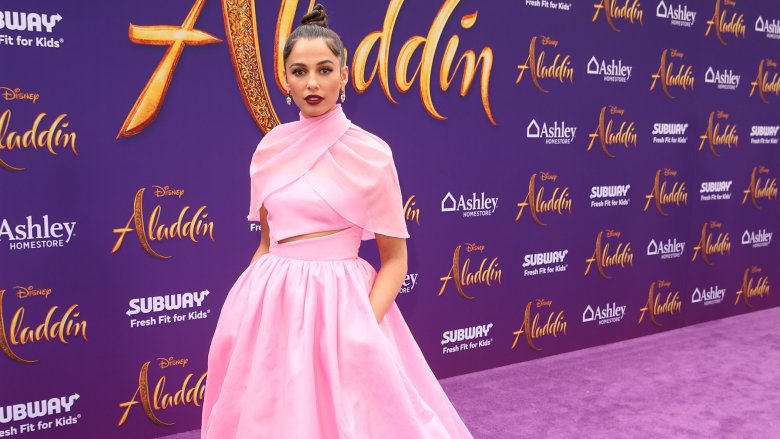 Jesse Grant/Getty Images
If this new iteration of Charlie's Angels is successful, 2019 will be the breakout year for Naomi Scott, who's playing Elena Houghlin in the upcoming spy flick. Her portrayal of Princess Jasmine was one of the high points in Guy Ritchie's live-action Aladdin remake, a film that made all of Disney's box office wishes come true. Plus, she even got her very own song out of it, "Speechless," which has more than 50 million views on YouTube.
Prior to her adventures in Agrabah, Scott's only real claim to fame was in 2017's live action Power Rangers, where she played Kimberly, the Pink Ranger. Although the film was one of the biggest flops of 2017, it was apparently still a great networking opportunity for Scott. The Rangers' foe, the villainous Rita Repulsa, was played by none other than Elizabeth Banks, who's helming the new Angels.
When speaking with W Magazine, Banks shed some light on what she was looking for in Elena's portrayal. "I was looking for an everywoman ... A relatable girl next door that audience members could look at and go, 'If that girl can become a Charlie's Angel, then I can, too.'" The studio execs were reportedly convinced that Scott was perfect for the part after watching 40 seconds of her audition tape, and the rest is history. As Banks put it, "People are going to see a lot of range from Naomi ... I think this is going to be an epic year for her."
Ella Balinska is playing Jane Kano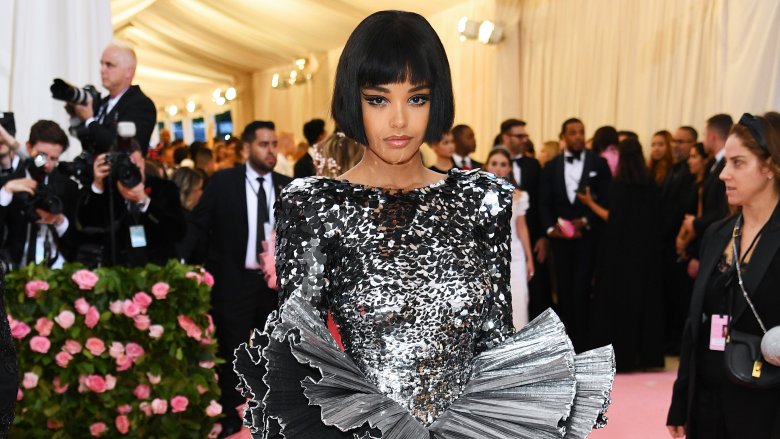 Dimitrios Kambouris/Getty Images
After viewing the first trailer for the new Angels flick, one thing is abundantly clear: Ella Balinska's Jane Kano is going to be "the muscle" of the team. A former MI6 agent, Jane showcases her martial arts prowess on numerous occasions throughout the preview, elevating the level of badassery to new heights.
In an interview with Vogue, the 22-year-old Brit, who's always wanted to do action movies, dished on how she's preparing for the role of Jane. "I've started training for Charlie's Angels, so I'm doing a lot more kick boxing," Balinska explained. "I've always been very sporty, though — I threw javelin for Team London." She also mentioned that she's qualified in 12 types of stage combat, so she was apparently made for this part.
The daughter of Vogue model Lorraine Pascale, Balinska has had a fairly quiet acting resume thus far. In fact, prior to being cast for Angels, she'd only appeared in a very small number of projects. Perhaps the most notable was the tween TV show, The Athena, in which she played the lead role of aspiring model Nyela Malik. It's fair to assume that after Angels hits the big screen later this year, Balinska's phone will be ringing a bit more.
Elizabeth Banks is both directing and playing Bosley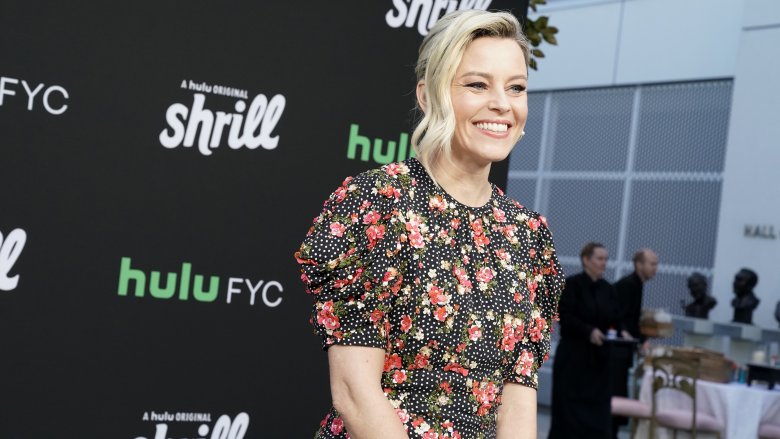 Erik Voake/Getty Images
Is there anything Elizabeth Banks can't do? The actress has been a genuine acting wunderkind for the past two decades, tackling roles in all genres with flying colors. In fact, she's appeared in so many great movies that it's possible to forget some of her best performances, such as the sexual deviant Beth in 2005's hilarious The 40-Year-Old Virgin. Although comedy has been her true forte, Banks has shone in virtually any genre, ranging from horror (Slither, Brightburn) to animated movies (The Lego Movie) to superhero flicks (Saban's Power Rangers and Sam Raimi's Spider-Man trilogy). Perhaps her most unforgettable role was that of the overly-eccentric Effie Trinket in The Hunger Games series.
However, don't think that acting is Banks' only gift. As she proved in Pitch Perfect 2, she can also direct a highly profitable motion picture. Banks was a clear-cut choice to helm the new Charlie's Angels, given her ability to both write and embody strong female characters. Not only is she directing Angels, she also helped write the script and will be playing one of the film's several Bosleys. In a recent interview with Collider, Banks touched upon the strong message that the film preaches. As the actress-director put it, "I just love the idea that this is a franchise that's not about a singular hero, it's about the women who work together ... That whole feeling that it takes a village is something that I respond to and that I wanted to tell a story about." Girl power, indeed.
Djimon Hounsou is playing another Bosley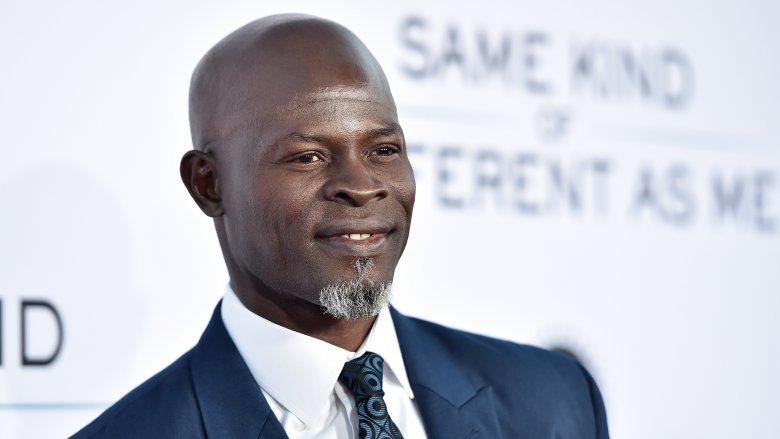 Alberto E. Rodriguez/Getty Images
Welcome to the Angels universe, Korath the Pursuer. Djimon Hounsou, who showed up as Korath in Guardians of the Galaxy and then again in Captain Marvel, is signed on to play one of the Bosleys in Charlie's Angels. From what the trailer shows, it appears as though he'll be skilled in hand-to-hand combat and potentially one of the Angels' trainers. This is hardly Honsou's first action movie, as he previously starred in blockbusters like Gladiator, Lara Croft Tomb Raider: The Cradle of Life, Furious 7, and King Arthur: Legend of the Sword. Over the past few years, Hounsou has made a killing in comic book movies. In addition to his work in the MCU, he also played Shazam the wizard in Shazam!, and he even voiced King Ricou in Aquaman. He's come a long way since his days of living in the streets, and if you need somebody to shine in your action flick, there's nobody better than Hounsou.
Patrick Stewart is yet another Bosley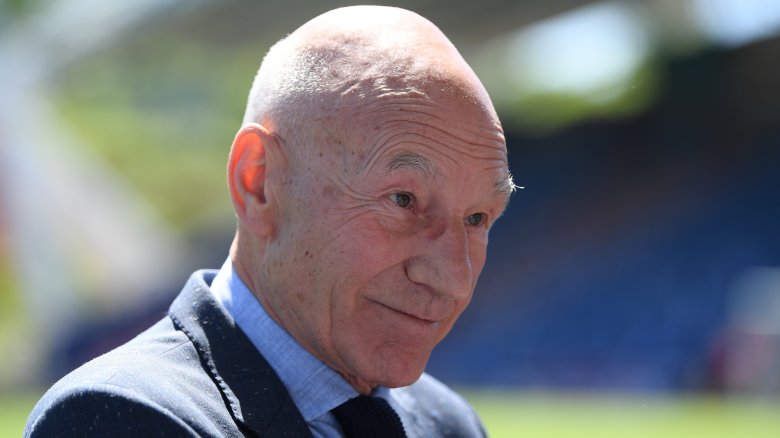 Shaun Botterill/Getty Images
When PopSugar visited the set of Angels in Berlin, producer Max Handelman explained a bit about the multiple Bosleys concept. "There are multiple Bosleys who oversee different territories or headquarters," Handelman said. "So you're having Bosleys kind of also moving around the world with their own teams." In addition to Banks and Hounsou, Sir Patrick Stewart will also be joining the group. Handelman noted that he's "kind of the patriarch of the organization."
The British actor is a true Hollywood legend. If you're a Trekkie, you know him as Captain Picard from the '90s Star Trek films like First Contact and Insurrection, as well as the seven seasons of The Next Generation. However, he is arguably equally famous for playing Professor X in the X-Men universe. He's also a big fan of animated comedy, lending his easily recognizable voice to Seth McFarlane shows like American Dad! and Family Guy. The man can even play super scary villains, as evidenced by his turn as a skinhead leader in Green Room. In other words, Stewart is an acting veteran, all class, and the perfect pick for an Angels reboot.
Noah Centineo is playing Langston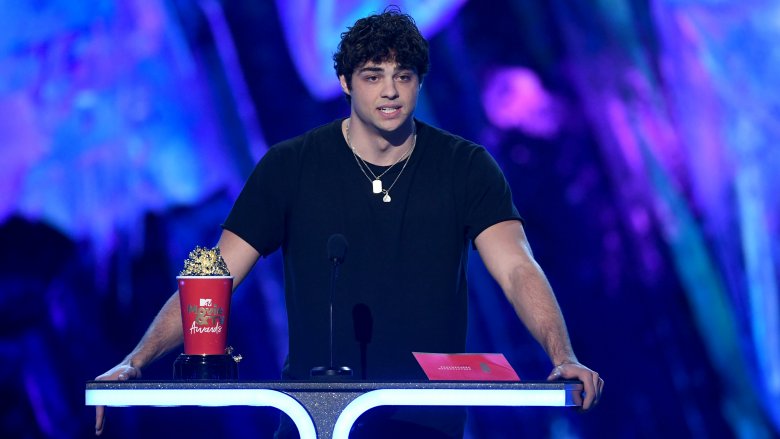 Kevin Winter/Getty Images
Joining the Angels' cast of rising up-and-comers is Noah Centineo, who broke out in the well-received 2018 Netflix original rom-com, To All the Boys I've Loved Before. In the movie, Centineo plays Peter, the jock with a heart of gold. His chemistry with Lana Condor, who plays the main character, is one of biggest reasons the film worked so well.
It looks like Banks and company are hoping to replicate that chemistry in Angels, as Centineo is playing Langston, the "handsome nerd" and potential love interest that Jane flirts with in the trailer. When PopSugar was on the film's set, Centineo shed some details on his character, saying, "He's got a goofy element to him, but he's pretty well-rounded, though ... He's the right amount dedicated to his craft." Although some people aren't happy with the casting choice, Banks seems confident enough in her decision, tweeting a friendly welcome to the Sierra Burgess Is a Loser actor back in October 2018.
Sam Claflin is playing Alexander Brock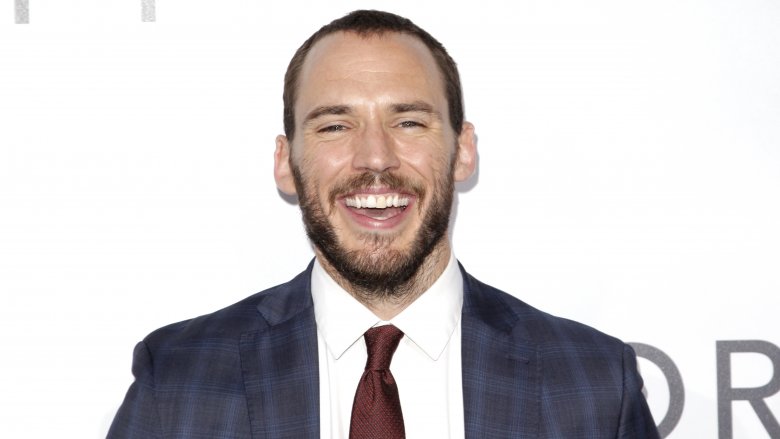 Tibrina Hobson/Getty Images
Although he doesn't appear in the first trailer, Sam Claflin reportedly holds an important role in the new Angels. Banks, his old Hunger Games co-star, brought him on board to play ominous tech genius Alexander Brock, the boss of Naomi Scott's Elena. Banks was apparently thrilled to reunite with the now 33-year-old actor, tweeting about her excitement back in October 2018.
Since playing Finnick in the Hunger Games series, Claflin has gone on to seemingly focus on romantic dramas, such as Me Before You and Adrift. And as it turns out, Banks isn't the only Angels actress that Claflin has shared the screen with. Back in 2012, he starred alongside Stewart in Snow White and the Huntsman.
Speaking with PopSugar, Claflin shed some detail on his character's morality, saying, "I don't think he's a villain. I've played villainous people before, and I always say I don't believe they're a villain, I just feel like they're misunderstood ... I think he's a man with a plan, and in his mind, 'in order to bake a cake, you have to break a few eggs.'" Well, Claflin might not think that's villainous, but honestly, it sounds pretty scary to us.
Luis Gerardo Méndez is playing the Saint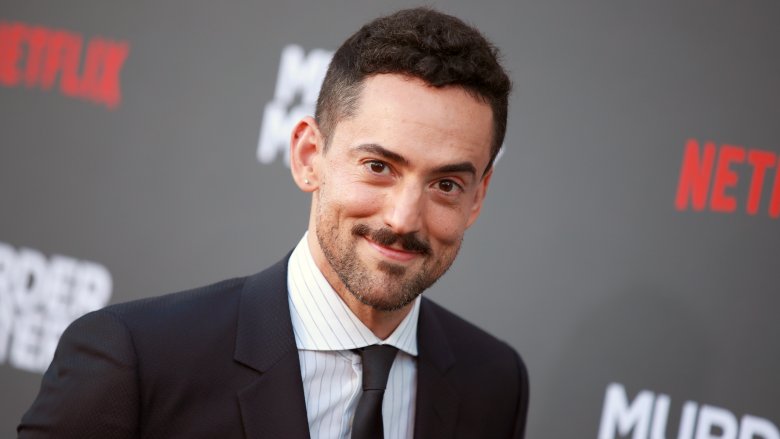 Rich Fury/Getty Images
Unless you speak fluent Spanish, it's unlikely that you've seen Luis Gerardo Méndez in anything other than Adam Sandler's latest Netflix original movie, Murder Mystery. In that humorous whodunit, Méndez played Juan Carlos Rivera, the Italian-speaking race car driver who gets roped into a mysterious murder case. It was his first role in an English-speaking movie, and prior to his part in Murder Mystery, the Mexican actor starred in indie flicks like Cantinflas and Time Share. He's also appeared in 28 episodes of Netflix's Club de Cuervos as Chava Iglesias. In the upcoming Charlie's Angels, Méndez will be playing a weapons expert known as "the Saint," a man who really doesn't like it when you're messing around with his explosives. Based on the trailer, it looks like the Saint will be a pretty fun character, and if the Angels reboot is successful, maybe Méndez will return for a sequel.
Nat Faxon is playing an undisclosed role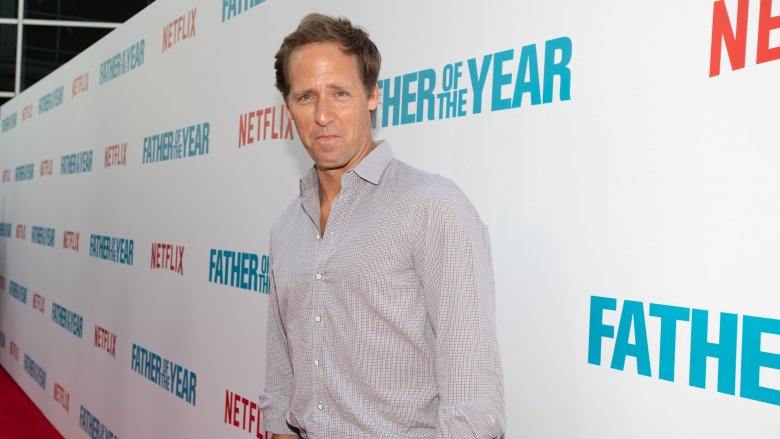 Earl Gibson Iii/Getty Images
Nat Faxon has really been taking full advantage of the opportunities that Netflix gives him. The Boston-born actor, perhaps most famous for small roles in comedies like Beerfest and Bad Teacher, is one of the main characters in Netflix's Friends from College, as well as the medieval-themed animated series, Disenchantment. He also starred alongside David Spade in Father of the Year. Who says you can't make a living from a streaming service?
Undoubtedly, one of Faxon's proudest achievements was winning an Oscar for writing the screenplay for the George Clooney movie, The Descendants, an award he shared with fellow writers Jim Rash and Alexander Payne. In other words, Faxon is an incredibly talented dude. Although his role in the upcoming Angels reboot is still under wraps, it's hard to imagine that Faxon won't provide some form of comedic relief, especially with a laugh-master like Elizabeth Banks running the show.
Chris Pang is playing an undisclosed role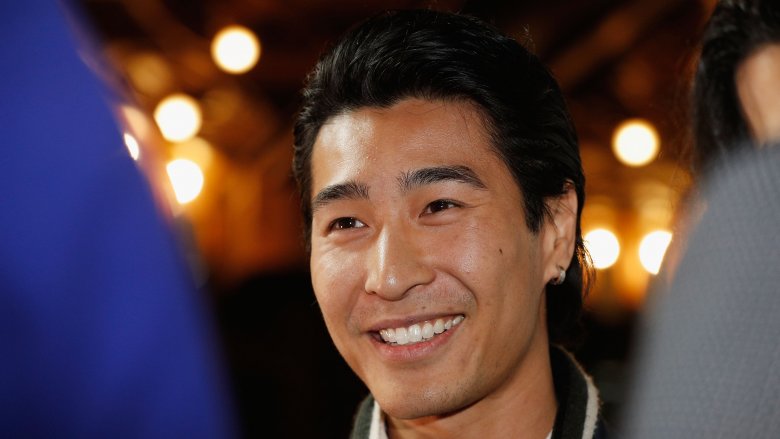 Michael Dodge/Getty Images
Australian actor Chris Pang had a solid 2018 largely thanks to the wild success of Crazy Rich Asians, in which he played Colin Khoo, the longtime BFF of Henry Golding's Nick Young. It's no secret that Crazy Rich Asians brought in crazy big money at the box office, becoming the highest-grossing romantic comedy in the past ten years. That's not a bad credit to have on your resume. Prior to that mega-hit, Pang had starred in multiple action movies, such as Netflix's Crouching Tiger, Hidden Dragon: Sword of Destiny and I, Frankenstein. He also plays Arban in Netflix's action/drama, Marco Polo.
We're unsure who Pang is going to play in the Angels reboot, but when speaking to Yahoo Lifestyle Australia, Pang discussed what an incredible opportunity it was to star in the film. While working with a major celeb like Kristen Stewart is obviously a huge deal, it was actually working with another actor in the cast that had Pang starstruck. As he explained, "And then Patrick Stewart's in there. .. It was an honor to share the screen with him. After the scene he put his hand on my shoulder and said, 'Nailed it,' and then walked off. I thought, 'This is the greatest moment of my life.'" You can bet that millions of Trekkies around the world would have to agree with that assessment.
Jonathan Tucker is playing a silent villain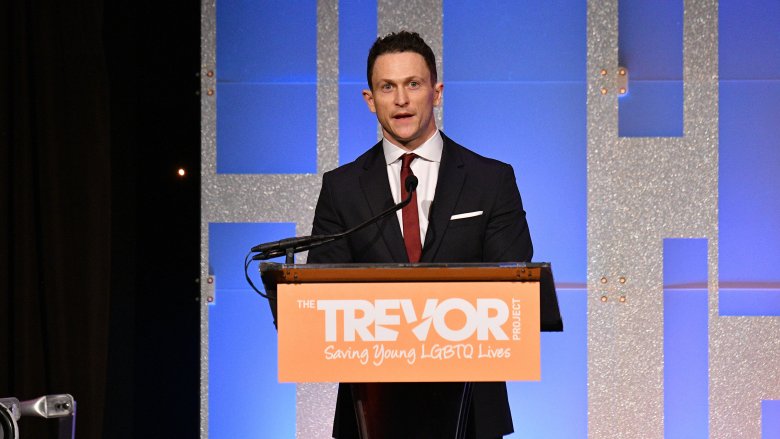 Bryan Bedder/Getty Images
In 2017, Jonathan Tucker played in Sweet Virginia, a thriller starring the great Jon Bernthal. But before that, he was taking a big movie break. In fact, before playing in the aforementioned indie drama, his last performance was in 2010's The Next Three Days, in which he starred alongside Russell Crowe and future Angels costar and director, Elizabeth Banks. Still, the actor hasn't exactly been hiding under a rock for the past nine years, with multiple gigs in prominent TV shows. He has played Bob Little in NBC's Parenthood, Boon in FX's Justified, and Major Craddock in the second season of HBO's Westworld.
In the new Angels, Tucker's role is still undisclosed, but judging by the trailer, it appears as though he will be a capable foe to the team. When speaking to PopSugar, he gave one surprising detail about his mysterious role, saying "Banks and I cut all of the dialogue for the character because we both thought that would be a lot of fun. So I don't say anything until the very end." Talk about a silent assassin!