Spider-Man: Far From Home Broke A Box Office Record Avengers: Endgame Couldn't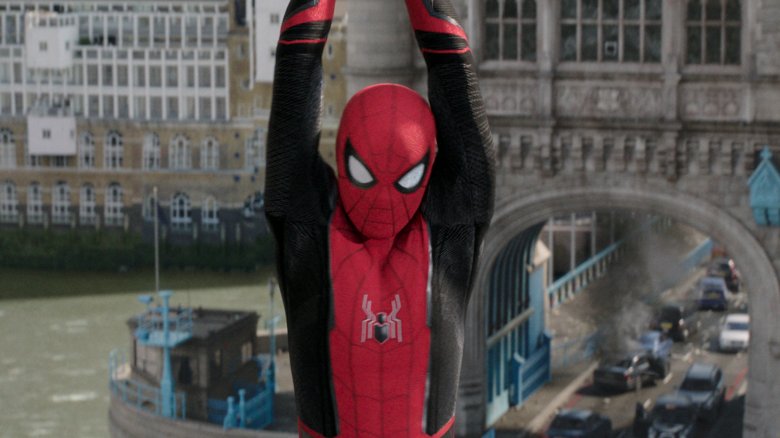 Spider-Man doesn't just do whatever a spider can. He can also do something the biggest superhero movie of 2019 couldn't.
When Spider-Man: Far From Home launched in theaters on July 2, it took in $39.3 million from theaters across the U.S. and Canada (via Deadline). That means Far From Home, the Tom Holland-led sequel to Spider-Man: Homecoming, shattered the record for best Tuesday night opening ever — something that Avengers: Endgame couldn't touch, as the flick had a traditional Thursday night preview and Friday official debut when it soared into cinemas in April. 
A $39.3 million domestic Tuesday opening sees Spider-Man: Far From Home take the record from The Amazing Spider-Man, which had a $35 million Tuesday launch in 2012.
This record-breaking moment may not have happened if Sony Pictures had stuck to the original release date for Spider-Man: Far From Home. Directed by Jon Watts, the superhero pic was slated to open on Friday, July 5, but Sony confirmed in the months leading up to Far From Home's launch that it had been pushed to Tuesday, July 2. Though the studio didn't offer a reason why, it's likely that Sony wanted to get ahead of the July 4th holiday weekend and give Far From Home a few extra days at the box office before an estimated 49 million people leave for vacation. 
Additionally, Deadline notes that while many theaters offer cheaper tickets for Tuesday showings, nearly a third of Spider-Man: Far From Home's Tuesday earnings came from IMAX and Sony Digital Cinema's Premium Large Format (PLF) screenings, which are normally not eligible for any discounts. In hindsight, it looks like Tuesday was the best day to bring Far From Home to screens. 
Industry insiders anticipate that Spider-Man: Far From Home will earn about $125 million in its first six days at the domestic box office, with more optimistic analysts offering projections of up to $150 million. If Far From Home only reaches the low end of those estimations, it would still beat out Spider-Man: Homecoming's stateside debut of $117 million. Granted, that film had a typical three-day opening and not a six-day one, but the fact still stands that Far From Home could end up having a bigger debut than Homecoming. 
As the final installment of Marvel's Phase 3 and the first film to follow after Avengers: Endgame, Spider-Man: Far From Home had big shoes to fill and high expectations to meet. Luckily, critics and fans are absolutely loving Spidey's second adventure on the big screen (well, the second one in Holland's standalone franchise, that is) and have praised it as the perfect pic to come after Endgame — a film it now officially has a leg up on thanks to its record-breaking opening night.