Taye Diggs Almost Played Robin In Live-Action Batman Movie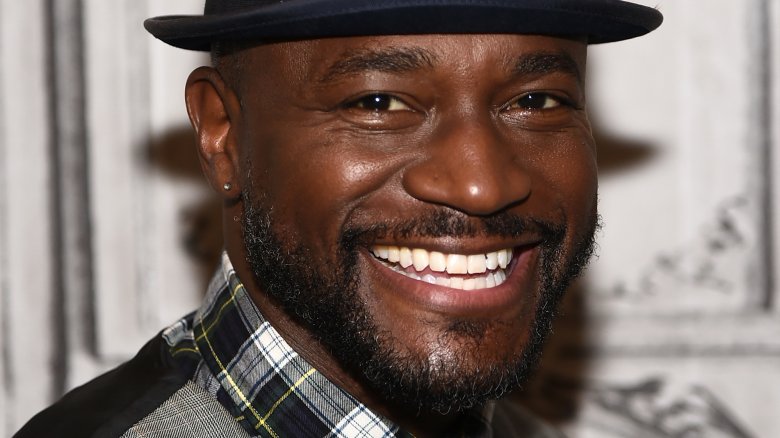 Theo Wargo/Getty Images
The film career of Taye Diggs almost took a super detour.
In a recent conversation with Inside the Black Actors' Studio, the veteran actor revealed that early in his career, he was up for the part of Robin, the Boy Wonder, in a live-action Batman movie. 
Asked by host Danny Royce if there was ever a role he coveted that he almost landed but did not, Diggs had to dig deep into his memory banks. "Um, let me think... because sometimes, they do say it's a short list, you're on a short list," the actor said. "I remember there was a minute when — oh, I wanted it so bad — when they were considering Batman... but the Robin being black. I know Marlon Wayans was right there. And you know, this is just what they tell you. But I feel like I might have been on that [short list]... that would've been great, that would've been awesome."
Diggs didn't elaborate as to which Batman flick he was considered for, but fortunately, Looper remembers all. You see, in the early versions of the script for Tim Burton's Batman Returns, the character of Robin was included. Burton, always looking for interesting ways to tweak the source material, actually cast Wayans in the role. However, once the flick was ready to go before the cameras, its producers decided that it was already too crowded with non-Batman characters, and subsequent script rewrites excluded Robin. 
However, Burton was still keen to include Wayans in the film which would become Batman Forever, to which the director was originally attached. When Burton parted the production over creative differences, though, the part of Robin was recast by incoming director Joel Schumacher, and Chris O'Donnell landed the role.
Now, it's possible that Diggs was being eyed to play Robin in Batman Returns, but at the time that flick was being cast — around 1991 — the actor had no resume to speak of, and was only about 20 years old. Diggs would have actively been hitting up the audition circuit right around 1994, at the time that Batman Forever was assembling its cast; he began landing bit parts on television in 1996, and made his feature breakthrough in the 1998 rom-com How Stella Got Her Groove Back.
Wayans was, of course, best known for his work on the iconic Fox variety series In Living Color at the time all this was going down, and he would go on to hold down the Scary Movie series — which gave birth to every single absolutely terrible comedy titled (Blank) Movie that has ever been made — for an unreasonably long time. He also has the distinction of appearing in quite a few films that are considered to be among the worst ever made, such as 2004's White Chicks, 2006's Little Man, 2007's Eddie Murphy career-destroyer Norbit, and 2016's Fifty Shades of Black.
Diggs, meanwhile, has gone on to a long career in TV and film. He followed up How Stella Got Her Groove Back with a role in director Doug Liman and writer John August's bonkers 1999 comedy Go, and he's also appeared in such varied features as Christopher McQuarrie's The Way of the Gun, the Christian Bale-starring sci-fi drama Equilibrium, and Chris Columbus' big-screen adaptation of the Broadway play Rent. On the small screen, he's recently been featured in recurring roles in shows like Murder in the First, Empire, and All American.
Still Diggs is holding out hope for a shot at superhero glory. "I'm still waiting to be s superhero," he told Royce, "I've gotta figure that out... I still wanna do that, so we'll see, we'll see."
We submit that there's no time like the present for execs over at Mighty Marvel Studios or Warner Brothers, shepherds of the big-screen Worlds of DC, to give the talented actor a ring. Of course, he's now much older, so the roles available should be pretty wide open... but we're thinking John Stewart. Diggs would look pretty good in green.