Independence Day 3 - Will It Ever Happen?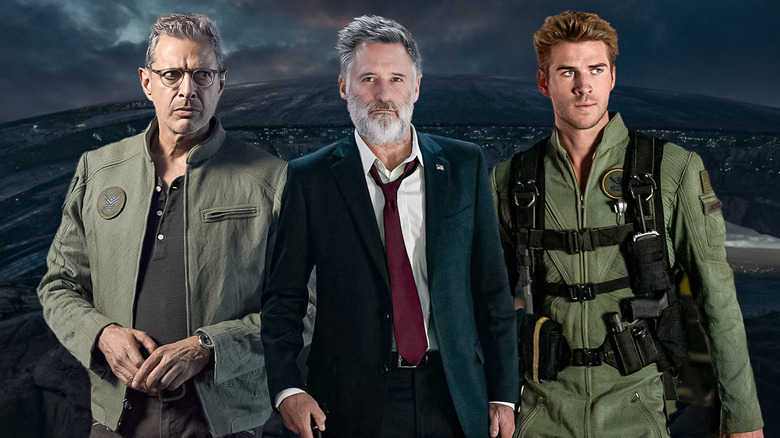 Static Media
Launching an outright assault on movie theaters in the summer of 1996, Roland Emmerich's "Independence Day" obliterated the box office en route to becoming a Hollywood classic. The film stars Will Smith as strong-willed Air Force ace Steven Hiller and Jeff Goldblum as anxious scientist David Levinson, who become unlikely partners in an effort to thwart the alien invasion that threatens to annihilate the human race. Bill Pullman joins them as the president of the United States, who gives a now-iconic speech about the human spirit at the climax of the film.
While a sequel languished in development hell for two decades, "Independence Day: Resurgence" finally saw release in 2016. But while several original cast members returned, Will Smith was nowhere to be found, replaced by the duo of Jessie Usher and Liam Hemsworth. Not nearly as good as the original, the legacy sequel sees the aliens return for revenge.
Ever since "Independence Day: Resurgence" hit theaters, there's been talk of a third film, which sits in its own limbo. Though Emmerich has been pushing for it to happen, there's been no concrete word on when — or if — we'll see a third "Independence Day" film. Will it ever happen? Stick with us, because we're here to explore that very question.
Why hasn't a third Independence Day movie happened yet?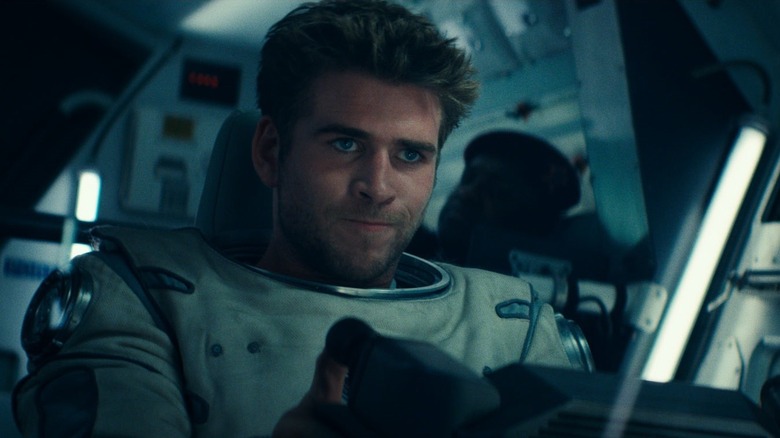 20th Century Fox
Made on a $75 million dollar budget in 1996, the first "Independence Day" was one of the biggest blockbusters of all time, grossing a staggering $817 million dollars. Unfortunately, by the time a sequel was assembled 20 years later, the results were far from astronomical.
Released in 2016, "Independence Day: Resurgence" was made on $165 million, yet it pulled in less than half the original film's total. Though it wasn't quite a bomb, it's probably fair to say it was a disappointment. But this pales in comparison to the critical response, which was downright brutal. The film's messiness might have something to do with its lack of the first film's star, Will Smith. He had originally been signed on, but pulled out at the eleventh hour, forcing a major rewrite weeks before filming commenced. "That was a huge, huge blow to me. At that point I had to decide, should I keep going or not? I realized we had spent $10 or 12 million and you don't drop out easily," director Roland Emmerich remarked in a 2022 chat with The Wrap. "I got two young writers ... We wrote a new script in two weeks. We had to."
The result? A sloppy story that reviewers and audiences agree lacks all the charm and fun factor of the original. Though it ends on something of a cliffhanger, getting a third installment has proven fruitless, in large part thanks to the poor response it inspired.
What has Dean Devlin said about a sequel to Independence Day: Resurgence?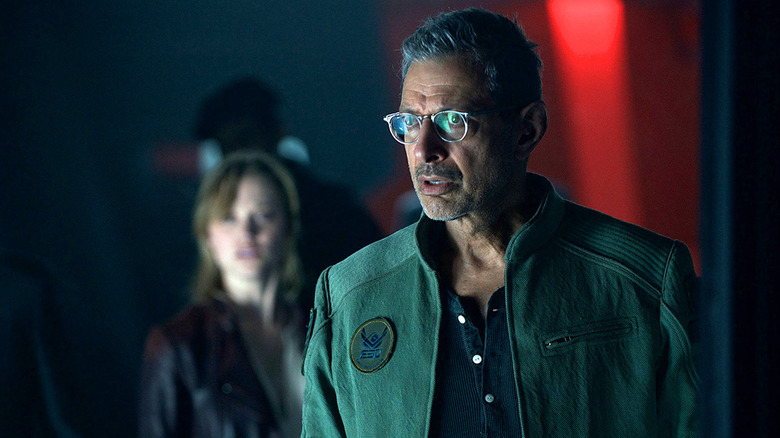 20th Century Fox
The winning team of writer-producer Dean Devlin and director Roland Emmerich — the duo behind the sci-fi hit "Stargate" — helped make "Independence Day" a blockbuster of epic proportions. They struggled to find a successful follow-up project, though, with 1998's "Godzilla" reboot disappointing fans. "Independence Day: Resurgence" was supposed to be their big comeback. But ever since the film's 2016 release, Devlin has seemed uninterested in returning to the series. 
When asked about sequels, Devlin has responded with reluctance. "I really don't know; after 'Geostorm' I really came to the realization that I'm not the kind of guy who should ever work at studios," he told podcaster Matthew Aaron. "So I excused myself from both 'Stargate' and from 'Independence Day,' so they may be going forward, but I don't know, I'm not involved anymore." In a separate interview with Screen Rant, however, Devlin was more direct about his disinterest in another "Independence Day" movie. "You know, I don't know what the studio is planning in terms of doing ['Independence Day 3'] or continuing the franchise, I really have no idea," he told the outlet in 2018. "But if the franchise continues, it will be continuing without me. I really think that my time working at studios is over." If he really does plan to put the series behind him, that will leave Roland Emmerich to go it alone.
What would a sequel to Independence Day: Resurgence be about?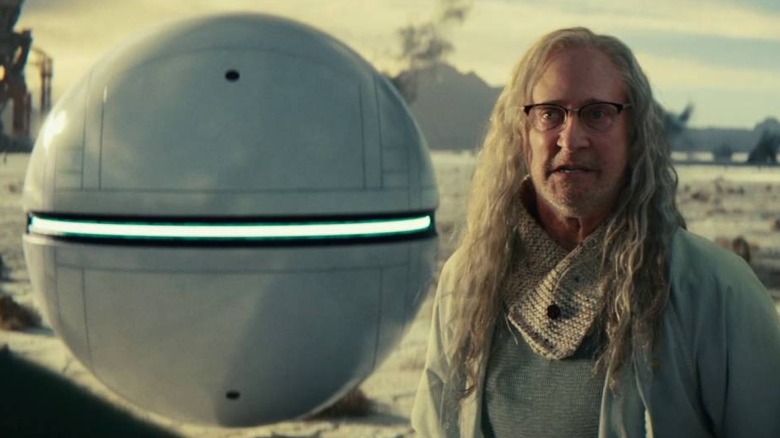 20th Century Fox
Ending on an ominous note regarding the alien threat to Earth and the race of mysterious allies that might be waiting to join humanity in an interstellar war, "Independence Day: Resurgence" doesn't just set up a sequel — it sets up a series. Not long after the movie was released, in fact, director Roland Emmerich spoke about his plans for where the story was headed, including the direct sequel which was already said to be in the works. 
"The next one will be an intergalactic journey," Emmerich told Empire. "It'll be [set] maybe a year or two later, not 20 years [on]. I want to maintain this group of people, especially the young characters, and Jeff [Goldblum] and Brent [Spiner] will take part in it. It'll be fun to keep that group together." Emmerich also made it clear that he wanted to be back at the helm, too. "Will I definitely direct it? Oh yes. I'd never, ever let someone else do it."
According to the director, "Independence Day 3" would follow our heroes as they head into deep space to join an intergalactic conflict that has been seething beyond Earth for decades. "I imagine them now going in one of these ships they've rebuilt into a wormhole," Emmerich said. "I think it'll be the classic of going into space, but it has to be about Earth, and we have a really good idea for that."
Who could star in a third Independence Day movie?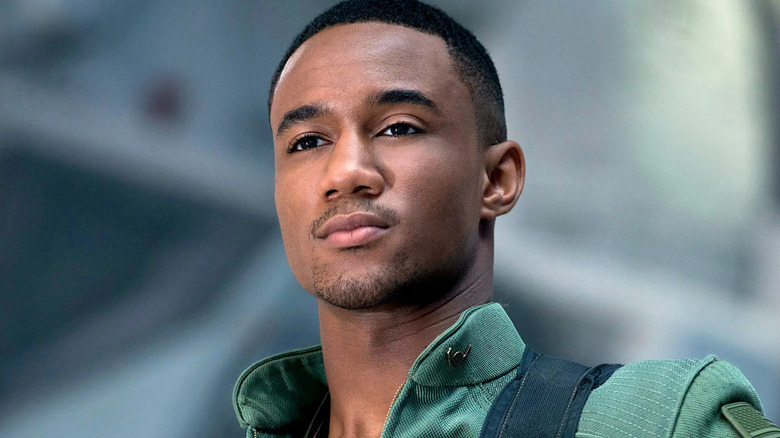 20th Century Fox
If an "Independence Day" threequel were to finally happen, it'd need much of its cast to return. That includes stars like Jeff Goldblum and Brent Spiner, who Roland Emmerich has already said would return. But what about the rest of the cast, which encompasses stars like Jessie Usher and Liam Hemsworth? Neither has addressed the possibility since "Independence Day: Resurgence" debuted, but we don't think it'd be tough to get them back aboard the franchise, even though they're now starring in blockbuster series like Amazon's "The Boys" and Netflix's "The Witcher."
Who wouldn't return? We don't think it'd be possible for Vivica A. Fox to come back, since her character is killed off midway through the second film as she tries to rescue hospital patients. And then there's the film's original star, Will Smith. Could he be convinced to come back to reprise his role as Steven Hiller? Though the sequel says he died during a test flight between the two films, we don't think that entirely rules out a return. It's very possible the writers could dream up a way to resurrect him, whether by saying his reported death was faked for some reason, or that he'd really been abducted by the enemy. He could even return as an alien imposter posing as Hiller — this is science fiction we're talking about, after all.
Director Roland Emmerich admits he made mistakes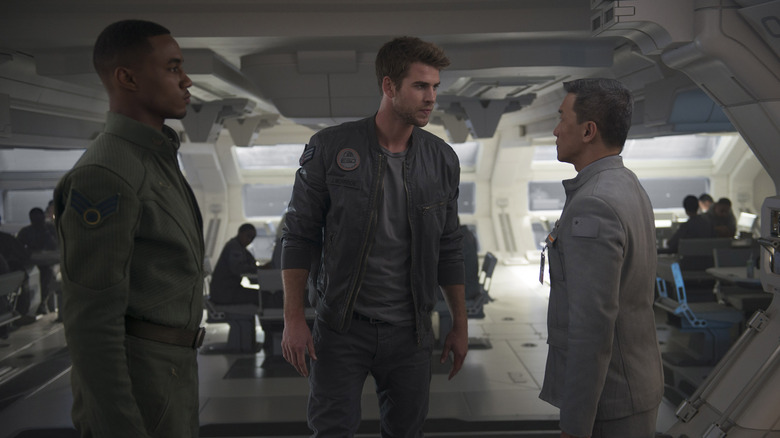 20th Century Fox
According to Roland Emmerich, "Independence Day: Resurgence" wasn't an attempt to make a true sequel, but a remake. "I just wanted to make a movie exactly like the first," he said in an interview with Yahoo Movies UK. "But then in the middle of production Will [Smith] opted out." Emmerich said he regrets not putting the breaks on the film right then and there. "I should have stopped making the movie because we had a much better script [before Smith's exit], then I had to really fast, cobble another script together." 
If he'd waited for Smith, he may have been able to make the movie he wanted. "I should have just said no because all of a sudden I was making something I criticized myself: a sequel." In the end, Emmerich was so disappointed in the final result that he took time off from movie-making entirely, before returning with passion project "Midway." Given his self-doubt and regret, one might wonder if the director would want to return for a third installment at all. But that question was put to bed in 2020 when he expressed his desire to helm another sequel in an interview with Cinema Blend. "I have an idea for 'Independence Day 3,' which I actually researched, and was actually only done to do the next one. And the next one is a kind of cool idea, and I would like to do that."
The Disney-Fox merger may have killed the sequel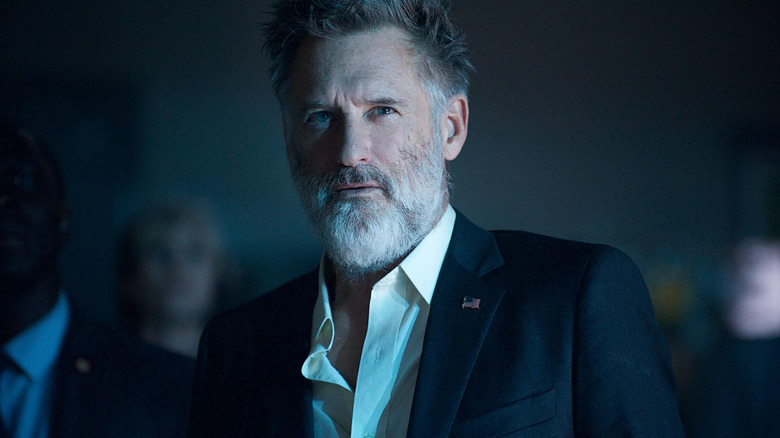 20th Century Fox
While it's not exaggerating to say that "Independence Day: Resurgence" disappointed at the box office — particularly in light of the original film's phenomenal success — the sequel wasn't a flop. It more than doubled its budget, which is generally the requirement to call a movie a hit. This makes its lack of sequel something of a curiosity. But director Roland Emmerich believes he knows why the studio isn't yet on board with producing another film, and it has much more to do with behind-the-scenes business than box office bucks.
According to Emmerich, the lack of movement may involve the 2019 merger between Disney and 20th Century Fox. "I really haven't even gotten to it," he told Cinema Blend in 2020. "I had naturally talked with Fox about [a sequel], and then when they got bought, I kind of said, 'Well, that's probably [over.]'" He further expressed his disappointment in a chat with ComicBook.com a year later, remarking, "I was actually so sad that a studio which I made two movies for all of a sudden disappears." 
Still, the director believes that there may yet be hope for more, and pins some of the possibility on Fox's new owners. "We'll see, it's kind of like it could happen," he told Cinema Blend, later adding, "Hollywood is like a strange, strange place these days, because I have a feeling Disney would maybe be interested in doing it. They like that kind of franchise movie."
Could we see an Independence Day series on Disney+?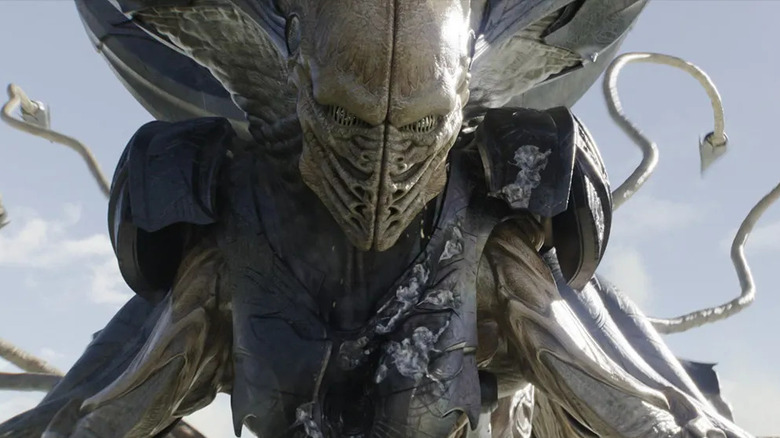 20th Century Fox
When you think about how the "Independence Day" franchise might be continued, the easy assumption to make is of a third film. But if Disney does have interest in going back for more, the saga could find its way to television. Roland Emmerich is more than happy to explore that option for a third entry in the series. "They have now a streaming service and they need product," he told ComicBook.com in 2021. "I would love to do maybe a third one, or a TV show, continuing the story." 
Emmerich even believes there's a way to adapt his plans for a third movie into a series that could air on Disney+. "When we did 'Independence Day: Resurgence,' we already had, also, the third part already [planned]. And actually, the third part has much more to do with the first part," he remarked. According to him, the proposed story is deep and complicated, and it sounds like more than enough to fill a 10-episode season for Disney's streaming service. 
"We learned, more or less, that out there are a lot of refugees and they're living on a refugee planet," Emmerich detailed. "And where [the aliens] finally come there because, somewhat like these aliens on Earth, found out about it and telepathically or whatever gave it to their super queen. They're all humans, but in all different forms." Whether it will ever be a show or a movie, Emmerich said only, "We'll see what happens."
How and why Independence Day 3 could still work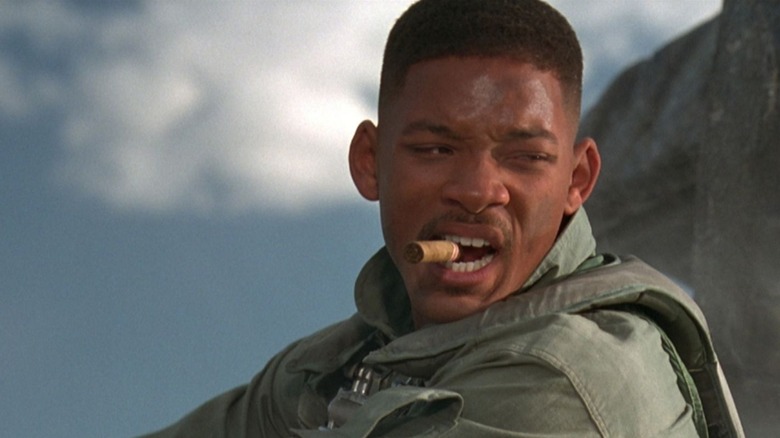 20th Century Fox
A sequel to "Independence Day: Resurgence" may face an uphill battle to the screen, but it could still find its way. To get it done, director Roland Emmerich and his producers will have to convince the higher-ups at Disney that they can do better — and not just in terms of a more exciting story. They'll have to convince them that the movie will attract the same kinds of massive crowds as the original. There is at least one way we think they can do it, and that's by bringing back the series' original star, Will Smith.
As proven by successful legacy sequels like "Top Gun: Maverick" and "Star Wars: The Force Awakens," fans want to see the film's original stars return to their iconic roles. And while Jeff Goldblum, Bill Pullman, and Vivica A. Fox were a good start in "Independence Day: Resurgence," a threequel needs Will Smith if it's going to draw in a big audience. Likewise, Will Smith could use a big blockbuster win, and returning to a fan-favorite role like Steven Hiller could be just the trick. His image could use a little rehabbing, thanks to his controversial Oscar slap. Though he's taken his first step towards that comeback in "Bad Boys 4," he might want to think about "Independence Day 3" as a next effort. It may be a longshot, but it could be the shot in the arm that both he and the franchise really need.