Tom Holland Wants A Body Swap Movie With Wolverine And Spider-Man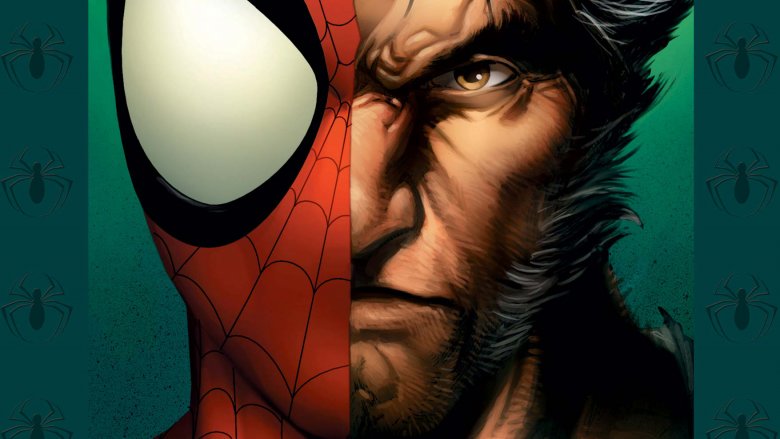 Marvel Comics/Mark Bagley
He does whatever a Spider can — and that includes body-swapping.
In an interview with Comics Explained, Spider-Man actor Tom Holland revealed that he would love for Peter Parker and Wolverine to team up for a body swap movie. 
The subject arose when the face of Comics Explained, Rob Jefferson, asked Holland which movie world belonging a character who hasn't yet debuted in the Marvel Cinematic Universe he would like to appear in — either in a co-starring or cameo appearance capacity. Holland had his answer at the ready. 
"I would like to do Spider-Man and Wolverine. There's a really, really interesting story in the Ultimate Spider-Man [comics] where Spider-Man and Wolverine swap bodies for a day. And like, Peter Parker wakes up in Wolverine's body," the English actor said. "And then Wolverine wakes up in Peter Parker's body, and he like goes to school and all of a sudden Peter Parker's like being this really gross, rude man and he like starts hitting on the school teacher and stuff. And then all of a sudden Wolverine, who's this really scary guy, is all like, 'Oh hey guys! How are you doing?'"
Holland's Spider-Man: Far From Home co-star Zendaya, who plays Michelle "MJ" Jones in the current Spider-Man film series, was keen on the idea: "I would love to see Hugh Jackman try to be Peter Parker." 
For those unfamiliar with the Ultimate Spider-Man, the issues Holland is referring to are Ultimate Spider-Man #66 and Ultimate Spider-Man #67, both written by Brian Michael Bendis with pencilling and cover art by Mark Bagley. Published in 2004, issue #66 sees Peter Parker and the powerful mutant Wolverine coming together after a "bizarre occurrence" ties them to each other. The two heroes try to decode the mystery, all the while their personal lives begin to unravel. Both #66 and #67 tell a classic Freaky Friday and Vice Versa-type body swap tale: "Wolverine and Spider-Man have always been in each other's faces. Today they're in each other's bodies!" 
Just as Holland explained, Ultimate Spider-Man #66 sees Peter waking up and not recognizing anything in his house. In his hotel room, Wolverine is experiencing the same confusion: he doesn't know who he is and is startled by his appearance. While telling Mary Jane Watson that he really doesn't want to go to school, Peter gets a phone call — from Wolverine. Their conversation leads to the big revelation: they've swapped bodies. Peter and Wolverine meet at school, where Wolverine (in Peter's body) is skipping class. When Peter and Wolverine are about to leave, Peter (in Wolverine's body) heads toward a car chase... which leads to an unfortunate event involving an enormous truck. 
Ultimate Spider-Man #67 picks up where the previous issue left off, and follows Peter and Wolverine as they try to figure out a way to reverse the body swap. What follows is a string of mishaps with Wolverine's claws and a telephone and calls to fellow X-Men member Kitty Pryde that leads to the appearance of an electrifying super-villain and a last-minute twist that will make any reader chuckle. 
Holland's chat with Comics Explained caught the attention of Brian Michael Bendis, the writer behind the Peter Parker and Wolverine body swap story. Bendis retweeted a video clip of the interview, adding in the caption, "EVERYone else can see this too, right?"
When it comes to a potential body swap movie with Spider-Man and Wolverine, it isn't so much a question of whether it can happen but rather a case of whether Marvel Studios would want to do it. Now that the Walt Disney Company owns the majority of 20th Century Fox's assets, Wolverine and the rest of the X-Men squad are property of the Mouse House — and, more specifically, Marvel Studios. Though Marvel's head honcho Kevin Feige has mentioned that it will be "a handful of years" before the Disney-Fox merger would impact the MCU, he is looking to recast Wolverine with a younger actor when the studio inevitably reboots the X-Men team. 
It's only a matter of time before fans witness a new Wolverine — not played by Aussie icon Hugh Jackman, much to our and Zendaya's dismay — entering the MCU, where Holland's Spider-Man is already a major player. Will the two cross paths and swap bodies for a big-screen feature sometime in the future? Never say never.