Rob McElhenney, Steve Carell Propose It's Always Sunny/The Office Crossover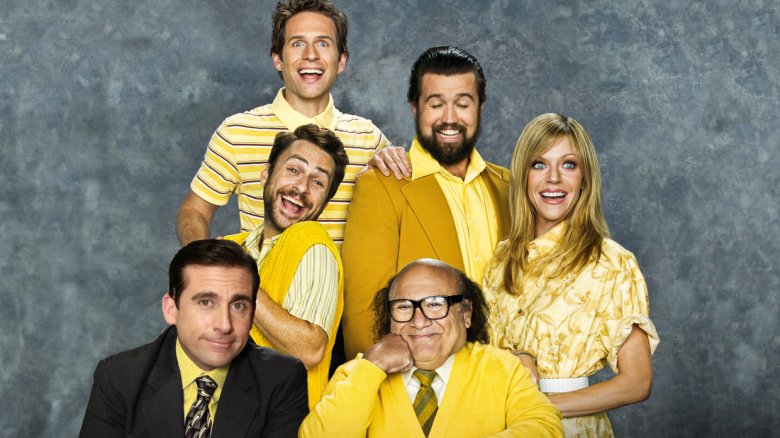 FXX/NBC/AJ Caulfield for Looper
If Rob McElhenney and Steve Carell had their way, the gang happily would bring some sunshine to Scranton, Pennsylvania. 
The It's Always Sunny in Philadelphia actor recently took to Instagram to announce that he and his co-stars are filming an episode of their long-running FXX comedy series on the iconic set of The Office. McElhenney also seemed to poke fun at the news that The Office, on which Carell starred as the hilarious but dim-witted Dunder Mifflin boss Michael Scott, is leaving Netflix in January 2021. McElhenney uploaded a video of himself (and fellow Sunny actors Danny DeVito and Charlie Day) outside the iconic set of The Office, saying that Always Sunny is taking over the shooting location because that show is still running and The Office isn't. 
Carell then headed to Twitter to ask McElhenney for a truce and to propose a crossover between It's Always Sunny in Philadelphia and The Office. 
"Rob, this blood feud has to end. 'It's Always Sunny in Scranton'. Thoughts?" tweeted Carell, tagging McElhenney's Twitter account at the end of the post.
McElhenney was quick to respond, calling out to Always Sunny network FXX, former home of The Office NBC, and streaming sites Netflix and Hulu to gauge their interest in a potential mash-up of the two beloved comedies. 
The actor shared on his Instagram page a screenshot of Carell's tweet, writing in the caption, "SCRANTON IS ONLY A HUNDRED AND TWENTY MILES AWAY FROM PHILADELPHIA. THIS WORKS. WHO WANTS IT MORE – @fxnetworks @nbc @netflix @hulu??" He added that the bidding for the It's Always Sunny in Scranton crossover "shall begin at five hundred million dollars" — a reference to the amount of money NBCUniversal is paying to buy exclusive streaming rights for The Office and bring it to its own direct-to-consumer platform. 
The thought of It's Always Sunny in Philadelphia and The Office actually crossing over sent fans into a tizzy — with many proposing plot ideas (like Michael Scott being revealed as Charlie's father) and potential episode titles (like "The Gang becomes the Assistant TO the Regional Manager"). 
Some may think the two shows converging is implausible, but it could work. FXX (the sister channel to FX) houses It's Always Sunny, and the Walt Disney Company owns FX. The Mouse House also controls the majority of Hulu, with Comcast's NBCUniversal being an equity stakeholder. The Office originally aired on NBC, and is now being taken off Netflix to stream on NBCUniversal. As The Big Bang Theory and Sons of Anarchy actor Chris Reed concluded, "Always Sunny in The Office coming to Hulu in Fall 2020."
While a full series is probably out of the question (Carell himself said that an Office revival isn't going to happen), a one-off crossover episode that will air on the upcoming 14th season of It's Always Sunny seems likely. The sitcom, which also stars Glenn Howerton as Dennis Reynolds and Kaitlin Olson as Deandra "Dee" Reynolds, has paid homage to well-loved shows in the past. On season 13, all five Sunny stars got done up as Seinfeld characters for a scene inspired by the Jerry Seinfeld-created series. Always Sunny giving nod to The Office would be honoring tradition at this point.
Only time will tell what the Always Sunny crew is really getting up to on the set of The Office. Thankfully, there isn't too much time left to wait: It's Always Sunny in Philadelphia returns for season 14 on September 25.