Black Christmas: Cary Elwes Joins Cast Of Slasher Remake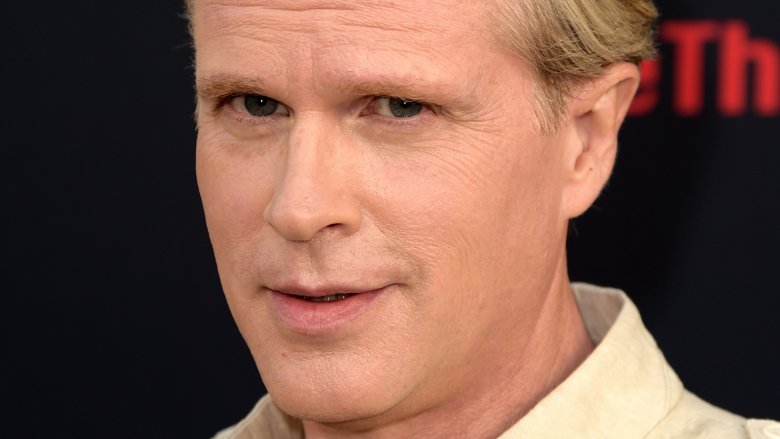 Kevin Winter/Getty Images
A veteran actor with some serious horror cred is coming home for Christmas.
Cary Elwes, who has made a name for himself among genre fans with several prominent horror roles over the last fifteen years, has joined the cast of director Sophia Takal's remake of the 1974 proto-slasher classic Black Christmas. The nature of Elwes' role was not disclosed. (via Deadline)
Among a certain subset of film fans, Elwes will always be known for one single role: that of Westley, the lovelorn hero of the 1987 classic The Princess Bride.  But the actor has had an extremely varied career, popping up in high-minded dramas (Glory), classic comedies (Hot Shots!, Robin Hood: Men in Tights), big-budget tentpoles (Twister), and horror flicks (Bram Stoker's Dracula). He's also done voice work for animated series such as Batman Beyond and The Adventures of Puss in Boots (and even voiced Aquaman in the DC animated movie Justice League: The Flashpoint Paradox). 
Although he had dabbled in the horror genre previously, he got fans' attention with his awesome starring turn as Dr. Lawrence Gordon in 2004's Saw, which put both its director (James Wan) and writer (Leigh Whannell) squarely on the map. Elwes reprised his role in 2010's Saw 3-D: The Final Chapter, and he also appeared in the 2008 thriller The Alphabet Killer and the 2010 horror/mystery Psych:9. More recently, he popped up in the horror/comedy Ghost Light, and he'll make an appearance as Larry Kline, the Mayor of Hawkins, Indiana, in season 3 of the hit Netflix series Stranger Things.
Black Christmas, which is being fielded by venerable studio Blumhouse, is shaping up to be pretty far from your run-of-the-mill slasher. Director Takal is a promising filmmaker who won accolades for her 2016 indie feature Always Shine; she co-wrote the flick's script with first-time feature screenwriter Meagan Good, making Black Christmas the rare slasher film — or horror film in general, for that matter — to be written and directed by women. 
The movie will also feature a largely female cast, as it takes place at a sorority house on a snowy Christmas Eve; confirmed to be starring so far are Imogen Poots (Green Room), Aleyse Shannon (Charmed), Brittany O'Grady (The Messengers), Lily Donoghue (Halt and Catch Fire), and Caleb Eberhardt (Happy!). Here's its official synopsis: "Hawthorne College is quieting down for the holidays. One by one, sorority girls on campus are being killed by an unknown stalker. But the killer is about to discover that this generation's young women aren't willing to become hapless victims as they mount a fight to the finish."
The 1974 original was every inch the prototypical slasher film, featuring early instances of many a trope which would go on to become par for the course during the genre's boom in the late '70s and early '80s. Its director, Bob Clark, has one of the more idiosyncratic filmographies in modern cinema; he began his career in the late '60s and early '70s with exploitation films featuring titles like She-Man: A Story of Fixation and Children Shouldn't Play With Dead Things. Black Christmas was his fourth feature effort, and he spent the rest of that decade cranking out more exploitation flicks before breaking through to mainstream success with 1981's teen sex comedy Porky's and its 1983 sequel.
Then, later that year, came the crown jewel of Clark's career: A Christmas Story, the beloved classic which has earned its place in the hearts of millions of fans by virtue of getting played relentlessly on basic cable at a certain time every year (and also because it's really, really good). That Clark directed a bonafide Yuletide classic less than a decade after helming a Christmas-themed slasher film has got to be one of the stranger instances of serendipity in film history.
At any rate, the original Black Christmas — choppy as it can be at times — is considered a classic with good reason, and the 2006 attempt at remaking the flick went over like a lead balloon. This new iteration seems to be in very capable hands, and it'll be in theaters just in time for the holiday — it's slated to hit screens on Friday, December 13. We'll keep our ears to the ground for more casting news, and keep you up to date.