Sandra Bullock Gives Moving Speech For Most Frightened Performance Win At 2019 MTV Movie & TV Awards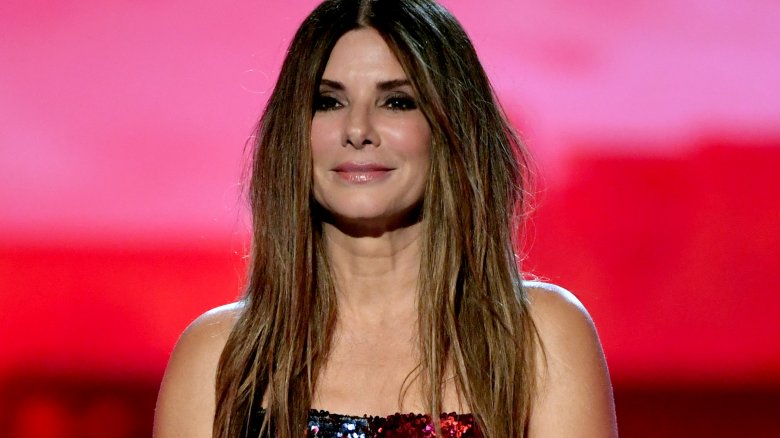 Kevin Winter/Getty Images
Leave it to Sandy to make us cry over Bird Box for a whole new reason. 
Sandra Bullock won the golden popcorn statue for Most Frightened Performance at this year's MTV Movie & TV Awards, earning the honor after thrilling audiences everywhere with her turn as Malorie Hayes in Netflix's post-apocalyptic horror film Bird Box. Accepting the award, Bullock gave a touching speech.
Within the movie, which sparked up some controversy for its initial inclusion of footage from a real-life disaster and inspired a dangerous "challenge" wherein fans attempted to navigate through the world blindfolded, Bullock's Malorie faced unimaginable traumas in a world overrun with creatures that drive people to suicide upon first sight. She attempted to protect two young children — her biological son Boy (Julian Edwards) and Girl (Vivien Lyra Blair), the daughter of a woman who ends up dying, Olympia (Danielle Macdonald) — and take them to safety. Malorie crossed rivers blindfolded, took down survivors both overtly and secretly sinister, and did the unthinkable by allowing the kids to look out onto the world with their eyes uncovered. Ultimately, Malorie succeeded in her goal — but not before she experienced powerful, soul-shaking fear. 
Bullock brought Malorie to life with ease (she is an Academy Award-winning actress, after all), and MTV honored her for her frightened performance. When Bullock stepped up on stage to accept the award, though, she was anything but afraid. 
The star delivered a speech that focused not on the harrowing aspects of Bird Box that left audiences with dropped jaws and churning stomachs but instead centered around the importance of family. Staring off by joking that Bird Box is an "educational video on the horrors of parenting," Bullock dedicated her speech to her children, and explained that she accepted the role as Malorie because of her kids. 
"When Bird Box crossed my path, I knew this was a story I needed to make, because it was about family," said Bullock. "When I finished the film I went to my babies and I said, 'Here, Mommy made this for you. And even though you can't see it until you're 21 because, apparently, a movie about being a mommy is a horror film, you will know when you see it that there isn't anything I wouldn't do for you.'"
The actress continued, "I wanted you to see what being a family looks like, that sometimes you're born into a family, sometimes you need to go find it, sometimes it finds you. But no matter how it comes together, that when it does, family is what you fight for, family is what you protect and what you saw in that movie is what your mommy would do for you. And I know that like in the movie, sometimes it looks like mommy is unraveling ... But no matter what, you are my first thought in the morning, you are my last thought at night. I was put on this earth to protect you, you are my world, I love you so much, and I will move mountains to make sure that you are safe."
Bullock certainly stunned as Malorie in Bird Box, and she could be coming back for a potential sequel. The author of the novel upon which the film is based, Josh Malerman, revealed earlier this year that he's penning a sequel book. Releasing on October 1, the sequel is titled Malorie, takes place almost a decade after the events of the first book, and digs deeper into who Malorie is and what the monsters are. Bird Box film director Susanne Bier seems open to the idea of making a follow-up flick, though she previously said she wants to bask in the success of the original before jumping into another project. 
Until we hear more about a possible Bird Box 2, check out Bullock's moving speech from the 2019 MTV Movie & TV Awards below.