Steven Spielberg Is Writing A New Horror Series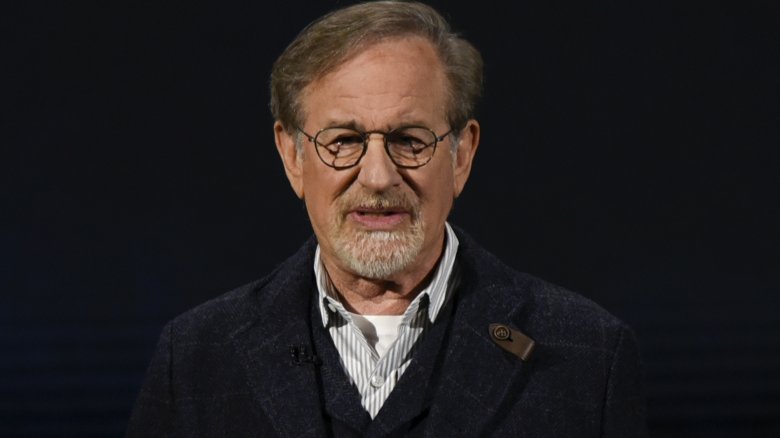 Michael Short/Getty Images
There's no stopping Spielberg. 
Famed filmmaker Steven Spielberg has added yet another ambitious project to his docket: a horror series with a very specific frame of availability. 
Variety recently confirmed that Spielberg is writing the show for Quibi, the upcoming streaming platform with content designed to be watched on smartphones. Operating under the working title Spielberg's After Dark, the series will only be available to view after midnight. 
Quibi founder Jeffrey Katzenberg made the announcement on Sunday, June 9 during the Banff World Media Festival in Canada. 
Katzenberg revealed that Spielberg actually approached him and Quibi CEO Meg Whitman about writing the project, pitching it as a "super scary story." As of this writing, Spielberg has already penned scripts for five or six episodes of the series, which will run for 10 to 12 episodes said to last between seven and 10 minutes. (Quibi refers to each episode as a "chapter" — suggesting that the show will feel like a novel, telling the tale bit by bit as it progresses.)
Though there isn't much information on hand regarding what Spielberg's After Dark centers around, Katzenberg offered up a detailed explanation about how the series' streamability works. Spielberg came up with the idea about limiting the time at which viewers could watch Spielberg's After Dark, requesting that Quibi's engineers develop coding that utilizes smartphones' ability to track location, sunrises, and sunsets. Those interested in tuning into the impending show will download Quibi, see a clock pop up on their phone, and watch as it counts down to sunset in their local time. Users have from that moment until sunup to view the episode before it's gone until midnight. 
In terms of content and genre, Spielberg's After Dark is right up its namesake's alley. From Jaws and Poltergeist to E.T. and The Goonies to Close Encounters of the Third Kind and Super 8, Spielberg's filmography is packed with horror-adjacent and sci-fi projects. It doesn't surprise us that he has a ton of ideas for the bite-sized Quibi series bouncing around in his head. 
It will be interesting to see how Spielberg's After Dark pans out, and whether this "only available after midnight" tactic will inspire other platforms to do something similar. Netflix has already dipped its toes into the waters of audience interaction with Black Mirror: Bandersnatch, the choose-your-own-ending event film that allowed viewers the opportunity to alter the narrative by making selections in various on-screen prompts. If Spielberg's After Dark proves a hit, maybe streaming sites like Netflix, Hulu, and even the upcoming Disney+ could make their shows and movies available only at certain times of the day.
Those keen to see what Spielberg's After Dark is all about should mark their calendars for the launch of Quibi on April 6, 2020. Until April 20, 2020, Quibi is free to use, with eight "super premium" projects loaded into the content library at launch. From there, 26 more productions will hit the platform every other Monday for an entire year — to account for 125 new uploads per week and 7,000 pieces in its first year out. Subscriptions begin at $4.99 for an ad-included experience and $7.99 for ad-free streaming.